17 Elegant Lighting Ideas for Dining Rooms
By Amy Reeves published
Perfect for a family catch-up or entertaining, these lighting ideas for dining rooms will help you design a scheme to fit every occasion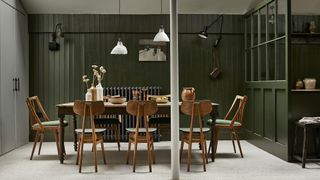 (Image credit: Carpetright)
Lighting ideas for dining rooms need to fulfil multiple roles and purposes. Not only to set the mood while entertaining guests, but also to illuminate family dinner catch-ups and create a focal point in the room, making the space feel like a destination away from our more commonly-used areas.
Despite open plan living merging our social spaces in recent years, dining rooms provide a solace away from the public areas and the lighting design plays an important role in making the room feel special.
From show-stopping pendant lights to subtle tricks to set a party mood, find out how to create a versatile, welcoming plan for any sized or shaped space, be it a large kitchen-diner or compact separate room, with our lighting ideas for dining rooms below.
Lighting Ideas for Dining Rooms
As with all lighting design plans, making sure the three essential types of lighting are included is of the upmost importance. Task lighting will help diners see and cut the food in front of them, ambient provides a well-lit wash over the surfaces and accent lighting will highlight particular details, artwork and objects in this space that you want guests to appreciate.
"The key to good dining room lighting is to focus light onto the centre of the table, onto the silverware or the flowers, but never directly over the diners' heads," explains Sally Storey, creative director of John Cullen Lighting (opens in new tab). "Low glare downlights with narrow beam lamps are ideal for this and will give the centre of the table a soft atmospheric glow. When dining this helps create an intimate feel to the space and draws the diners in."
1. Bring Focus to a Dining Area with a Stylish Pendant
"We always recommend having a beautiful pendant as the centrepiece in the dining room. Hung centrally above a dining table, an elongated light positioned horizontally draws the eye in and brings the whole space together," advises Ian Cameron, creative director of Cameron Design House (opens in new tab).
"2022 will see more clean line lighting designs come through," says Connor Prestwood, interior designer at Dowsing & Reynolds (opens in new tab). "Designs featuring 'natural' responsibly sourced materials help to push the sustainability aspect, like wood and marble, and manmade but earthy materials like concrete are becoming more popular, especially alongside metals. All inspired by simplistic Art Deco shapes.
"There is more demand for sustainable products at the minute due to people being more 'green', however, customers don't want to compromise on style. They want something that looks good but is also 'doing good'. I think this is where the trend for more minimalistic, art deco, clean shaped lighting is coming from, so customers have products that look clean and fresh, keeping their interiors feeling like a breath of fresh air."
The frosted bubble chandelier above the table in this contemporary dining room is cleverly matched by LED strip lights hidden behind the timber slat panelling for a warm glow that brightens the room without losing the atmosphere.
2. Let the Shape of a Small Dining Table Inform Lighting
There are certain dining room ideas that can make a small eating spaces feel larger. Mirroring the size or shape of a dining table with a grand, eye-catching pendant will draw the eye upwards. The small round table pictured feels anything but cramped when paired with the halo-effect pendant above.
"Think of your room as a skyline, taking your eyes up and down as they travel around the room," says Connor Prestwood.
Using different heights of table and floor lamps will achieve a similar effect while a mirror above a fireplace mantle or in place of artwork to reflect light around the room will further provide the illusion of a larger space.
3. Use Downlights in Multi-purpose Dining Rooms
It's rare these days for any room to function with a single purpose, and well-placed dimmable downlights are a handy inclusion for a space that will be used for different tasks. For instance the downlighters in this modern farmhouse dining room also provide lighting for a home office, so require a bright, direct illumination as well as lighting for more atmospheric moods.
For these types of rooms, discuss with your electrician how individual circuits can be planned to suit different tasks and times of day and compare the pros and cons between adjustable spotlights vs downlights.
Piero De Marchis, director of Detail Lighting (opens in new tab) says: "If the dining table is to be a 'focal point' in your space then the ambient lighting in the room will determine how bright the table should be. Ideally a contrast of 2:1 it's difficult to specify the exact lux needed (150 lux for intimate dinner, 300 for family meals) on a dining table but lighting fixtures of 800-1000 would be desirable. These can be dimmed to reduce glare.

"Dining rooms are a multi-function space, different circuits will allow you to provide different lighting effects and light levels. Perimeter lighting should be separated from the centre, medium beam spots for art on the wall creates a nice atmosphere."
4. Set the Tone with the Right Light Colour Temperature
Choosing between cool light vs warm light in a home's lighting design hugely impacts the environment of each room and the wellbeing of its inhabitants.
"Specifying the wrong colour – measured in Kelvin (K) – or intensity of light (or illuminance, which is measured in lux) can render certain tasks impossible in the spaces lit, and the older you get, the more sight diminishes and cool colour temperatures become important," says Allan Corfield, director of Allan Corfield Architects.
"For most interiors you should choose a colour between 2,500-3,000K, which is a bright, pale yellow, and aim for an intensity of around 800 lux, ideally from dimmable sources so it can be changed."
5. Go Classic with a Modern Chandelier
While many modern lighting styles have swayed towards minimalist and architectural, a timeless and classic option is to include a glass chandelier above the dining room table.
In this dining and living room, a delicate balance has been struck between traditional and modern industrial styles to great effect. The long, narrow chandelier (from Fritz Fryer (opens in new tab)) cleverly counters the black spotlights which light up the gallery wall.
For spaces like this, consider living room lighting ideas alongside your dining room design for a uniform and well-conceived finish.
6. Mix Lighting Types for a Layered Lighting Design
Layer different lighting types for a versatile dining room space. "It's recommended that you have a total of eight light sources in any space," explains Connor Prestwood. "This may sound like a lot, but it can be a mix of ceiling pendants, downlights, wall lamps, LED lighting, string lights and candles."
"This gives you the flexibility you need to get the room lovely and bright when you need it, but also reduce it when you want to feel cosier," Connor continues. "Multiple light sources can create interest around the room and create shadows in the right places, which gives the room depth. Wherever possible, lights should be on dimmers. This is key to achieving the perfect ambience at any time of day."
7. Include Natural Light in Your Plan
While we may think of dining rooms as an evening space, it is important to bring good levels of natural light into the design. The effects of daylighting can improve wellbeing and health and when combined with biophillic elements, such as views out to a green space, will ensure a bright, mood-boosting space for all times of the day.
Here, naturally-inspired materials (wood flooring and timber cladding) are complemented by the large sliding patio doors which mean the room can be opened out into the garden for year-round enjoyment. The rattan weave pendant – a firm favourite of 2022 – further creates a serene and calming spot for a day-time break.
8. Use Lighting to Zone an Open Plan Dining Room
More and more these days dining rooms are being merged with kitchens and living spaces. Use various kitchen lighting ideas alongside dining room inspiration for a cohesive, zoned space.
"Initially divide the room into the different areas, ie. the dining area, sitting area, kitchen area and then design the individual light scenes for each considering the task in each area," advises Sally Storey. "The circuiting becomes all important in these rooms. The central focuses of each need to be kept separate so that the emphasis can be changed as each part becomes the part you are in.
"For a more seamless integration between the different areas, use a preset lighting system. At the touch of a button you can have different scenes with the right level of light set up to suit your activity eg one scene bright, another for relaxing, another for a drink before dinner and another for dining."
9. Install LED Strips in Contemporary Dining Spaces
"One of my favourite design tricks is to use recessed LED bulb strip lights to create a soft glow around ceilings, walls and other edges," says Allan Corfield.
"A specially extruded aluminium profile is fixed to plasterboard (before the walls are skimmed) and an LED strip light is fixed to the profile in turn. This creates a clean line of dimmable light, which can lend a classy, contemporary feel to any interior space."
10. Achieve a High-end Finish on a Budget
Take inspiration from hotels, restaurants and magazines for a dining room design, but don't be put off by high-end prices. Often savings can be made by talking frankly about your rewiring designs with your electrician; they will often have ideas for creative work-arounds and contacts for trade deals.
In this contemporary home, Richard and Tavia Vint fell in love with a high-spec lighting system but it was beyond their budget. Instead, they replicated the design for a fraction of the price, but without sacrificing the quality finish.
"We fabricated our recessed tracks out of MDF and then painted them black and installed downlights within them," Richard (director of Vint and Smith Architecture) explains. "The system gives a focal point to the ceiling, but also gives us clean lines, 'decluttering' the ceiling of downlights."
11. Use Track Lighting in Dining Rooms with Vaulted Ceilings
If building and new extension or self build, and you're lucky enough to be introducing vaulted ceilings, make the most of the volume with architectural lighting.
The right lighting ideas for vaulted ceilings will very between spaces, but when considering this type of ceiling for a dining room, pendant lights mixed with track spotlights is a fantastic way to make the most of the feature, as in this modern extension.
12. Vary Heights to Light up a Low Ceiling
When lighting low ceilings, don't feel limited to installing a fixed ceiling light that won't impose on the squat room. Including different styles of lighting at varying levels in dining rooms with low ceilings created a staggered illusion, tricking the eye into feeling like there is more space.
This can include well-considered pendants that suit the height of the space and statement wall lights.
In this terrace renovation, the dining nook is visually split into sections by the timber cladding around the banquette. The artwork above adds another layer, and the wall light another on top of that. Finally, concrete and polished brass pendant lights bring the eye back down towards the table.
13. Include Smart Lighting in a Dining Room
While undergoing a rewire or refresh of a dining room's lighting scheme, why not futureproof and create a smart home hub so 'moods' can be set at the touch of a button.
"Thanks to advances in technology, and an increasing desire for full controllability in our homes, Bluetooth controlled lighting will start to become the norm," comments Piero De Marchis.
"Advances in LED lighting, both in appearance and technology, mean that complete connectability is more possible than ever before. Bluetooth controls and receivers can now work in tandem with standard switches, so one touch of a fingertip on your smartphone can gently transform the ambience and mood of any specific area. They are also easy to retrofit, and so we expect a lot of homeowners to factor in more versatile, technologically-controlled lighting into their properties for the foreseeable."
14. Mix Farmhouse Style with Contemporary Lighting
For a timeless look, mix and match a farmhouse interior design with splashes of contemporary lighting styles.
This modern oak frame home carefully balances the large, farm table for the family to sit around with a run of super-contemporary glass lights.
As is so frequent in self builds of this type, the lighting budget came at the end of the project and although Helen, the homeowner knew something special was required for the house, she was reluctant to blow it all on traditional chandeliers.
"I got in contact with the local suppliers of Border Oak's [who designed and built the oak frame] and they provided me with the glassware," explains Helen. "I then discussed with our electrician to source the right colour cables and he worked with my ideas."
15. Don't Forget to Install Dimmable Dining Lights
Sally Storey explains: "When selecting decorative lights in a dining room, avoid fittings that are non-dimmable and those with cold LED light sources as you will end up switching these off. If you have a chandelier over your dining table, this will provide ambient light within the space, but this should be dimmed and downlights added to provide the focus to create the intimacy."
"Ideally opt for dimmable lighting as these have second function as calming night-time lighting," agrees Piero De Marchis. "If you have existing circuits that cannot be changed then there is a new generation of intelligent Bluetooth receivers that allow you to dim the lights where you couldn't have it before."
16. Mirror Architectural Details
If you're building an extension or renovating a home, try to hone in on the architectural details that lighting might be able to pick out and highlight in a dining room. This could include coving around Edwardian ceilings, bay windows in Victorian properties, or even features like rooflights or lanterns that bring light in from above.
In this contemporary extension, the kitchen diner includes an up-and-over rooflight that demarcates the two zones in the open plan living space. The real genius lies in the lighting scheme, however, as a recess above the dining table mirrors the rooflight. When the night draws in and lights come on, hidden LED strips mock the pathway the natural light took and draw the eye towards the central pendant.
The lighting for this space was designed on a DIY basis, but really demonstrates how dining room lighting ideas can create an interesting architectural dining space.
17. Bring in the Matt Black Trend
Black material finishes have made their impact in bathrooms and kitchens over the last year or so, but this style can also be applied to the dining room, especially if windows have been replaced with dark-coloured PVCu or aluminium during a house extension or renovation.
"Delivering a high contrast yet classic look, we'll see more lighting fixtures in black nickel in 2022. Easily mixed with an array of finishes, pair black nickel in polished or brushed finishes with matching accessories for a sleek look," says Ian Cameron.
Assistant Editor Amy began working for Homebuilding & Renovating in 2018. She has an interest in sustainable building methods and always has her eye on the latest design ideas. Amy has interviewed countless self builders, renovators and extenders about their experiences for Homebuilding & Renovating magazine. She is currently renovating a mid-century home, together with her partner, on a DIY basis, and has recently fitted her own kitchen.
Homebuilding & Renovating Newsletter
Get the latest news, reviews and product advice straight to your inbox.
Thank you for signing up to Homebuilding. You will receive a verification email shortly.
There was a problem. Please refresh the page and try again.