Fence Lighting Ideas: 8 Ways to Create a Glowing Border
By Rob Keal published
Fence lighting ideas can help highlight your garden's boundaries and add security — find out how with our eight handy tips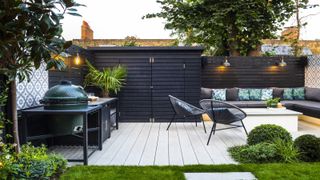 (Image credit: Joanna Kossak and Designer: Chris Harrington c/o Industville)
Fence lighting ideas are a great way to elevate your garden from a simple outdoor space to a lively setting for entertaining — or perhaps an elegant, peaceful enclave for relaxing if you want something low-key but interesting.
Like other finishing tasks such as painting a fence, adding lighting to a fence can really enhance your home's borders.
Our eight fence lighting ideas are here to inspire you to give your garden the warm, inviting glow it deserves.
Fence Lighting Ideas: What to Consider
"There are a lot of options when considering what fence lights are best for your garden," begins Jack Sutcliffe, CEO and Co-founder at Power Sheds.
"You can use solar lights, hang overhead lights, or fix wall lights to your fence, but making a decision should be about more than just aesthetics.
"Of course, before buying fence lights you should have a plan for how you want your garden to look, but it's also worth considering assembly, battery life, wiring and connections, and ground fixtures for secure mooring.
"You can secure lights to fences using metal mounting hooks on the wooden posts, but if you're worried about this weighing down your fence, using hanging overhead lights near your fence is the perfect way to illuminate the 'cosy corner' of your garden."
1. Hang Fairy Lights Across Your Fence
Quaint and decorative, with a versatile design, fairy lights can be strung across almost any fence type to achieve an ethereal glow. Wrap them around your fence posts or drape over panels for a cosy ambience when the sun starts to set.
Nowadays, many fairy light sets are either battery- or solar-powered, which saves you switching on and off with each use, as well as the trouble of hiring a professional to wire them up to the mains.
2. Consider Rail Fence Lighting Options
If your fence consists of rails, it may be possible to add lights to the posts separating each section of railing. On existing fences, this typically involves fitting a cap onto every fence post, before securing the light snugly into position.
3. Atop Fence Posts with Lighting
As illustrated here, some fence panels can be installed between concrete fence posts for a more durable garden border. These posts lend themselves well to fence lighting ideas because they can, arguably, take the weight of larger lighting fittings more readily than a timber posts.
Most globe-shaped lights provide ample brightness when set atop a fence post, as well as bringing an extra sense of safety and security to any nearby entranceways and driveway gates.
4. Illuminate Features With Spotlights
Spotlights are another great option for lending both light and ambience to your garden. Best of all, you can position each spotlight on your fence so that it illuminates appealing features close to the boundary, such as raised planting beds or outdoor furniture.
A lot of spotlights nowadays run on battery or solar power; simply fit the lighting you want to your panels when installing a fence and enjoy the results. Choose products with a good IP rating, too — IP stands for 'Ingress Protection', and classifies how durable electrical enclosures are against solids and liquids.
The minimum IP rating you should look for in the UK is IP44. This will ensure your fence lights can withstand rain. (IP65 lighting should be specified for decking lighting, which might be powered washed clean, and IP68 for pond lighting.)
5. Use Fence Lighting to Illuminate Seating Areas
With most garden lighting ideas, where you position lighting is just as important as the look of the light fittings. Illuminating your outdoor seating with fence lights creates clearer definition and zoning around these areas.
Install a couple of mid- to large-sized light fittings along your fence so that they add brightness to the most widely used areas in your garden. Any spaces with natural shade should also have lighting fitted close by.
6. Brighten Up Your Garden Pathways
Accessibility and functionality should be top concerns when it comes to fence lighting ideas. By brightening any outdoor paths or walkways, you will allow safe, easy movement from one area of your garden to another — no matter what the time of day.
Hanging a row of string lights from the nearest fence is one quick solution. Remember to complement any patio lighting ideas you might have, too, so that your garden remains stylish while also being well lit.
7. Prioritise Safety With Fence Lighting Ideas
Fence lighting is more than just an aesthetically pleasing way to frame a garden. The lights can also help signpost different elements of your outdoor space, so you and your guests can navigate the entire plot safely.
Light fittings should be spaced around your fence in a way that showcases any prominent features; for instance, large trees or shrubbery.
Likewise, if your fence borders a swimming pool or pond, make sure the waterside boundaries are illuminated enough to prevent such features from becoming a hazard to guests or children as dusk descends.
8. Create a Cosy Ambience With Subtle Fence Lighting
Depending on how much time you spend in your garden, you may not want your outside lighting to be too intense. If the glow is overly harsh, it can impact any sense of peaceful relaxation you're looking for.
Choose soft lights to hang across a few of your fence panels, which will help you see more clearly and comfortably, as well as lending enough brightness for the optimal zoning of your garden.
The best garden solar lights can be obtained from various DIY retailers; just remember to look for ones with a warm glow to avoid casting too harsh a glare.
How Much Do Fence Lighting Ideas Cost?
One major factors which influences the cost of fence lighting is whether you need to get them professionally installed or not.
The price of garden lighting can also be affected by a range of other factors, such as the number of lights you want installed, their location or the price of the individual fixings.
Sutcliffe advises: "The average cost to install low-voltage lighting cables is £120-£160. The lights themselves can vary in price depending on the type of lights you're buying.
"For rope lights, you will also want to mark where each clip will be fixed to your fence; 30cm is recommended. Screw in each clip and make sure clamps are aligned correctly, and then push in your rope lights to fit securely.
"You can buy multi packs of solar or wall-mounted fence lights for £20-£50. Hanging lights are more expensive depending on the length of cable and bulbs you're looking for, ranging between £50 and £100."
Can I Install Fence Lighting Myself?
Installing fence lighting can be a DIY job, but while battery and solar-powered lighting can be installed with ease by the DIYer, adding mains powered LED lighting should ideally be left to an electrician.
Sutcliffe suggests: "If you're looking to install string lights, carefully measure suitable spacing and hammer clips to the fence using a nail.
"For rope lights, you will also want to mark where each clip will be fixed to your fence; 30cm is recommended. Screw in each clip and make sure clamps are aligned correctly, and then push in your rope lights to fit securely.
"Wall lights can be more complicated to connect to the mains and may require a professional electrician."
Rob Keal is the Content Editor at Homebuilding & Renovating. With a background in content marketing, he began his career back in 2016 as a freelancer, before honing his craft at various digital marketing agencies. Looking to specialise in DIY and homes, he joined the team in February 2022.
Renovation has been part of his life since he was nine years old, when his parents bought a medieval cottage and completely revived it, introducing him to kitchen remodels, loft conversions, landscape gardening, and much more besides along the way. A bedroom extension and patio refurbishment are among his next planned projects. He is also passionate about interior design and landscape gardening.
Homebuilding & Renovating Newsletter
Get the latest news, reviews and product advice straight to your inbox.
Thank you for signing up to Homebuilding. You will receive a verification email shortly.
There was a problem. Please refresh the page and try again.