10 Brilliant Dining Room Ideas
By Michelle Guy
Dining room ideas are just what you need if you're stuck on how to create a perfect place to eat and entertain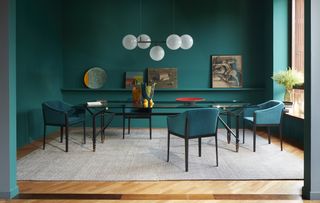 (Image credit: Chaplins)
Dining room ideas can really help when it comes to figuring out how you'd like your dining space to look and function. Is it part of a kitchen design, forming a kitchen diner? Or in a room all of its own? Perhaps it's in an open-plan living space so you need to consider how it'll work with the rest of the room. Or perhaps you need dining room ideas for small spaces? 
Whatever space you have, there's a dining room idea for you!
Here are 10 of our favourite dining room ideas to consider to create the perfect place to sit, eat and relax.
1. Double-Height Ceilings for an Airy Dining Room
Double-height spaces make a room feel so much bigger than it is, so if you're creating a dining room in a multifunctional space as part of a renovation project, extension or self build consider adding and creating head height. 
In the example above from Neville Johnson, this dining room and library benefit from a double-height void. Natural, light materials and white walls and ceiling create a neutral dining room that's practical and personable. 
2. Sunroom Dining Space
If you're stuck for dining room ideas, why not use a sunroom as the space for eating meals? 
Full of natural light you'll feel like you're dining outside when you're in — great for the colder months of the year when alfresco dining might not be on the cards! 
The warm wood of the window frames and roof in this example has been referenced in the colour of the brick dwarf wall for a harmonious design.
3. Country-Style Dining Room Ideas
Even if you can't live in the country you can create country-style dining in any home.
Farmhouses often have their dining area set at the heart of the home, in the kitchen as in this example from Life Kitchens.  A large farmhouse table will be key in helping you get the look. Pair it with Shaker-style cabinets, a Belfast sink and brass accessories and the dining area in the country kitchen will work well. 
The proportions of the large table in this example mimic the space taken up by the row of wall cabinets so it doesn't dominate the space. Contemporary drop pendants can add a modern twist to the country-style dining area.
4. Go Bold With Colour in a Dining Room
A dining room is a great space to play about with colour and design. Go bold with colour, furniture and styling to make a real statement room to both eat in and hang out in.  
The bold wall colour in the example above has been picked up in the chairs while the large glass table from Chaplins is slender so doesn't overpower the scheme. The pendant lighting adds softness, and the natural colour of the floor balances with the bold paintwork. 
5. Open-Plan Dining Room Ideas
Dining areas can work in open-plan living spaces. In an open-plan space you'll want the dining area to feel part of the space not just an after-thought. There are just a few design tricks you can use to make sure the space flows:
Pick a similar colour palette for the table and chairs so it harmonises with other pieces of furniture you have in the space. 
Think about proportions of the dining furniture, too. In this example from Dunelm, the black legs of the dining furniture anchor the dining area in place but using a bench and open sided chairs in a lighter shade avoids the dining area being too clunky and overbearing. 
The position of the table is well placed, too in this open-plan space as it doesn't block the flow but helps draw the eye to the rooms beyond. 
6. Island Dining Area
If you love entertaining then including an island in your kitchen can be a great way to have it double up as a dining area as well. 
In this example from Ventura, the island sits centre stage so the homeowners can cook and dine in the same space. 
Do consider the proportions of the dining space if it's part of an island unit and comfy seats are a must if you're going to be sitting and enjoying food and drink for a meal rather than perching for a quick grab and go breakfast!
7. Adding a Dining Room in an Extension
If you're adding a kitchen extension, consider incorporating the dining room into the space as well. 
In this example kitchen designed by Harvey Jones, the dining room has been positioned next to the kitchen but in the glazed area of the extension to benefit from the natural light pouring in. 
8. Bespoke Dining Room Seating
Another great dining room idea and to create a more bespoke space is to have seating made to fit the space. If you've a fixed place in mind for your dining room why not ask a carpenter to make seating that works with the space you have?
In this example, corner bench-style seating has been fitted to two walls to create lots more seating in quite a small space. Great if you have a nook that you can turn into a dining room.
9. Consider Lighting in Your Dining Room
Lighting can make a real style statement in your dining room so it's worth thinking about when designing the space. How much natural light do you get in the room? Would dimmable lights work well to create ambience? Would ceiling lights paired with lamps work best? 
It's all down to personal taste but a dining room can be an area where softer accent and task lighting can work. 
In this image the Diner 125 pendant from Davey Lighting creates a focal point over the dining table.
(MORE: Find more ideas in our lighting design guide)
10. Countertop Dining Space
If space is at a premium then one great dining room idea is a countertop bar area which doubles as a dining area. You can be use a piece of the same kitchen worktop and either fix it so it's floating or add legs to it if you prefer. Plush bar stools can help add character and comfort.
Homebuilding & Renovating Newsletter
Get the latest news, expert advice and product inspiration straight to your inbox.
Thank you for signing up to Homebuilding. You will receive a verification email shortly.
There was a problem. Please refresh the page and try again.