Room Sizes: How to Get Them Right
By Pete Tonks published
Getting room sizes right is important when it comes to the flow of your house. Read on to discover the art of space planning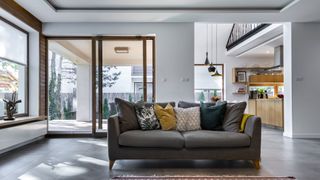 (Image credit: Getty Images)
Room sizes are often tricky to get right and when you are designing a self build project or building an extension and it's important to focus on this early on. The right layout, space and room sizes can really help with the natural flow of your house.
Believe it or not there is a science to space planning that ensures rooms work effectively without losing their sense of intimacy. It can be difficult trying to get room sizes right and work out if a space is too big or too small, which is why we've put together this handy guide.
(MORE: Open Plan Living)
When Planning Room Sizes, You Need to First Consider House or Extension Size
When considering the spatial requirements of your project, firstly make sure you set your budget out clearly and convey this in as much detail as you can in your design brief to your architect or designer.
It will be their remit to ensure they design a house you can afford to build and finish.
As an industry, we use various benchmark figures for initial calculations based on square metre prices which are useful as an initial check to see if the overall aims for the project can be realised (check out our free Build Cost Calculator).
The various multiples will vary based on how you intend to build the project.
(MORE: Extensions for Every Budget)
Overall House Size
Room sizes and house sizes vary for everyone, but many homeowners think that their new house needs to be at least 232m² (2,500ft²) to ideally 282m² (3,000ft²).
However the reality is that the average house sizes in the UK, which are quite a bit smaller than the perceived ideal starting point:
The national UK average for a three bedroom/two bathroom dwelling is around 88–100m²
The national UK average for a four bedroom/three bathroom dwelling is approximately 100–140m²
However, it is worth reassessing size and space as you work through the various design phases.
If it turns out that you can build a slightly smaller house with a higher specification and guaranteed completion, then this would be a worthy consideration — particularly as smaller houses tend to be cheaper to run.
(MORE: Knocking Down Internal Walls)
You can calculate your project on the following:
Gross external footprint, measuring all the space including the thickness of the external walls
Net internal footprint (excluding the thickness of the external walls) as this can make a huge difference of between 10–12% of the final sum.
Professionals such as estate agents and contractors working internally will be in the mindset of expressing the project on net internal, whereas main contractors and package companies will work on the gross external, as this is ultimately what they are supplying.
Visit the Homebuilding & Renovating Show
What Size Should a Kitchen Be?
If you fancy a square kitchen with three sides of units/worktops and a central island, then a size of around 4.8 x 4.2m (20.16m²) is ideal. This is calculated across the width as 60cm unit/1.2m passing space/1.2m central island/1.2m passing space/60cm unit, which in turn equates to 4.8m.
The depth of the space can be slightly less at 4.2m, as the kitchen is more often than not open plan to a breakfast, dining or sitting area.
Multiples of kitchen units are typically 60cm or 1.2m, so it makes sense to design your kitchen based on these standard sizes.
(MORE: Kitchen Design)
A breakfast area should ideally be somewhere in the region of 3 x 3m (9m²) for a six-person table and a side piece of furniture such as a dresser. If you want this part of the house to feature a sofa then add around 1m to each of these dimensions as a minimum.
A space for a breakfast and sitting area which is perhaps 4.5 x 4m (18m²) would be considered a good minimum, and it would work well up to 5 x 6m (30m²), however be aware that anything greater than this could lose the relaxed feel of the space and potentially feel too large and impersonal for family gatherings.
Suggested kitchen diner room sizes:
Kitchen 20.16m²
Breakfast area 9m²
Breakfast area with seating 18–30m²
(MORE: Kitchen Diner Ideas)
How Much Space Do You Need in a Dining Room?
If you plan on a separate dining room, this is often dictated by an existing table you might have.
In addition to the table dimensions, a minimum of 1m of circulation space around the table is needed, but ideally more like 2m, certainly on at least two sides.
How to Get Living Room Sizes Right
An ideal size for the formal living room is often dictated by how you want to plan the sitting locations.
Typically, homeowners will ask for three sofas in a 'courtyard' arrangement facing the fireplace. It will also depend whether you want the furniture to be within the room or up against the wall.
On this basis, a living room/space of around 7.6 x 6.1m (46.36m²) seems to work as an optimum.
This is based on a 'master' sofa of a typical size of 2.4 x 0.9m and two secondary sofas measuring approximately 2 x 0.9m.
Suggested living room size:
Up to 46.36m² (based on a courtyard arrangement of three sofas, including a 'master' sofa)
What Size Should a Utility Room Be?
Close to the kitchen should be the utility room which can work fairly well at around 1.8 x 2.4m (4.32m²) as a minimum.
A 1.8m width will allow the inclusion of a 60cm-deep unit/worktop with a walk-past space of 1.2m and the 2.4m length will allow four 60cm base units to include space for a washing machine, tumbler dryer and storage space.
(MORE: Built-in Storage Ideas)
Where you want to create additional storage for boots and coats, and even space for a pet's bed, then an ideal utility room size would be more like 2.4 x 3m (7.2m²).
Suggested utility room size:
How Big Should a Bedroom Be?
Bedrooms are dictated by the size of the bed and also the functionality of the bedroom itself. The master bedroom is likely to feature either a king size bed (1.5 x 2m) or a super king size bed (1.8 x 2m) plus any wardrobe space.
An optimum size for a master bedroom would be around 4 x 4m up to around 4.5 x 4.5m (20.25m²). This would allow enough space around the bed and also room for a sitting and/or dressing area.
If you plan on having a dressing room separate from the bedroom then I would allow a space of around 1.8 x 1.8m as a minimum beyond the bedroom itself.
A second bedroom, typically for guests, can be somewhat less as it will feature either a double bed (1.35 x 1.9m) or a king size and doesn't necessarily need lots of wardrobe/dressing space.
Such a room can work at somewhere in the region of 3.4 x 3m (10.2m²). The additional bedrooms are typically for the children within the family and this is where the issue of functionality comes into the design process.
For younger children, the bedroom will need to incorporate only a single bed at 0.90 x 1.9m or small double bed at 1.2 x 1.9m and perhaps a small wardrobe and dressing table.
A typical minimum room size here would be approximately 3 x 2m (6m²) but ideally more like 3.6 x 2.6m (9.36m²) up to 4 x 3m (12m²) as this will allow for the inclusion of desk space for their homework projects as they get older, and also they will need more storage.
Children are staying at home for longer nowadays, too, so your layout should be future-proofed in this respect.
Suggested bedroom sizes:
Master bedroom 20.25m²
Second/guest bedrooms 10.2m²
Children's bedrooms 6–12m²
How Big Should a Bathroom Be?
En suites with a shower, WC and basin should generally be at least 1.8 x 1.6m (2.88m²), up to an ideal of approximately 2 x 2.2m (4.4m²) and a family bathroom featuring a shower, bath, WC and basin should be around 2.4 x 3m (7.2m²) up to an ideal of 3 x 3m (9m²).
Suggested bathroom sizes:
En suites 2.88–4.4m²
Family bathroom 7.2–9m²
(MORE: Bathroom Design)
Pete is a design expert and director of PJT Design Ltd. He has been designing self build homes for over 20 years and is a specialist in designing oak frame homes.
Homebuilding & Renovating Newsletter
Get the latest news, reviews and product advice straight to your inbox.
Thank you for signing up to Homebuilding. You will receive a verification email shortly.
There was a problem. Please refresh the page and try again.