An '80s Home Transformed and Extended on a Budget
By Greg Cook published
Daniel Pelling gave his dated 1980s home a radical makeover on a tight budget by flexing his DIY skills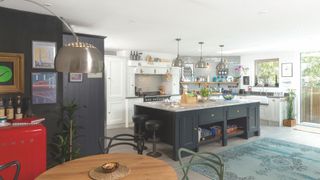 (Image credit: Richard Parsons)
When it comes to finding your perfect property, location is the first, and arguably the most important, issue to consider. But what happens when you find the ideal place to live but can't find a property to match? The answer, for Daniel Pelling, was to find a blandly anonymous house for sale on the edge of an attractive village in the Surrey countryside, and transform it beyond recognition into a home for himself and his partner, Laura.
"I was working on working on renovating a house locally," he explains, "and on my way there and back every day I passed this unassuming house that was on the market. You couldn't have found a more typical suburban home from the 1980s, but I also knew that it backed straight onto a little stream with a huge meadow surrounded by woodland beyond. The more I drove past, the more my mind drifted towards imagining all the radical things you could do to the property to make the most of its location."
Image 1 of 4
Image 2 of 4
Image 3 of 4
Image 4 of 4
Project notes
Homeowner Daniel Pelling
Project Extension and internal remodel of 1980s detached house
Location Surrey
Build route Self-project managed with DIY labour
Build time May 2015 – July 2016
Size 260m2
House cost £580,000 (February 2015)
Build cost £150,000
Current value £1million (approx.)
Dan was finishing up renovating a different house and knew when the sale went through he could buy the property and make it a home he could stay in. So he booked an initial viewing — and left the property with a greater understanding of exactly why it had remained on the market for so long.
"The place was a reasonably sized and extended three-bedroom property, but it had been divided into a series of rooms that were all too small," he recalls. "On the ground floor there was a galley kitchen, two different living rooms, an office and a study all set around a centrally placed garage. I could see why it hadn't sold — it was a family-sized house with no family-sized living spaces."
However, with the vision and the practical skills to transform the property, Dan – who is a property designer, builder and refurbishment expert with two decades of developing homes for others – immediately made his offer, took ownership of the property in February 2015 and set about some major structural 'surgery'.
Re-envisioning the property
Image 1 of 2
Image 2 of 2
First, he provided his architect with initial sketches to create the drawings needed for planning permission. His list of improvements included building a 2.5 metre-wide, two-storey extension at the back and right side of the building, removing the concrete tile cladding from much of the front façade and re-cladding with good brick, and replacing the roof tiles with slate. The plans also included the addition of new, much larger windows and a second gabled roof to create a more symmetrical façade.
Inside, Dan planned to remove virtually every partition and create a central stairwell with dramatic living spaces to either side. To the right, in the newly extended area, would sit a bright and spacious new kitchen/breakfast area, and to the left, a large living/dining room divided by a centrally placed fireplace. Above, a master bedroom would capitalise on the meadow view to the rear with an en suite situated to the front. "Before any of that, the first thing I did was take down the shed and big evergreen tree at the bottom of the garden that screened off the entire view," Dan explains.
"Once I'd done that and had the extra natural light coming in, I really got a feeling for how good this place could be."
Working DIY with a Small Team
Image 1 of 5
Image 2 of 5
Image 3 of 5
Image 4 of 5
Image 5 of 5
Dan then turned his attention to the property itself, and with the help of just one labourer, began the task of transforming the building. The project saw him single-handedly complete the new groundworks, footing and foundations (including oversite); add new steel supports and new brickwork; rebuild and re-tile the roof; fit all the new windows and doors; install plasterboard and plaster all the new internal walls; and install, fit and tile the new bathrooms and kitchen.
Only the plumbing and electrical work was outsourced to qualified professionals. In fact, says Dan, "this house is a reflection of everything I've learnt during my building career so far."
Even more impressive, this virtually DIY project was completed in just 14 months. Dan modestly puts this down to necessity, rather than his ability to problem-solve on site while maintaining a steady pace that allowed him to complete each task to his own exacting standards.
"When you see something that's just cost you a considerable amount of money being almost completely supported by over one hundred temporary props because you are knocking down internal walls throughout, it definitely gives you the incentive to crack on and get the job done," he explains with a grin.
A Bold New Interior Design
Image 1 of 3
Image 2 of 3
Image 3 of 3
Inside, Dan has invested in high-end finishes, from the Brazilian marble top and bespoke brass handles in the Shaker-style kitchen to the tiles from Spanish manufacturer Porcelanosa (used for the bathroom and kitchen walls, and floors, where Dan has chosen a timber effect).
"Never underestimate the value of quality fittings and finishes," he says. "When you design something to look timeless, you want it to last!"
Many walls have been given dark paint treatments. This adds drama rather than gloom, thanks to new wall-to-ceiling sliding patio doors and picture windows in the kitchen, dining area and, most impressively, the master bedroom, where the entire rear wall has been glazed to capture the beautiful views that first caught Dan's attention.
"At the end of the day, I wanted to create a warm yet open home that looks contemporary but ageless, and has the quality of construction and finishes to stand the test of time," reflects Dan.
"I've come as close as I could get to achieving that, and now the fun is filling it with all the quirky stuff we love, giving it the personality that really makes it our home."
Experienced homes journalist Greg Cook has written for a number of homes titles, including Country Homes and Interiors, Good Homes and Homebuilding & Renovating, interviewing self builders and renovators. He has also written for The Guardian and The Independent.
Homebuilding & Renovating Newsletter
Get the latest news, reviews and product advice straight to your inbox.
Thank you for signing up to Homebuilding. You will receive a verification email shortly.
There was a problem. Please refresh the page and try again.