Why Self Builders and Renovators Should Embrace the New Building Regs
By David Hilton published
Energy expert David Hilton assesses the new Building Regulations, and how self builders and renovators can best follow the new rules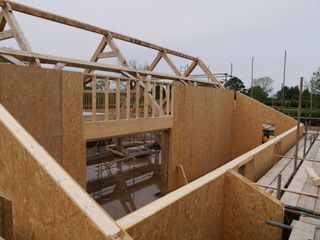 (Image credit: SIPS@Clay)
It is very positive that there are a number of new editions of the Building Regulations. 'Not more rules!' I hear you scream. Well, don't see them as rules but more as guidance; guidance that we all need to follow and embrace. After all, as self builders and renovators, we are usually looking for more than just a house. What we want is a quality home that is as good today as it will be tomorrow.
The 15 December amendments to the Building Regulations include uplifts to Part F (ventilation) and Part L (fuel and power), and there are new Approved Documents for overheating (Part O) and charging electric vehicles at home (Part S).
The new rules will come into effect on 15 June 2022, and it is reassuring to note that the old standards will only be valid for one year from that date, meaning that projects using the old standards must commence before 15 June 2023 rather than the usual three-year period.
Building Regulations can often strike fear and confusion into even the most experienced builders and designers, and Approved Documents are very wordy documents, but essentially they are the guidance on how to meet the requirements of the regulations. However, while they can be open to interpretation, please do not look for the cheapest way to comply but rather the best way to optimise the results.
How Will the New Regulations Affect Self Builders?
According to government sources, heating and powering buildings currently makes up around 40% of total energy use. The ambition is to reduce this significantly, and from June 2022 all new homes must produce 30% less carbon dioxide emissions than current standards.
Unfortunately these new standards have drifted away from the fabric first approach and favoured the implementation of renewables to meet low-carbon targets. This is a negative step in my opinion and something that we, as self builders, can (and should) avoid tripping up on. By all means fit renewable solutions if they are the best solution for you, but do not lower the quality of the envelope.
The new CO2 reductions are a really good improvement but reducing the need for heat rather than offsetting waste, even with renewables, should be the endgame. We must keep our eyes on the prize because it can be very easy to simply kit out our buildings with renewables and neglect the basics such as insulation, draught proofing and optimised heating systems.
Ultimately, all adherence to the new Regulations must be detailed in your brief. As an example, it may be sufficient to only have one car charging point to comply with Building Regulations, but maybe you want four? It may also be sufficient to have lower insulation levels in your home if you install renewable solutions, but it may not be suitable for your home.
These details must be specified in your project brief and it must be made clear that you do not see the new Regulations as a test to 'pass' but rather to get a distinction.
What are the Key Changes to Parts L and F?
The Building Regulations changes comprise uplifts to Parts L and F, which seek to balance the need for carbon reductions with improved ventilation in our homes.
Under Part F, there will be a requirement for trickle vents in all replacement windows and there is a new method for ensuring efficiency ventilation when homeowners make energy efficiency home improvements.
And in Part L, there are big changes to U-value requirements to note. In new homes, there will be a reduction to 1.2 for windows and doors which have more than 60% glazing, with a drop to 1.4 for all new windows and >60% glazed doors installed in existing homes.
There are also new minimum standards for fabric efficiency, including a new efficiency metric for the whole house calculation method for new extensions.
What is The New Part O?
Part O is the new Regulation covering overheating (I guess this should be fairly easy to remember), which is a long overdue update. It not only looks at mitigating solar gain (heating due to direct sunlight) but also other causes of overheating due to uninsulated heating pipes, cylinders or lack of heating system controls.
As with many of the Approved documents, Part O must also be read in conjunction with other Approved Documents to be sure that all regulations are complied with, and that one set of improvements isn't to the detriment of another set.
And What is the New Part S?
Another new part is Part S: Infrastructure for charging electric vehicles. As petrol and diesel vehicles get phased out we are going to see more and more electric vehicles on our streets, so having electric car charge points properly planned and installed is now a 'must-have' rather than a 'nice-to-have' addition to the services in the home.
It is important to make sure you have enough charging facilities installed depending on the size of your dwelling and the number of associated car parking spaces. Just putting in a cable to the front of the house for future use is no longer good enough.
It is also worth pointing out that you may also want to exceed the minimum requirements of the document especially if you have a larger home or may need charging facilities in more than one space such as at the front of the home as well as further away in, or near, the garage.
What to Know About Part R
Another fairly new Regulation (it was actually introduced in 2016) is Part R, which covers Electronic communications.
As Broadband and wireless controls continue to exponentially increase in our homes, be sure to keep an eye on these Regulations as they are sure to be influenced by heating systems, working from home, home schooling and digital streaming of television and gaming platforms.
Although they have been around since 2016 they are very often not in the radar for homebuilders. No longer is it fine to rely on the 'get out of jail free card' of wireless communications; we need to be making sure that wired infrastructure is included in our homes as much, and as early as possible.
David is a renewables and ventilation installer, with over 35 years experience, and is a long-standing contributor to Homebuilding and Renovating magazine. He is a member of the Gas Safe Register, has a Masters degree in Sustainable Architecture, and is an authority in sustainable building and energy efficiency, with extensive knowledge in building fabrics, heat recovery ventilation, renewables, and also conventional heating systems. He is also a speaker at the Homebuilding & Renovating Show.
Passionate about healthy, efficient homes, he is director of Heat and Energy Ltd. He works with architects, builders, self builders and renovators, and designs and project manages the installation of ventilation and heating systems to achieve the most energy efficient and cost effective outcome for every home.
Homebuilding & Renovating Newsletter
Get the latest news, reviews and product advice straight to your inbox.
Thank you for signing up to Homebuilding. You will receive a verification email shortly.
There was a problem. Please refresh the page and try again.