Building Regulations Changes Take Effect in 2022 - Here's What You Need to Know
By Jack Woodfield published
Important new Building Regs changes will impact new homes and some existing homes from June next year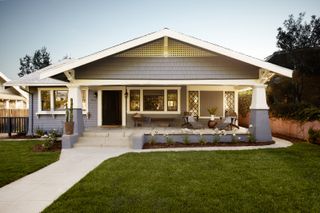 (Image credit: Getty Images)
New homes will have to produce around 30% less carbon emissions from 2022, as part of a major update to the Building Regulations announced on Wednesday.
The significant update provides an uplift to existing energy efficiency standards for homes, and marks a stepping stone towards the introduction of the Future Homes Standard in 2025.
The new Building Regulations comprise five new Approved Documents, including uplifts to Part L (fuel and power) and Part F (ventilation), which will come into effect from 15 June 2022, and will have a marked impact on new homes and existing homes.
In new homes, which will include self build homes, there will be new regulations to mitigate the risk of overheating. And in existing homes, standards have been raised to reduce energy use and carbon emissions during home improvements.
The Department for Levelling Up, Housing and Communities (DHLUC) believes the new regulations will help the UK to meet its net zero target. Housing minister Eddie Hughes said: "The changes will significantly improve the energy efficiency of the buildings where we live, work and spend our free time and are an important step on our country's journey towards a cleaner, greener built environment."
What's Been Announced?
The Building Regulations changes comes with £6.6 billion of direct investment into improving the energy efficiency of buildings, the government says. And the announcements impact both new homes and existing homes.
New homes
There will be a 30% cut on emissions from new homes, as well as a 27% cut on new buildings including offices and shops
An entirely new Building Regulation and Approved Document O has been set up to mitigate the risk of overheating in new homes. One key inclusion is that maximum limits to the amount of glazing will be set on new residential buildings
New homes will adopt the Fabric Energy Efficiency Standard to measure energy efficiency
There will be a maximum flow temperature requirement of 55°C for new and replacement heating systems, as part of the Part L uplift
An appendix has been included in Part L which sets out a good practice specification for a home built with a heat pump.
Existing homes
Uplifts to Part L & Part F of the Building Regulations have set new minimum standards for fabric efficiency. For example, there will be a new efficiency metric for the whole house calculation method for new extensions
There will be a requirement for new or replacement heating system designs to accept low-carbon heating in future, including integrating the latest Ecodesign appliance benchmarks.
A transition period will now commence until June 2022, when the new regulations will come into effect, which is designed to allow for planning applications that are currently in progress.
The government also published Approved Document S, which provides technical guidance regarding the installation of electric car charge points in our homes.
Future Homes Standard Latest
The changes to the Building Regulations were published alongside the government's response to the second Future Homes Standard consultation (called the Future Buildings Standard) from earlier this year.
As part of the response, it was confirmed that in 2023 a full technical consultation for the launch of the Future Buildings Standard will begin, ahead of the Standard's introduction in 2025.
Moreover, any new homes built after 2025 will not require further energy efficiency retrofit work to become zero-carbon as the electricity grid continues to decarbonise.
What's the Reaction Been?
There was a warm initial welcome to the new regulations, with RIBA president Simon Allford describing the changes as "bringing us one step closer to decarbonisation". He called for the tightening of the regs to continue, though.
"The new minimum standards for fabric efficiency and new Part O signal real progress, but without regulation of actual energy use, the built environment will not decarbonise at the rate required. Regulations must continue to tighten."
The Heat Pump Association said it was pleased to see the update, "in particular the requirement for newly installed or fully replaced heating systems to run at low flow temperatures."
And Hwyel Davies, technical director for the Chartered Institution of Building Services Engineers (CIBSE), said he "welcomed new requirements for energy performance modelling and overheating risk assessments".
He added: "We look forward to working with DHLUC on this, and on the next uplifts for works to existing buildings, since retrofitting our existing stock is essential to deliver net zero as well as healthy and comfortable buildings."
Jack is News Editor for Homebuilding & Renovating, and strives to break the most relevant and beneficial stories for self builders, extenders and renovators, including the latest news on the construction materials shortage and planning reforms. Having bought his first home in 2013, he and his wife have renovated almost every room and recently finished a garden renovation.
Homebuilding & Renovating Newsletter
Get the latest news, reviews and product advice straight to your inbox.
Thank you for signing up to Homebuilding. You will receive a verification email shortly.
There was a problem. Please refresh the page and try again.