Electric Car Charging Points Law Will 'Futureproof Self Build Homes'
By Jack Woodfield published
Self builders will be wise to include electric car charging points, according to energy expert David Hilton, who says electric cars are here to stay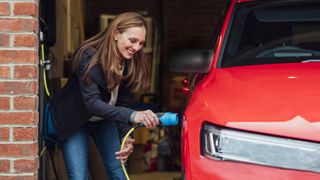 (Image credit: Getty Images)
A new law requiring new build homes and buildings to have electric car charging points will come in from 2022, and affected self builders could benefit, according to an energy expert.
Electric car charging points are becoming more mainstream in new homes, and the new regulations announced last month will not just apply to developers, but anyone taking on a self build or custom build who includes associated parking within the site boundary.
David Hilton, director of Heat and Energy Ltd and a contributor to Homebuilding & Renovating, says that even if you don't yet have an electric car, self builders who add a charging point for charging an electric car at home will futureproof their homes by installing the connecting cable.
"The fact that it is legislated is a good thing in my opinion because a self builder may see the benefit in investing in futureproofing, but the mass builder with their value engineering principles would likely leave it out," Hilton said.
"Whether we like it or not electric cars are here and they are going to only get more popular. The electric car industry is still in its infancy and as such there will be a lot of developments in the coming years such as bi-directional charging (using the car as a home battery) amongst other things.
"Even if you fit a really cheap system it may only cost you a couple of hundred quid so it is not a major hurdle and will make a self build home more future-ready."
Key Points on the Electric Car Charging Points Law
Boris Johnson announced the new law last month at the Confederation of British Industry conference, where he reiterated the UK's plans to accelerate the transition to net zero.
The government had already pledged to install over 250,000 home and workplace chargers across the UK, and ministers have said they will end the sale of diesel cars and vans by 2030, in a move to increase the take up of electric vehicles.
However, the UK is, arguably, facing a massive infrastructure issue. While some early adopters, such as those building eco houses, have had the foresight to include a charge point, the majority of the population currently have no facility to charge an electric car at home.
The government says this new policy will mean up to 145,000 charging points are installed across the UK each year.
In a press release, the government said: "With the majority of charging happening at home, this will mean people can buy new properties already ready for an electric vehicle future, while ensuring charge points are readily available at new shops and workplaces across the UK — making it as easy as refuelling a petrol or diesel car today."
Will Self Builders and Renovators be Affected?
The law will affect any custom build or self build home which has associated parking within the site boundary.
Some people renovating a house may be affected too. This is because the new rules mean those undertaking large-scale renovations which leaves them with over 10 parking spaces will be required to install electric vehicle charging points.
The Department for Transport told Homebuilding & Renovating that in order to ensure self builders and residential housebuilders do not incur excessive costs, an exemption will be introduced where the installation of a charge point would increase grid connection costs by more than £3,600.
How Will the Law be Enforced?
The new requirements will be set through Building Regulations, rather than the planning system, the Department of Transport has confirmed.
However, the new law doesn't yet specify details on whether electric vehicles will be made more affordable. We are also yet to receive clarification on details such as specifications and power outputs.
Currently, installing a dedicated charger at home costs around £800, according to the RAC, although financial support is available from the government, and a financially-quantified exemption is expected for self builders.
Commenting on which models on electric vehicle could become available, Hilton said: "Whether it is hybrid versions (electric and petrol or electric and something else such as hydrogen) or pure electric, only time will tell, but inevitably any homeowner would be well advised to at least put the facility for car charging in their plans to avoid any future disruption putting in the cable infrastructure at a later date.
"If it is a legal requirement to install a car charger and you don't already have a car then it may not be straightforward as there are a number of different chargers available and it may come own to fitting the cheapest available charger in order to comply with regulations and then changing it as (and when) you get an electric car."
Reaction to the New Law
Alex Kindred, car insurance expert at Confused.com said of the announcement: "Many of us are on board with efforts to become more environmentally conscious [and] over half of drivers (58%) told us that they're concerned by the lack of charging points available for EVs."
But the Labour Party criticised the geographical divide in available charging points across the UK. "London and the South East have more public car charging points than the rest of England and Wales combined. Yet there is nothing here to help address this," Labour told the BBC.
"Nor is there help so lower and middle income families can afford electric vehicles or the investment required to build the gigafactories we need."
Jack has worked in journalism for 11 years and is the News Editor for Homebuilding & Renovating, a role he has had since 2019. He strives to break the most relevant and beneficial stories for self builders, extenders and renovators, including the latest news on the construction materials shortage and hydrogen heating. In 2021 he appeared on BBC's The World at One to discuss the government's planning reforms.
He enjoys testing new tools and gadgets, and having bought his first home in 2013, he has renovated every room and recently finished a garden renovation.
Homebuilding & Renovating Newsletter
Get the latest news, reviews and product advice straight to your inbox.
Thank you for signing up to Homebuilding. You will receive a verification email shortly.
There was a problem. Please refresh the page and try again.