Tools for Laminate Flooring: What You Need and Where to Get Them
By Hugh Metcalf published
What are the right tools for laminate flooring? Here's the lowdown on what you need for a DIY installation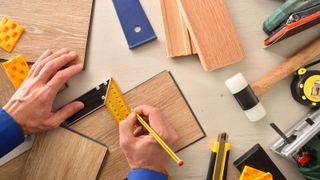 (Image credit: getty images)
Looking for the right tools for laminate flooring? Then you might be about to embark on a DIY project to lay your own flooring.
Laying a floor might seem intimidating, just for the scale of the project, but it's actually relatively simple once you know how — and thankfully, laminate is one of the easier types of flooring to lay.
These tools are largely the same for engineered wood flooring with click systems too, so you'll be able to pick these up for use for multiple projects in your home.
What Tools do I Need for Laying Laminate Flooring?
What you'll need in terms of tools for laminate flooring is pretty standard across most, if not all, types of laminate flooring. That's because, if you don't already know how to lay laminate flooring, it's most commonly laid as a floating floor.
If, however, you decide to glue down your laminate flooring to install, you'll require some slightly different tools and supplies, including, of course, the glue itself.
What's the Best Tool to Use to Cut Laminate Flooring?
While some saws are better than others at cutting laminate flooring, what's best for you and your installation might depend on what's already in your toolbox. You can fork out for the best mitre saw, for example, but the job is still achievable armed with a jigsaw, for example.
Here's the reasons for and against different types of saws for laying laminate flooring.
Do I Need Any Protective Equipment?
When operating power saws, it's a good idea to wear protective googles to ensure that your eyes are protected from dust and debris created when cutting timber
Mitre saw
A mitre saw is a really useful bit of kit for cutting laminate flooring because it's a self-contained tool that doesn't necessarily require a cutting table set up. However, a mitre saw only has a certain cutting reach, so can only be really used to cut across the width of the laminate planks, not the length.
A mitre saw is probably one of the best ways to get an accurate cut widthways, but be sure to use clamps and other safety gear to ensure it's used safely. A mitre saw is also very useful for the likes of skirting boards and architrave, so if that's on your to-do list too, it may be worth investing in one of these tools.
Circular / table saw
Circular saws are a really efficient tool for laminate flooring to cut without the size restrictions of a mitre saw. However, you usually will require a cutting table set up to use and plenty of space to cut. You can cut widthways with a table saw too, so you wouldn't need one of these alongside a mitre saw for laying laminate flooring specifically.
Jigsaw
A jigsaw is the work-horse of tools for laminate flooring, and you can comfortably take on this task with a jigsaw alone. However, when cutting along long lengths of laminate flooring with a jigsaw, you are largely relying on your own ability to follow the line and keep it straight, making it a less useful tool when super straight lines are important. However, largely cut lines are obscured by skirting boards, beading, trims or thresholds, so it shouldn't be too much of a concern.
If you have an intricately shaped room, such as one with alcoves, or need to cut around radiator pipes and the like, a jigsaw is an indispensable tool for laminate flooring. A jigsaw should be cheaper than a mitre or circular saw of a similar quality.
Laminate Cutter
A laminate cutter is a great option for laying laminate floors, especially if you're less comfortable using power tools. Another benefit of laminate cutters is that they're virtually dust-free, whereas power saws will create a fair bit of mess. They're quiet too.
However, quality of laminate cutters can really vary, so look for one with good reviews. A good one, such as this Wolf LC 600 laminate cutter from Amazon will cost about the same as a mid-range jigsaw.
What Tools do I Need to Lay Laminate Flooring?
A standard fitting kit with tools for laminate flooring will contain a pull bar, a tapping block and some spacer wedges. To this, you'll need to add a rubber mallet.
"You use a flooring bar to pull the floor tight. Simply hold it in place and then give it a tap with a hammer to pull boards in place," says expert builder Andy Stevens.
So what does a tapping block do? A tapping block is usually a plastic block with a few tiered levels on one side. This is pushed up against the laminate plank so that you can knock it into place with the hammer without damaging the laminate's locking system.
You might not expect laminate flooring to expand and contract with temperature and humidity changes in your room, but just like other types of wood flooring including engineered and solid wood flooring, it will do. With this in mind, you need to use spacers around the edge of the room, leaving a 10mm gap to ensure that your floor doesn't warp as it contracts and expands.
Tools for Laying Laminate Around Radiators
Working around radiator pipes is one of the trickiest elements of laying laminate flooring, but there are several ways to do so, each requiring different tools. You may need a drill with a flat-head wood drill bit for some methods, while others will just require a jigsaw or even a small multitool will do the trick.
One of our top tips for laying flooring around laminate is to use retrofit radiator pipe collars. While these may not be a tool as such, they're a clever way to ensure that your radiator pipes go neatly into the floor, and they're inexpensive. Look for foil varieties that can be added onto pipes that are already plumbed in, as the metal versions need to go on before the radiator valves.
Where can I buy Tools for Laminate Flooring?
Hugh is Digital Editor of homebuilding.co.uk and has worked on a range of home, design and property magazines, including Grand Designs, Essential Kitchens, Bathrooms, Bedrooms and Good Homes. Hugh has developed a passion for modern architecture and green homes, and moonlights as an interior designer, having designed and managed projects ranging from single rooms to whole house renovations and large extensions. He's currently renovating a Victorian terrace in Essex, DIYing as much of the work as possible. His current project is a kitchen renovation which involves knocking through walls and landscaping a courtyard garden.
Homebuilding & Renovating Newsletter
Get the latest news, reviews and product advice straight to your inbox.
Thank you for signing up to Homebuilding. You will receive a verification email shortly.
There was a problem. Please refresh the page and try again.