5 Circular Saw Uses: What Should a DIYer Look For?
By David Hilton published
Circular saw uses go beyond just woodworking. Discover how you can use a circular saw to get the most out of your next DIY project with our guide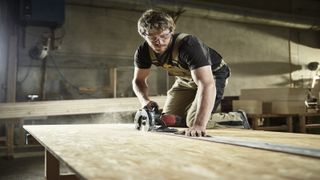 (Image credit: Getty Images)
Circular saw uses are quite diverse when it comes to DIY around the home. Many of us will have seen circular saws on building sites or in the shops; indeed, we may even have one or two among our workbenches.
A circular saw is a powered handheld tool that, as the name suggests, has a circular, toothed blade capable of spinning at high speeds. These are particularly useful and versatile tools, providing straight cuts for various different materials — such as timber, plastic, metal or masonry.
The best circular saws offer straight cuts that can also be set at a specific angle, for angled edges on sheet materials. If you only wish to cut part of the way into the material, your circular saw can be set to a specific depth as well.
But how exactly do you use a circular saw to its fullest potential? Here are five things to look out for so that your next DIY project involving this type of tool will be a complete success.
1. Decide Between Corded and Cordless Circular Saws
Circular saws are typically available in 240V corded versions or cordless battery options.
Corded versions tend to be a bit more powerful, but the cable can be cumbersome and awkward and get in the way, especially if you are working on a construction site or away from a bench.
Newer cordless tools will have more efficient brushless, and slightly more powerful motors that adjust the power delivered to the motor depending on the load. This feature can take a bit of getting used to, but the results are worth the learning curve.
Cordless circular saws are available in many different sizes, with the 18v and 36v versions (the 36v model uses 2 x 18v batteries) being most popular.
These cordless saws are powerful enough, but sometimes people find them difficult to work with. However, this is usually because their blade is blunt, they are pushing the unit too hard, twisting the saw, or the material is not stable and pinches the cut.
As a rule, choose to only use cordless circular saws if you're working on a building site. Otherwise, a corded option is your best bet for home DIY use.
2. Keep Both Left and Right Handed Circular Saws
Now, this may seem like an unusual piece of advice, especially considering that some circular saw manufacturers only make one or the other, but there are a number of things to consider when it comes to owning both left and right handed circular saws.
If you are right handed, you will (hopefully) hold the saw with your right hand, and you may then choose a right hand blade so that from a safety perspective, your other hand does not have to cross over the blade to steady the saw.
But, if you had a left hand blade, the sight line to the blade is better for accurate cuts. This left / right argument is rife among tradesmen and avid DIYers, but in general, professionals seem to prefer a left hand blade, as many of them will have trained on the old worm-drive models and they are also easier to operate one handed.
From a safety perspective, especially concerning DIY tips for beginners, it makes sense for a less experienced person to have a right hand blade if they are right handed and a left hand blade if they are left handed, as this will allow the main body of the saw to be closer to them and the blade further away (making it harder for clothes or fingers to get snagged).
However, when cutting large sheets of materials it may be better to have one rather than the other depending on which way the sheet is placed, so that the main body of the saw is on the larger surface. This is why it's wise to keep both left and right hand blade circular saws in your workshop.
3. Pay Attention to Your Circular Saw's Dust Extract Nozzle
It is also important to choose a circular saw that has a dust extract nozzle, so that you can connect it to a dust extractor or vacuum hose.
Thinking about circular saw uses, you should always remember that no matter what DIY project you're working on, the end result is bound to be a tad messy. This is because circular saws themselves are large, high-powered pieces of equipment that generate a lot of dust in their wake.
A dust extract nozzle provides an extra means of minimising the amount of debris left over once you've finished using your circular saw.
When cutting sheet materials such as chipboard, plywood or Medium Density Fibreboard (MDF) the cut produces a lot of dust, and removing this as the cut is made certainly helps with the cleaning process at the end of the task.
4. Do Your Research Into Different Circular Saw Blade Sizes
Choosing the right blade size is also important when considering circular saw uses.
Standard circular saws are available with blade sizes from 125mm right up to 305mm. The larger blades will have a deeper cutting depth but only fit on larger, heavier and more cumbersome machines, so you may want to think about what tasks you plan on doing and then choose the right size.
This is one case where bigger may actually not be better. For general circular saw use, a blade size of around 165mm to 185mm is very popular.
The blades are also not all the same on circular saws, either, so you need to know what you will be cutting and what you plan on buying at a builders' merchants.
Each blade will have a specific number of teeth, and the more teeth it has then the finer (and neater) the cut. On slower RPM circular saw models, it is better to have more teeth.
5. Adjust Like a Pro for Your Circular Saw Uses
Learning how to effectively adjust the blade of your circular saw will help you achieve that all-important polished cut.
Most circular saws on the market today come with an adjustable edge guide (also known as a fence guide) that rides along the edge of sheet material to hold the saw in a straight (ish) line.
Many manufacturers also have metal rail guides up to about 1.5m long (which can also often be joined together for longer cuts) that get clamped to the materials.
Some circular saws even have slots on the base that then ride along the rail (a bit like a train track) for a very straight and accurate cut.
What is a Worm Drive Saw and How Does it Affect Circular Saw Uses?
The original circular saw tools were known as worm-drive saws. Mainly used on building sites and by professional tradesmen, they usually have their blades on the left hand side of the handle.
A worm-drive is a small gearing mechanism on the saw that allows the motor to be located behind the handle, and power is transferred to the blade via this angled 'gear'.
On many newer circular saws, however, the motor is located on the side of the tool and the axel of the motor is also attached to the blade as a direct drive.
A worm-drive saw is usually more expensive than the direct-drive versions, and will often have a slightly slower RPM speed, but direct drive circular saws are usually wider than the worm-drive versions.
You will sometimes also have to choose between right or left blade versions.
How Can You Be Safe With Your Circular Saw?
As with all tools, think of safety first when selecting circular saws. Choose the right tool for the job and never take risks. (Remember, when in doubt, it's always best to seek professional assistance.)
If opting for cordless circular saw versions, be sure to select from a manufacturer with a broad range of tools that use the same battery. This way, even if you have 15 different tools, you won't need 15 different batteries to complete your project.
David is a renewables and ventilation installer, with over 35 years experience, and is a long-standing contributor to Homebuilding and Renovating magazine. He is a member of the Gas Safe Register, has a Masters degree in Sustainable Architecture, and is an authority in sustainable building and energy efficiency, with extensive knowledge in building fabrics, heat recovery ventilation, renewables, and also conventional heating systems. He is also a speaker at the Homebuilding & Renovating Show.
Passionate about healthy, efficient homes, he is director of Heat and Energy Ltd. He works with architects, builders, self builders and renovators, and designs and project manages the installation of ventilation and heating systems to achieve the most energy efficient and cost effective outcome for every home.
Homebuilding & Renovating Newsletter
Get the latest news, reviews and product advice straight to your inbox.
Thank you for signing up to Homebuilding. You will receive a verification email shortly.
There was a problem. Please refresh the page and try again.