Best Garage Doors: Choosing the Right One for Your Home
To specify the best garage door for your project, consider details such as security, ease of use and insulating properties.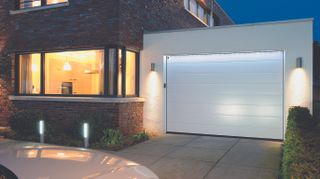 (Image credit: Hormann)
Choosing the best garage door possible is important in maintaining, or improving, your property's kerb appeal. After all, a garage door is not small and often it's one of the first things you see when pulling up to your home.
The range of garage doors that are available to buy may surprise you, with a vast selection of materials and configurations to suit every style of home.
However, your choice of garage door shouldn't solely be based on aesthetics – there are plenty of other key characteristics to consider, from buying a door that meets security and safety standards to choosing an opening mechanism that suits your lifestyle.
(MORE: How to Add Value to Your Home)
If you're a self builder, start your search for a garage door early, as it will give you the advantage of more design scope compared to fitting to an existing opening of configuration.
Types of Garage Door
Up and Over Garage Doors
You can trust Homebuilding & Renovating. Our expert reviewers spend hours testing and comparing products and materials in order to help you choose the best for your home and garden. Find out more about how we test.
This one-piece design is the classic garage door. As the name suggests, it lifts up from the bottom, either sliding out of the way below the garage ceiling when open, or creating a canopy at the front.
It's a sound choice for a garage that's actually used to park a car in, as it's space-efficient. However, enough room is needed to allow it to move forward of the opening as it lifts up and down, so the combination of a short driveway and a car parked waiting to drive into the garage could be an unhappy one.
These doors can be opened manually or automated.
(MORE: Electric Garage Doors)
Sectional Garage Doors
Rather than moving outwards like the up and over, a sectional door, made up of panels, moves upwards vertically and then backwards under the garage ceiling to open.
This style of door maximises space both inside the garage and in front of it. Large versions for big garages are available, and there's a choice of insulated double-skinned doors, or single-skinned for a garage that doesn't require insulation.
The design offers a good seal against the weather and can be electrically operated.
Roller Garage Doors
Like a sectional, a roller garage door opens vertically, but this design makes a roll above the opening rather than having internal tracks.
They're suitable for garages without good headroom, when you want to leave the ceiling free – for storage, perhaps – or where something inside the garage might block other mechanisms.
Both insulated and non-insulated designs are on offer, and they can be teamed with a remote control.
Side Sliding Garage Doors
If parking the open garage door in the ceiling isn't possible, a design that moves round the corner and down the side of the garage on a track is an alternative.
Side sliding doors are useful when you frequently need access to the garage on foot, as you don't have door all the way to get a bike out, for example.
They work well on large openings and can be automated.
Bifold Garage Doors
Bifold garage doors are another option when the garage height is an issue, as they don't need wall space for a mechanism.
Whether outward or inward opening, they require sufficient room to fold back. The panels allow the garage to be accessed without opening the door fully.
A bifold door can also be automated.
Side Hinged Garage Door
Double doors opening to either side are often traditional in design, so could work for an older home, although contemporary versions can be sleek and modern. They could have a one-third, two-thirds split or half-and-half across the opening if you prefer.
Although generally opening outwards, there are models that open to the inside, and the slope of your drive could influence the choice. These doors might be selected where the garage isn't a home to the car, with one door opening sufficiently wide for on-foot access. These combine well with a ceiling used for storage as there are no tracks there, but enough driveway space to swing them open is essential.
It's possible to automate them.
Choosing the Best Material for Your Garage Door
Garage doors can be made from various materials, although not all styles are available in all materials.
Timber Garage Doors
Doors made from timber can be sympathetic to older homes, but contemporary-style timber designs are also on offer.
Treatment before installation can reduce maintenance requirements, but do check with the manufacturer/ supplier to be sure of how much work will be needed to keep the particular model sound.
Steel Garage Doors
Good quality steel doors are strong and come with a wide choice of surface finishes and colour options. Maintenance requirements depend on the finishing or coating, but aren't too onerous.
Aluminium Garage Doors
Aluminium is mostly used in insulated double-skin roller doors. Both coloured and timber lookalike effects are available.
The surface will need to be kept clean of grit and debris. Strong and stable but light, requiring only a regular wash down with running water. They can have a timber effect, or white or coloured finishes.
Other material options include:
Glass reinforced plastic (GRP)
PVCu
What's the Best Insulated Garage Door?
How you intend to use your garage should influence your decision here.
"Single-skinned doors are ideal for freestanding garages that do not need any thermal insulation, for example when used to store a car," says David O'Mara, marketing manager at Hörmann UK. This is perhaps not the case for integral garages, or those garages used for any other purpose, however.
The style of the door will also make a difference. "Traditional up-and-over garage doors don't have the best insulation, letting in draughts and making the space unsuitable for anything other than storing a car, so if you plan to use your garage as a home gym rather than just somewhere to park car then it is worthwhile doing research into the types of garage doors available," says David.
Double-skinned sectional doors are one of the best options. "The double-skinned insulated LPU 67 sectional garage door from Hörmann offers higher levels of thermal insulation, which is ideal if the garage is used as an extra room," adds David.
What's the Best Garage Door for Security?
A well-fitted garage door with adequate locking is vital because the contents are frequently valuable – whether a car or tools – and also because an integrated garage could provide an access point into the house for would-be burglars.
Manufacturers supplying doors with the official police security initiative Secured by Design accreditation are listed on the website. The initiative is designed to improve the security of our homes and buildings, so choosing an accredited product can bring peace of mind.
The advice from industry experts is to opt for a 'responsible', experienced installer to ensure correct installation and to prevent the door from failing over time. This is especially important when it comes to automated doors to ensure they comply with necessary regulations.
How Much Should a New Garage Door Cost?
There are automated garage doors available that are upwards of £20,000, but they are of course top-end examples. Expect to pay from around £850 for an up-and-over single garage door in steel (installation will usually be an additional cost); GRP, aluminium roller and timber are generally more costly.
You can find sectional doors starting from around £1,400 for insulated versions, and roller doors from around £1,300.
Get the Homebuilding & Renovating Newsletter
Bring your dream home to life with expert advice, how-to guides and design inspiration, direct to your inbox.
Sarah is a freelance journalist and editor writing for websites, national newspapers, and magazines. She's spent most of her journalistic career specialising in homes.
She loves testing the latest home appliances and products, and investigating the benefits, costs and practicalities of home improvement. She is an experienced renovator and is currently remodelling the ground floor of her new home.
She was Executive Editor of Ideal Home and has worked for Your Home and Homes & Ideas. Her work has published by numerous titles, including The Guardian, channel4.com, Houzz, Grand Designs, Homes & Gardens, House Beautiful, Homes & Antiques, Real Homes, The English Home, Period Living, Beautiful Kitchens, Good Homes and Country Homes & Interiors.