How to Buy Garage Doors
By Claire Lloyd
It turns out that there's quite a lot to know before buying a new garage door. Claire Lloyd meets industry experts to find out more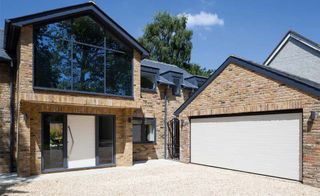 (Image credit: Urban Front)
Today there's much more to choosing a new garage door than buying the best-looking model for your budget.
Thermal performance, security and potential maintenance are increasingly vital characteristics to look out for in addition to east of access and fast, smooth operation.
Here we look at the things you need to consider when buying garage doors.
If you're a self builder, you're at a distinct advantage, being free from constraints such as choosing a garage door to fit an existing opening or a configuration which suits the width or height of an existing garage.
But it also pays to begin your search for a garage door prior to starting on site to give yourself more choice and design scope, rather than having to choose from a limited range that will fit the predetermined space.
What are the Different Types of Garage Doors?
You can divide up garage doors by how they open:
swinging out (also known as side hung)
going up (also known as up and over, available in rolling or sectional configurations)
sliding to the side (also known as side sliding)
There's variations too among the manufacturers, with bifold and counterweighted doors among the less common options.
Your main choices when it comes to selecting the material for your garage door are:
steel
aluminium
GRP (glass-reinforced plastic)
timber
You'll need to decide on your preference for both material and opening method — with each having cost, aesthetic and practical implications.
Steel remains the cheapest option, with GRP, aluminium and timber typically more expensive, though they provide more visual interest in terms of colour and finishes.
How your door opens will affect how you use the garage and space in front of the door (the apron). Side hung (and bifold) doors will need space to open, potentially reducing the usable space on your drive. Ceiling/roof storage can be affected by up and over opening doors, too.
How Much Do Garage Doors Cost?
Garage doors vary in price, depending on the type of door, the material (GRP, for example, being higher in price than some other material choices) and the quality.
At the lower end of the market, you can pick up a pair of unfinished timber side-hung garage doors for as little as £250 at a local DIY shed, with steel up-and-over doors starting at upwards of £300. Add to this installation costs, while automation will add another couple of hundred at least, too.
A branded steel up-and-over door will cost in the region of £700 fitted, with sectional doors likely to cost upwards of £1,300 fitted, and roller doors costing from £1,400 fitted.
These prices will increase slightly for non-standard sized doors, and also for non-standard colours or additional glazed elements.
Which Garage Doors are the Best?
"Double-skinned sectional doors offer a high-performing door, with superior insulative properties and good security," argues David Newcombe of Hörmann. "The only thing you really need to consider with a sectional door is whether you can accommodate the tracks (which can be mounted overhead or side mounted)."
"Roller doors are another option and are perfect for garages where there is limited headroom or if you want to retain access to the roof," says Simon Hipgrave of Garador. "The benefit of roller doors is their convenience — they roll up into a box of around 300mm in diameter, mounted above the opening. However, one of the biggest misconceptions is that this type of door offers an insulating product," says David Newcombe. "The U value of a roller door is around 6W/m²K, compared to 1.3W/m²K for a double-skinned sectional door."
Timber Garage Doors
Timber doors are a good choice for period homes, especially for those properties where material options such as PVCu and steel would look unsympathetic. The downside of timber is that it requires maintenance, and a wood-effect GRP door can be an alternative for homeowners seeking the look without the maintenance.
If you do opt for timber, treat them on the first available dry day according to the manufacturer's instructions (doing it wrong or using a non-recommended product may invalidate your warranty). It can then be treated every year (for south-facing doors) and every other year for non-south facing.
Garage Door Security
Garages are no longer used simply to house the car — instead they've become overspill areas for the home, doubling up as utility areas, home gyms, storage space, or perhaps as a dry place to store power tools, etc. As such, security is becoming much more of a concern. Specifying a door with Secured by Design accreditation (given by the Association of Chief Police Officers to products specifically designed to prevent an intruder breaking in) is a good idea.
Can I Install a Garage Door Myself?
The advice from industry experts is to opt for a 'responsible', experienced installer to ensure correct installation and to prevent the door from failing over time. This is especially important when it comes to automated doors to ensure they comply with necessary regulations.
Professional installation could cost around £250-£300. Two single sectional doors could be installed in as little as a couple of hours. However, swift installation is down to getting the base and walls level and true in the first instance.
Homebuilding & Renovating Newsletter
Get the latest news, expert advice and product inspiration straight to your inbox.
Thank you for signing up to Homebuilding. You will receive a verification email shortly.
There was a problem. Please refresh the page and try again.