Electric Garage Doors: The Complete Guide to Automated Systems
By Rebecca Foster published
An electric garage door can offer real convenience, but there's plenty to consider before installing one – from security and ease of operation to installation and cost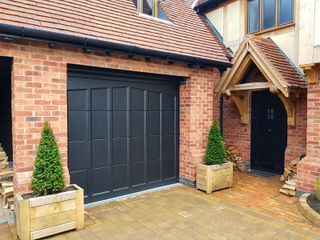 (Image credit: CMS Garage & Entrance Doors )
At the press of a button, an electric garage door allows you to drive straight into the garage – without having to get out of your car, unlock the door and open it manually.
An electric garage door automation system comprises an electric motor, a control system and a mechanism that links the motor to the door in order for it to open.
It is possible to have an automated garage door installed as new, when replacing a garage door for example, or to retrofit an existing door with an electric garage door kit.
(MORE: Best Garage Doors)
If you do decide to make the change to an automated garage door, there is a plenty to consider before you invest in a new system – from security and safety to the type of mechanism and how you control it.
What are the Benefits of Electric Garage Doors?
Convenience and ease of operation are the key benefits – especially on rainy days when you can simply open the electric garage door at the push of a button, rather than having to dash outside to open the door manually.
"Security is another advantage. The motor acts as the locking mechanism and some doors have alarm systems integrated into the doors, too," says Leanne Chandler, director at CMS Garage & Entrance Doors. "If a break-in is attempted, the alarm would sound automatically."
Aesthetics is one of the main considerations when buying a new garage door, and the good news is that automated products come in an array of styles and materials to complement your home's exterior. There are also various options for controlling your door, whether you prefer remote control, keypad or smartphone.
What are the Drawbacks of an Electric Garage Door?
The upkeep requirements for electric garage doors are greater than a manual door, as you'll need to maintain the mechanics of the electrical kit as well as the door itself.
Installation is trickier, too – it's likely that you'll need to call a professional in rather than fitting the system on a DIY basis.
How Much Do Electric Garage Doors Cost?
Top of the range electric garage doors could set you back £20,000 or more. However, as a minimum, expect to budget within the region of £1,000 for a basic setup (not including installation). Expect to pay between £200 and £400 for fitting.
Are Electric Garage Doors Safe?
All electric garage doors sold in the UK should be CE marked, which means they need to adhere to various safety requirements to be considered fit for purpose.
However, it is important for the door to be installed correctly to ensure the whole system functions as it should – another reason to ensure your setup is fitted by a professional.
"Our automation systems are intrinsically safe and have a safety reverse system fitted as standard," says Alex Mackay, product and technical support manager at Hörmann. "In the event of the door hitting an unexpected obstruction during operation, the automatic safety cut-out stops the door safely and reliably."
If you're adding the automatic operator at a later date, it's worth investing in a setup that's supplied by the same manufacturer to ensure that the setup runs as smoothly and safely as possible. "It's recommended that the door and the operator have been tested and certified together," says Alex.
Are Electric Garage Doors Secure?
Did you know?
You can search for accredited garage doors that have met Secured by Design home security standards through the scheme's website.
The garage can be a attractive target for thieves as it holds your car, valuable tools and potentially provides access to the rest of the house. It's therefore important to choose a door that can withstand an attempted break-in.
When choosing an electric garage door, look out for a model with Secured By Design accreditation. This is a police security endorsement that can be attained by products that meet specific security criteria. These products will have undergone rigorous testing to ensure they can withstand attack from would-be burglars for a certain amount of time.
Another feature to look out for is mechanical automatic door locking. "All Hörmann automation systems are fitted with this feature in the closed partition, which prevents the door being forced open from the outside, even in the event of power failure," says Alex.
Electric Garage Door Installation
Due to the size and weight of a garage door, installing one is no easy task – especially for automated models. Typically, a two-person team will take between three and six hours to install the new door. Bringing in a fully trained contractor to fit the door will provide peace of mind that it has been fitted correctly and safely.
If you opt to fit the door on a DIY basis, you are unlikely to be covered by an installation warranty that most supply-and-fit companies offer.
Can I Just Automate an Existing Garage Door?
It is possible to automate most manual doors, providing the original door is in a good state of repair and was fitted properly in the first place.
The electric operator is usually a reasonably inexpensive addition and should be straightforward to incorporate. "However, it does depend on the type of the door, how it runs and the age of the door," says Leanne from CMS Garage & Entrance Doors. If the door is extremely heavy to operate, for instance, you may be better off upgrading the whole setup.
What Type of Garage Doors are Best Suited to Automation?
Most modern garage doors (sectional, roller or side-hinged, for example) manufactured by a reputable supplier are suitable for automation. If your door was not made in the last several years, a little more research may be required to ensure the model you have will operate effectively alongside the accessories within the motorised setup.
Canopy doors can be automated; however, the setup is a little trickier due to the way in which this type of door opens. An additional metal device will need to be fitted to the back of the garage door to facilitate the twisting action required for the canopy door to open properly.
Do I Need a New Power Supply in my Garage?
If you have an integrated garage that connects directly to the house, you should already have power. However, if you have a detached garage without power, in most cases you will need to link it up to the electric supply.
An automated garage door that runs of the mains only requires a three pin, 13 amp socket for the operator to plug into. Depending on the type of door you choose, the location of the socket will be different.
"There are battery-powered operators available, too," says Alex from Hörmann. "Depending on the frequency of daily door cycles these operators will function for several weeks and can be recharged via a normal power outlet. Alternatively, solar-powered versions are also available, which recharge the battery automatically."
How Can Electric Garage Doors Be Controlled?
As standard, most automated installations come with at least two remote controls that allow you to open the garage door. "You can add further remotes, plus small remotes that sit in the cigarette lighter compartment in your car," says Leanne from CMS Garage & Entrance Doors. "Optional add-ons include fingerprint entry, push buttons, keypads and app control via your tablet/smartphone."
The ability to operate your garage door remotely, via an app on your smartphone, does have the edge in terms of convenience. "If you have workmen at your home or need to accept a large delivery, it's ideal to allow access when you're not there," says Leanne.
App control with Geofence technology is also a possibility. These systems can be activated via the app (depending on which system is used) when you are on your way home. When you are within 50m of your home, the garage door will open without the need to press the remote, so you can simply pull straight into the garage.
Can I Open an Electric Garage Door Manually?
All electric garage doors should be fitted with a manual override to ensure you can open the door in the event of a power cut or motor failure. There are numerous systems you can use, with different solutions required for different types of doors.
For example, for up and over, side-hinged and sectional garage doors, a release mechanism can be fitted to the internal door handle. For roller garage doors, on the other hand, there might be a high level winding handle fitted externally to allow you to open the door in the event of a power failure.
What Should I Look for When Buying an Electric Garage Door or Door Kit?
One key feature to look at is the opening speed of your door. This is one aspect that will vary significantly between suppliers.
"It's also important that the operator you choose is from the same manufacturer as the door itself. That way you can ensure the operator and door have been checked and tested together," says Alex from Hörmann.
As with most products, you get what you pay for when it comes to garage doors and motorised kits. Opting for a solution that comes at a lower price point may save you money initially; however, these kits tend to function using a less complex operation frequency using chain drive technology.
"This is not as smooth and can need more maintenance," says Alex. "The most expensive operators on the market will typically operate at a more complex and secure frequency and the drive will be belt driven, which provides a smooth, quiet operation with minimal maintenance."
Noise is another aspect to consider. Motorised kits use a variety of mechanisms to open the garage door, all of which come with different noise levels. Chain-driven openers tend to be the loudest, however, they are also highly durable, more affordable and extremely robust – particularly if your garage door is heavy.
If you have a detached garage, the extra noise of the chain might not be as much of an issue. If you're looking for a quiet solution, a belt-driven operator might tick the right boxes as the rubber belt does not make the same metal-on-metal noise as a chain driven alternative. As well as being quieter, belt-driven mechanisms typically come with quicker opening speeds and are lower maintenance as no lubrication is required for the chain. However, they generally cost more and aren't capable of handling the same heavy load as a chain-driven kit.
Always double check what warranty your door comes with before parting with any cash. Most companies include a two-year installation warranty as standard.
Rebecca is an experienced homes and interiors writer with a passion for Victorian architecture. Her dream is to extend an 1800s house
Homebuilding & Renovating Newsletter
Get the latest news, reviews and product advice straight to your inbox.
Thank you for signing up to Homebuilding. You will receive a verification email shortly.
There was a problem. Please refresh the page and try again.