Garage Design: All You Need to Know to Create the Perfect Garage
By Pete Tonks published
Achieving a garage design that's practical, spacious and beautiful requires careful consideration - here's what you need to know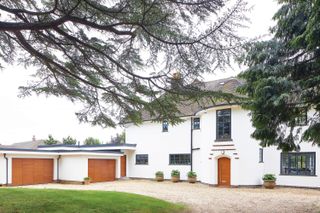 (Image credit: Urban Front)
From my experience, the garage design is often the last part of a project to be considered when establishing a design and planning a brief with clients, and in many ways this is wrong.
If you think about it, the garage is often the first thing you will see when looking at a development so it needs reasoned design.
Consider the Position of Your Garage Design in Relation to the Rest of the House
Attached garages are often face-on to the road, with large dominant doors which compete with the subtleties of the main dwelling. Detached garages are more likely to be positioned at the front of the plot and are therefore the first structure visible to visitors and passersby. On this basis, the garage needs to be the 'jewel in the crown' rather than the 'ugly duckling'.
(MORE: Garage Doors)
Should I Opt for an Attached Garage Design?
I would urge you not to go integral with an attached garage. This is one which is incorporated into the main bulk of the dwelling, with no clear distinction between the residential and garaging element. This results in poor architecture and a mixed message visually. Contemporary homes can sometimes get away with integral garages if well designed, but it is much harder to nail with a traditional style project.
If your plot dictates the garage cannot be a detached structure, then work on the concept of a linked garage which is spaced from the main home. You can then link it with a walkway or boot room element. This works best if the proportions of the garage are secondary to that of the dwelling.
You could also try rotating the garage structure through 90° so that the large doors don't face out from the front elevation. They could instead face sideways onto the driveway or turning space. This gives you the opportunity to hide the garage as best you can.
Detached Garage Designs
The optimum solution for garaging, is to move it completely away from the dwelling so that the two structures can exist independently. Again consider the proportions of the garage in relation to the house.
The link option discussed previously can still work very well, and will provide you with the opportunity to park your car then enter the dwelling without being open to the elements. This could be a simple 2m-long utility/boot room area, or it could be a 10m-long fully glazed walkway with views out to the rear garden.
(MORE: Oak Frame Garages)
Think Carefully When Factoring Size into Your Garage Design
For years, parking spaces have been set at 4.8 x 2.4m and historically, this seemed to work fine. Garages, therefore, have been somewhere in the region of 3 x 5.5m for a single and 6x6m for a double.
However, cars have since become a lot larger and they have greater door sizes and opening radii, and so your garage's internal space needs to reflect this. You also need space for the family to get in and out of the car — along with any dogs and shopping too.
For a single garage, I would suggest an optimum size of 3.5x6m internal space
For a double garage you should aim for an optimum size of 6.5×6.5m, although 6x6m is still comfortable for most vehicles.
The height of the door opening is also a key consideration. Today we have all manner of 4x4s, and even minivans and motorhomes. These range from around 1.6m high for 4x4s and SUVs, and anything up to as tall as 3m for a motorhome. This has resulted in the rise of open carport-style garaging as it removes the restriction of door frames and opening mechanisms, and allows easier entry and exit from the garage.
Extra Functionality to Incorporate into Your Garage Design
There is a trend nowadays to get as much use out of the garage as possible, so consider a room above to be used as a studio, annexe or even home office space. Always check planning implications first. As long as the planned use above the garage is considered to be ancillary to the main dwelling, you should be OK.
Be careful not to over-domesticate the garage with features such as too many dormer windows, balconies, and chimneys. Keeping stairs leading up to a space above a garage inside the garage itself can help to avoid it looking over-domesticated.
Consider using secondary building materials — for example, the main dwelling may be built in brick, with the garage of a simple timber boarding.
You could also welcome features such as log stores, boiler rooms and workshops, but again, be sure to keep them secondary in scale to the main building itself.
Do I Need Planning Permission to Build a Garage?
Garages, in line with other outbuildings, are considered to fall under Permitted Development (meaning that they will not need planning approval), providing:
They are not situated forward of the principal elevation.
They are single storey with a maximum eaves height of 2.5m and a maximum overall height of 4m, with a dual-pitched roof, or 3m for any other roof (or 2.5m maximum ridge height if it's within 2m of the boundary).
They are not situated within special designated areas (e.g. Conservation Areas) or listed buildings.
See planningportal.co.uk for a full list.
Pete is a design expert and director of PJT Design Ltd. He has been designing self build homes for over 20 years and is a specialist in designing oak frame homes.
Homebuilding & Renovating Newsletter
Get the latest news, reviews and product advice straight to your inbox.
Thank you for signing up to Homebuilding. You will receive a verification email shortly.
There was a problem. Please refresh the page and try again.