Roller Garage Doors: Your Questions Answered!
Choosing the right roller garage door for your home takes careful consideration. Here, we look at the most common queries, from materials to maintenance requirements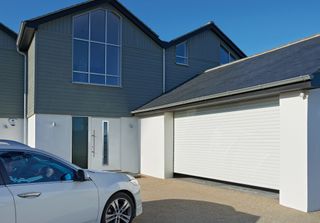 (Image credit: Garador)
Roller garage doors offer a versatile and robust solution for your garage entrance.
Whether you choose a product in aluminium or steel, manually operated or automatic, there's a lot to think about before deciding on the model that's right for your home.
We lay out the facts you need to know to pick a door that will last for years to come and answer frequently asked questions about roller garage doors.
(MORE: Best Garage Doors)
What is a Roller Garage Door?
Roller garage doors are made from a curtain of steel or aluminium slats (or laths) and open vertically. When the door is opened, the series of slats coils into a roll shape above the opening, rather than moving along internal tracks like a sectional garage door.
Are Roller Garage Doors Any Good?
Roller doors provide a versatile and compact solution that maximises your garage's space.
For example, if you have a tall vehicle to park or you want to use the headroom for storage, you won't need to allow room for internal tracks along the ceiling. This space efficiency also comes in handy for garages where the headroom is limited.
"You can also make full use of your driveway by comfortably parking up close to the door, whether it's open or closed," says Caroline Mills, head of marketing communications at Anglian Home Improvements.
Other pros include quiet operation, sleek and unfussy design and the wide choice of controls for access. Roller doors can also be fitted inside, in between or outside the structural opening of the garage.
Are There Any Drawbacks to Roller Garage Doors?
Though they're available in a range of factory-finished colours, there's not as much scope in terms of the design of your door. You're pretty much limited to the aesthetic created by the horizontal slats. As a result, roller doors might not suit some older homes.
Another drawback is that there is no option to include a pedestrian access or 'wicket' door within a roller door, as you can with a sectional or up and over door.
However, some manufacturers such as Garador do provide the option to incorporate small strips of glazing within the slats. This is great news if you wanted to channel some natural light into your garage.
What Sizes Do Roller Garage Doors Come In?
Did you know?
Roller doors in 'standard' sizes are less common, and it's likely that any door made to these dimensions will be made of steel.
When you start shopping around for garage doors, you might notice than many 'standard' door sizes come with imperial measurements. In most cases, these refer to up and over doors, these being the traditional choice for garage entrances across the UK.
However, modern designs for sectional and roller doors are often provided in metric measurements – an important factor to be aware of to make sure you're comparing like with like.
You'll find that most manufacturers provide aluminium roller doors on a made to measure basis, too, so sourcing one to fit your garage's opening shouldn't be a problem.
"The smallest garage door Anglian offer is a Compact Roller at 2,000mm by 2,000mm," says Caroline. "It uses a smaller lath that allows it to roll up tighter, requiring less space at the top of the door. We also offer sizes up to a double sized roller garage door with a width of 5,200mm by 2,750mm high, covering most types of garage door openings."
What Is the Best Roller Garage Door?
Aluminium roller garage doors are the most popular choice.
Robust and durable, an aluminium door is also much lighter than other hard metals such as steel. With less of a load placed on the door's opening mechanisms, it is likely to offer a longer service life.
Aluminium can be powder coated and finished in an array of different colours and textures, including woodgrain effect.
Little maintenance is required to maintain the material – just a regular wash down to keep the surface of the door free from grit and dirt.
Steel roller doors are also available. Thanks to the innate strength of the material, steel doors are able to withstand attack from would-be burglars well.
Steel doors are affordable, too. However, steel roller doors are typically only available with a single skin, so probably not the best solution if you're keen to prevent heat leaking out via the garage door.
How Much Does a Roller Garage Door Cost?
Prices for good quality doors start around the £1,300 mark.
With roller doors, the adage 'you get what you pay for' could not be more apt. There are a lot of cheap products available; however, not all of them will meet the UK standards for quality and safety.
The Garage Door Centre advises consumers to be wary of any insulated aluminium single width roller door with an installed price of less than £900.
For an automated aluminium roller garage door, expect to budget around £1,600 or more. If you spot a single roller shutter door, with foam-filled insulation, for any less than £1,000, it is probably too good to be true.
(MORE: Electric Garage Doors)
Are Roller Garage Doors Safe?
Always check that your door comes with the quality-assured CE mark to ensure it meets the full set of safety regulations required in the UK. There are many doors out there that don't have this mark, and technically, they're illegal.
How Secure is a Roller Garage Door?
In terms of security, manually operated roller doors typically feature a sliding bar mechanism that locks into side channels internally. Automated roller doors generally come with a locking mechanism housed within the barrel that attaches to the sheet of slats.
The quality in these locking devices varies dramatically between manufacturers, so you might need to do a bit more homework to ensure the model you choose is up to the required standard.
"Our roller doors are fitted with anti-lift geometry locking straps so when the door is in the closed position the strap is locked tight by a locking ring, thereby not allowing the door to be lifted by physical force," says Caroline. "If an attempt is made to lever the bottom of the door upwards a piercing alarm is triggered to deter intruders."
For peace of mind, look for a product that comes with Secured By Design Status. This police-led initiative focuses on designing and crime, and products undergo rigorous testing and be able to withstand break-in attempts for a certain amount of time to qualify.
Do Roller Garage Doors Need Much Maintenance?
Top Tip
Offset the risk of a creaky door by having a professional garage door engineer install the door for you. That way, you can be confident that everything will function as it should
Motorised roller shutters tend to be more noisy when the parts are loose or not well lubricated.
Get into the habit of regularly greasing the door's joints, springs and openings. Keeping all the moving parts well lubricated will pave the way for a door than runs smoothly for years to come.
If your door starts to become noisy when opened, that's a pretty good indicator that some further care may be required.
"We would recommend washing down the outside of the door with warm soapy water at least once every three months to prevent a build-up of grime," says Caroline.
"Check and clean out the guide rails, too, removing any accumulated leaves and debris. It's also good practice to ensure the door closes onto a level, clean surface to avoid any unnecessary damage to the bottom of the door."
Many companies offer a two-year installation warranty, so you'll have a direct point of contact in case anything goes wrong.
Do All Roller Garage Doors Come With a Hood Cover?
Known as a hood cover, roller box or shutter box, this casing essentially provides a cover for your garage door to roll into when it is opened. Not all domestic roller doors come with a hood cover as standard, so this is an important detail to check.
Safety is one of the primary advantages of incorporating a hood cover, as it will prevent your fingers or clothing from getting stuck in the rolling mechanism as the door winds open. This is particularly important for garages with a head height less than 2,500mm.
The hood also provides a clean finish, keeping the roll and attached mechanisms boxed neatly out of sight. Plus, incorporating the roller box will protect the garage door itself.
For example, if you plan on using your garage as a workshop for any wood or metal work, the casing will prevent splinters or fragments from getting stuck in the door and causing problems.
Get the Homebuilding & Renovating Newsletter
Bring your dream home to life with expert advice, how-to guides and design inspiration, direct to your inbox.
Rebecca began her journalism career writing for a luxury property magazine in Bangkok, before re-locating to London and becoming a features editor for a self build magazine. She is an experienced homes and interiors journalist and has written for many homes titles including Homebuilding & Renovating, Ideal Home and Period Living.
She has expertise on a wealth of topics — from oak frame homes to kitchen extensions. She has a passion for Victorian architecture; her dream is to extend an 1800s house.