Up and Over Garage Doors: Everything You Need to Know
By Rebecca Foster published
Up and over garage doors are a classic solution: from materials to installation and maintenance, here's what you need to know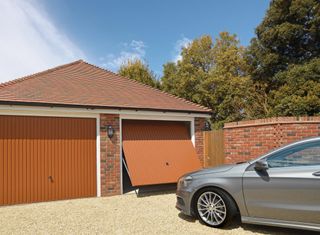 (Image credit: Garador)
Up and over garage doors offer a tried and tested solution for the garage. In fact, they're the most commonly installed type of garage door across the UK.
There's more than just aesthetics when it comes to picking out a garage door for your home. Size constraints, material options and ease of installation are all factors that come into play, as well as the ability to incorporate an additional access door or automate the setup at a later date.
Up and over garage doors could fit the bill for your home, but how can you tell if they're right for you? Here, we take a closer look at how they work and the key factors to investigate when sourcing one for your home.
What is an Up and Over Garage Door?
The classic one-panel design of an up and over garage door operates via a track mechanism that is fixed to the garage ceiling. The door panel lifts up from the bottom, either sliding out of the way to sit just below the garage ceiling when opened (retractable) or lifting up to form a canopy in front of the door frame (canopy).
The panel itself is fitted into a robust sub-frame made from timber or steel. This needs to be fitted within the structural opening at the entrance to your garage.
The version that best suits your home depends on the space you have available and how you plan to use the garage. Canopy up and over doors, for instance, offer the greatest width of opening as the door is balanced by torsion springs in the fixing frame above the panel.
Retractable versions have a slighter narrower drive-through width, as the lifting arms are positioned on the inside of the sub frame. However, the extra tension springs at the sides mean that retractable designs tend to be more robust and easier to operate than their canopy cousins. The added strength of the retractable design means that this type of up and over door tends to come in larger sizes, too.
Where are They Best Used?
This space-efficient door is ideal for compact garages, as it maximises the usable space inside. However, an up and over design may be unsuitable for a short driveway, as you'll need to allow enough space for the panel to move forward as lifts and opens (without hitting the car bonnet!).
What are the Advantages?
The one-panel construction of an up and over garage door makes for a neat and tidy solution. "They can be very wide, and operated manually or be automated," says Elizabeth Assaf, co-founder of Urban Front (urbanfront.com). "Plus, the design of an up and over door means there's a minimum wastage of space inside."
Depending on the material you go for, up and over garage doors typically offer the most wallet-friendly solution compared to other types of garage door. Basic steel designs can be purchased online from £300 upwards.
What are the disadvantages?
Historically, up-and-over doors aren't known for their strong thermal performance. If you plan to use your garage simply as a space to store the car, this isn't a problem. However, if your garage doubles up as a home gym or utility area, you might look at other models for a more insulating solution.
What Sizes are Available?
When you shop around for garage doors, you'll notice that many UK-based manufacturers provide their dimensions in imperial measurements.
The most common starting size for a single up and over garage door is 7' (2,134mm) wide x 6'6" (1,981mm) tall. Width increments usually go up to around 14 ft (4,267mm) wide. For an opening wider than this, a sectional garage door might be the better fit. Off the shelf solutions usually measure 6'4" (1,832mm), 6'6" (1,981 mm) or 7'0" (2,134mm) in height.
Don't forget that modern vehicles tend to be wider, so going for as wide a door as possible is a smart choice. Even if your current car fits a smaller door size, opting for a door with a slightly greater breadth is a sure way to futureproof your choice.
For up and over doors, measurements typically refer to the size of the door as fitted within the sub frame, not the opening itself. If you are fitting a new door into an existing aperture, bear in mind that the new sub frame could be a different size from the original – an important detail to check before buying!
How to Choose Your Materials
What Materials are Available?
Compared to other types of garage door, up and over designs tend to be the most versatile in terms of the range of materials available. Steel, timber and composite are the most common options. PVCu versions have mostly fallen out of use as plastic doesn't provide the strength that's needed.
Steel is the most popular option. "It's reasonably priced, long-lasting and low-maintenance," says Paul Eddleston, marketing manager at Garador (garador.co.uk). Good quality steel doors are inherently strong, too, and come in a wide range of finishes to complement your chosen aesthetic.
Timber offers a warmth and character that's unmatched by most other materials. Plus, it tends to be the best fit for older homes. On the downside, wood designs tend to come at a higher price point than steel and will require more maintenance.
"We use solid red cedar for our timber garage doors," says Paul. "Cedar has self-protective qualities that defend it against temperature-related stresses. While some types of wood warp or crack when subjected to moisture, cedar stays straight and flat. Plus, it can be stained or painted without losing its beautiful grained appearance."
Composite or glass reinforced plastic (GRP) up and over doors, on the other hand, are extremely versatile. Robust and durable, they are also lightweight which makes them easy to use. "GRP has high corrosion resistance and can withstand harsh conditions well," says Paul. Composite doors can be finished in array of surface textures and colours to suit your scheme.
What is the Best Material?
The material that is best for your garage comes down to personal preference. If aesthetics and thermal performance are the leading factor, then timber is likely the strongest contender, as it's a natural insulator. If you're working with limited funds, steel is probably the best option for your home. If it's a lightweight solution you're after, then it's worth investigating composite options.
Can you Include a Door?
Some manufacturers, such as Hörmann and Sivelox, offer up and over garage doors that feature a pedestrian access door (often known as a 'wicket' door) within the moving panel. However, this is not a standard feature you'll see from all suppliers, so you may need to shop around a little more to find a solution that suits your requirements.
Can They be Automated?
It is possible to automate most existing up and over doors, though the process is easier if your door operates via a retractable mechanism rather than a canopy one. If you plan to automate the latter type of up and over door, you will need to install a good quality bow arm converter with a traditional boom operator. For retractable doors, the bow arm is not necessary.
How Much Does Automation Cost?
A high quality operator is likely to cost within the region of £400. In some cases, for instance if you are working with an older door, it may be cheaper to replace the whole setup, including the door itself. All-in packages for up and over doors operated by motors can be sourced for £1,000 (not including installation).
How Secure are They?
Security is a major consideration when sourcing a new garage door for your home.
When shopping around for your door, look for a model with Secured By Design status. This police-led initiative focuses on designing out crime. All products undergo rigorous testing to ensure they are strong enough to meet the required standards and resist attempted break-ins for a certain amount of time.
Another way to ensure your garage door is robust enough to withstand attacks from would-be burglars is to have it fitted by a professional. An experienced installer will be able to fit the door properly to ensure efficient, long-lasting performance.
Who Supplies Up and Over Garage Doors?
Standard up and over steel doors are fairly straightforward to fit on a DIY basis.
"As the doors get more advanced and bigger, we would always recommend professional installation," says Leanne Chandler, director at CMS Garage & Entrance Doors.
"Doors are heavy so if the correct tension isn't on or they have been set up incorrectly, they can cause damage. Most companies include a two-year installation warranty as well so if there are any issues, it can get sorted."
Are they Weatherproof?
Up and over doors are not known for their weatherproof qualities – if you are planning on using your garage for anything other than storing your car, it may be better to look into sectional or roller designs. That being said, higher quality up and over doors with rubber seals along the sides and bottom of the door will offer more protection from the elements.
Another aspect to look at is whether your steel garage door is resistant to corrosion. Sealing the door with some form of protective finish will lengthen its service lift by helping to prevent rusting. Various protective sealants are also available for up and over doors made from timber.
Do they Require Maintenance?
The level of maintenance required depends somewhat on what material the panel is made from. Lubricating the springs every so often is a good idea to keep your door's moving parts running smoothly.
"Hardwood doors would either need oiling or lacquering up regularly – once every six months to a year, depending on weathering," says Elizabeth from Urban Front.
"Weathering depends on which way the door faces, with north requiring less maintenance. The great thing about up and over doors is that they shouldn't need much upkeep other than the finish – they are super easy to take care of."
Rebecca is an experienced homes and interiors writer with a passion for Victorian architecture. Her dream is to extend an 1800s house
Homebuilding & Renovating Newsletter
Get the latest news, reviews and product advice straight to your inbox.
Thank you for signing up to Homebuilding. You will receive a verification email shortly.
There was a problem. Please refresh the page and try again.