Side Hinged Garage Doors: The Right Solution for Your Home?
By Rebecca Foster published
A side hinged garage door setup offers a convenient solution for traditional and modern homes – but what should you know before purchasing?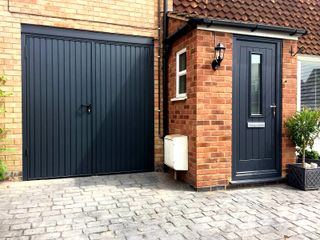 (Image credit: Garador)
Also known as side-opening or swing variants, a side hinged garage door comprises a two-leaf setup where the panels are hinged at the sides to open in much the same way as your front door would. Though it's possible to track down products where the door panels open inwards, they are almost always made to open outwards.
All side hinged garage doors are fixed to a sub frame, either made from steel or timber. As well as the conventional half and half split (where both door panels are equal in width and open at the middle of the aperture), you can get a one third-two thirds split across the opening panels. "The right-hand leaf leads as standard, though left-hand leading doors are available on request," says Paul Eddleston from Garador.
This classic solution is often the go-to choice for traditional homes. However, there's plenty of design choices for this setup with an array of streamlined products available to suit modern homes, too.
(MORE: Best Garage Doors)
Pros and Cons of a Side Hinged Garage Door
Pros
As the doors generally open outwards, side-hinged doors are a smart solution for maximising garage space, as you won't need to allocate room inside for the panels to swing back. Plus, they're handy for garages where there isn't enough head room to install a sectional or roller garage door.
If you want to establish a setup where you can easily nip in and out of the garage just by opening one door (ie if the garage is used as a pedestrian entrance rather than for accommodating a car), side-hinged arrangements are ideal.
"We find that side-hinged garage doors are chosen for their practicality and the way they look," says Elizabeth Assaf, designer and co-founder of Urban Front. "Clients are now using their garages as flexible spaces – sometimes for an office or playroom, for example. That's where these doors come into their own."
Cons
On the downside, an outward opening door like this is not suitable for homes where the driveway slopes upwards from the garage's entrance opening. Plus, if you keep your car on the driveway you'll need to allow enough space for the doors to swing open without hitting the bonnet. As a result, they might not be the best fit for shorter driveways.
Material Options for Side Hinged Garage Doors
The three main material options are:
Timber
Steel
GRP (glass reinforced polyester).
Timber
For a traditional home, timber is the favoured choice. The budget you have available will dictate which type of timber you go for – softwood products may cost less but they won't offer the same durability or resilience as a hardwood like oak.
There's plenty of choice for how to finish timber doors, too, with an array of different wood stains, varnishes and paints available. Remember to check what finish your timber set of doors comes with as standard, as this may affect how much work is needed upon installation and in terms of ongoing maintenance.
Steel
Steel is a low-upkeep option that can be finished in an array of surface textures and colours. High quality steel doors are robust, too. On the downside, steel garage doors are more vulnerable to rust. Plus, on its own, metal is a poor insulator.
GRP
GRP doors offer versatility, as they can also be finished in an array of colours and surfaces to suit your chosen aesthetic. Lightweight, low-maintenance and resistant to rust, GRP doors provide a secure solution for your garage. On the downside, a GRP door is not as robust as wood. Plus, the material may become brittle in extremely cold temperatures.
Design Configurations
One key design advantage of the side-hinged garage door is that there are plenty of glazed options available, with windows (usually at the top of the panel) that let sunshine flood into your garage.
"There's numerous attractive steel designs to choose from, such as Georgian style with panel pressings and profiled designs with ribbed sheet steel. The timber door designs provide the natural warmth, beauty and authenticity only real wood can provide because each piece of wood is natural and unique," says Paul from Garador.
"Our GRP models come in either a gloss white, with an incredibly smooth and silky surface texture, or timber effect with a woodgrain surface texture that imitates real wood."
Are Side Hinged Garage Doors Available in Standard Sizes?
Though side-hinged garage doors can be made to bespoke dimensions for broader openings, they're typically used for single garages. The maximum width (for the entire set) is around 3m across.
Anything larger than that will require extra heavy-duty hinges to affix the panels to the steel sub-frame. On the flip side, side-hinged doors can be made as small as you like.
How Much Does a Side Hinged Garage Door Cost?
Prices start at around £1,100 for single skin steel or softwood doors made to off-the-shelf dimensions (on a supply-only basis).
Prices can rise to £2,500 and above for made-to-measure solutions. Bespoke hardwood doors, for instance, could easily cost more than £5,000, depending on the spec.
GRP doors made to standard measurements typically start from £1,500 and rise to around £2,500.
If you're looking to have the doors automated, this will typically cost upwards of £500 mark.
Can a Side Hinged Garage Door be Automated?
While it's possible to automate a side-hinged garage door, it's not the typical setup for this type of entrance. "They can be floor pivot automated – it's pretty simple to run and minimal maintenance is required. However, most of the time we make them unautomated," says Elizabeth from Urban Front.
(MORE: Electric Garage Doors)
Are Side Hinged Garage Doors Secure?
Security is a key consideration if you have any high value items stored in your garage.
Double-skinned and insulated steel doors offer a more robust solution than single-skinned products, therefore offering more protection from would-be burglars. Hardwood doors can offer more protection from attempted break-ins, too, particularly if they are steel reinforced for extra stability.
For peace of mind, look for doors with the Secured by Design accreditation. This police-led initiative focuses on designing out crime. To qualify, doors undergo rigorous testing and should be able to resist break-in attempts for a specified amount of time.
Installation is key, too. The security of your doorset is only ever going to be as efficient as the way it was fitted. If you want to ensure that your doors are functioning at their optimum level, have a professional installer assemble and fit them.
How Thermally Efficient are Side Hinged Garage Doors?
Though side-hinged configurations tend to achieve better thermal performance than roller garage doors, they're not as efficient at keeping the heat in as sectional designs.
If you have a freestanding garage that's simply used to store your car, work tools and gardening gear, a single-skinned side-hinged door might suffice.
If the garage is integral to the home, however, a double-skin model with an insulating foam core might be required to prevent heat from leaking out. Look for a set that comes with rubber seals fitted to the edge, as this will help prevent incoming draughts.
What Upkeep is Needed?
The level of upkeep required depends largely on what your door is made from. All doors will require periodic cleaning in the form of a wash down with warm water and a soft sponge.
Timber will require more upkeep than GRP and steel – though a lot depends on whether the door is supplied with any factory finishes or treatments before being delivered to site.
Sanding can be carried out every three to five years so that your doors can be re-stained or re-painted to keep them looking as good as new. Always follow your manufacturer's guidance to establish an effective maintenance regime for your doors.
Regardless of the doors' material, the hinges will need to be kept well oiled. It's worth checking the hinges every few months or so – though any creaking or screeching sounds will tell you if the hinges are in desperate need of lubrication.
Is a Side Hinged Garage Door Right for Me?
A lot comes down to the type of garage you have and how you use it. For instance, if you're using is as a space to house an expensive sports car, security is likely to be your top priority. In this case, you might go for a double-skinned steel set of doors or a solid set of hardwood panels.
If you have an integral garage that links directly to the main house, thermal performance might be a bigger driver in the decision-making process.
If you're short on time when it comes to performing regular maintenance tasks, opting for steel or GRP is probably the best way to go.
Lifestyle is an important factor, too. For example, do you intend on using the garage door as an additional entrance to the rest of the house? In which case, a configuration with a slim, pedestrian access door might be a convenient fit.
Where Can I Buy One?
Local suppliers are a good place to start, as reputable dealers will offer a range of solutions from dependable suppliers (Garador, Ryterna and Hörmann, to name a few).
"There are many ways you can purchase garage doors – from a DIY shop to buying online to a local dealer who has a showroom," says Leanne Chandler, managing director of CMS Garage Doors. "Being able to discuss your requirements with someone knowledgeable is great when you're spending a large amount of money on your new doors."
There is no substitute for spending time in the showroom and getting a feel for the overall quality of the doors in use. Choosing a company that will supply and fit your doorset is a smart move, too, as most will offer a two-year installation guarantee in case anything goes wrong.
Rebecca is an experienced homes and interiors writer with a passion for Victorian architecture. Her dream is to extend an 1800s house
Homebuilding & Renovating Newsletter
Get the latest news, reviews and product advice straight to your inbox.
Thank you for signing up to Homebuilding. You will receive a verification email shortly.
There was a problem. Please refresh the page and try again.