Best Paint Rollers: 6 Buys for a Better Finish When Decorating
Find the best paint roller for your needs and improve your finish with this essential guide from our experts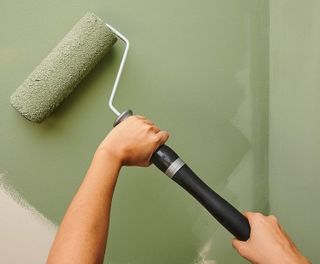 (Image credit: Harris)
Getting your hands on the right paint roller will help make your next paint project a big success. Whether you're painting walls, ceilings, doors, furniture or the outside of your home a paint roller will make it quicker, easier and give a great finish. 
If you're painting a ceiling and walls, the common 9-inch medium pile roller is your best choice. Try it with an extension or use a pole roller to reach those out-of-reach areas such as stairwells. If you want to give your doors, kitchen cabinets or furniture a smooth finish you'll need a 4-inch foam roller. 
(MORE: How to Paint a Room)
Whatever type of painting project you are taking on our guide will point you in the direction of the right roller for the job. 
* All prices subject to Amazon Prime Day deals on 21-22 June.
Best Paint Rollers
PRODEC 9" Trade Professional Medium Pile Roller Kit
The best paint roller for walls, ceilings, and general decorating jobs
Size: 9 inch | Tray: No | Material: Woven | Pile length: Medium | Best for: Emulsion, Masonry
Recycled paint tray
Smooth action
Not much splatter
Takes time to get clean
If you are on the lookout for a good all-purpose paint roller to emulsion your walls and ceilings then this straightforward roller kit is just the job. This professional quality set comes with a 9-inch trade quality cage frame, a couple of woven medium pile roller sleeves and a recycled plastic tray. 
The paint roller has a satisfying smooth roller action, making it easy to apply smooth coats of emulsion to your walls and ceilings. The pile is deep enough to paint over semi-smooth surfaces such as Artex and masonry with the added bonus of very little splatter. But, as the roller retains a lot of paint, it will take a little longer to clean. 
---
Hynec Ultimate Paint Roller Set
Comprehensive all-round paint roller kit with added bonus of a brush
Size: 9 and 4 inch | Tray: Yes | Material: Woven acrylic | Pile length: Medium, Smooth | Best for: Emulsion, Gloss
Rollers and a brush
Woven and foam rollers
2 x 9-inch rollers
No 4-inch tray
This complete home paint set is perfect if you just want to get started on your latest painting project with as little fuss as possible. It has everything you need to paint walls, ceilings, doors, and more. For effortless emulsion work, there is a 9-inch roller frame with two 9-inch roller sleeves and a 9-inch paint tray. 
For smaller sections where your 9-inch roller won't fit there is a 4-inch roller frame with a woven emulsion roller. This can be easily removed and replaced with the mini foam roller, ideal for glossing doors. To complete the package there is a 1.5-inch ergonomically designed brush. Great for cutting in around doors, windows, and skirting boards. 
(MORE: Painting Skirting Boards)
---
Harris Walls & Ceilings Essentials
Small paint roller set perfect for hard to reach areas and doors
Size: 4 inch | Tray: Yes | Material: Woven, Foam | Pile length: Medium, Smooth | Best for: Emulsion, Gloss
Decent rolling action
Foam and woven roller sleeves
Good price
Flimsy tray
Having trouble trying to paint behind a radiator? Struggling to get into smaller areas to paint? Looking for a smooth gloss finish on doors? A 4-inch roller provides the answer to all these questions. This simple set from well-known decorating brand Harris comes with a single roller handle, a couple of roller sleeves, and a 4-inch roller tray. 
(MORE: Painting with Gloss)
The sleeves —  one woven for emulsion and one foam for gloss —  fit snugly on the roller handle making sure that you get a decent rolling action and a decent finish. They are easy to remove, replace, and clean. The plastic tray is not the sturdiest but it will get the job done. 
---
Wickes Professional Roller on an Extendable Pole
Don't like ladders? This extendable paint roller is the answer
Size: 9 inch | Tray: No | Material: Woven | Pile length: Medium | Best for: Emulsion
Good coverage
Extends to 1.4m
Sturdy and lightweight
Fixed roller head
No tray
You can say goodbye to getting up and down a ladder every couple of minutes with the help of this extendable roller. This sturdy well-built pole roller is 0.9 meters retracted and reaches 1.4m when fully extended. It's the ideal choice for those out of reach, hard to paint areas such as hallways, landings and stairwells, but still ideal for painting standard height walls and ceilings. 
The roller head boasts a professional 9 x 1.75-inch sleeve that retains plenty of paint. Combined with the two easy-grip areas on the lightweight pole you get a smooth finish and good coverage. 
---
ProDec Twin Head Masonry Kit
Spruce up brickwork with this heavy pile roller
Size: 9 inch | Tray: Yes | Material: Woven | Pile length: Extra long | Best for: Masonry
Extra-long pile
2 x sleeves
4-inch masonry brush
Not suitable for general decorating
If you are painting the outside of your house, an outdoor wall, or internal brickwork you are going to need a heavy-duty roller to get the best finish on your masonry. This specialist kit comprises a 9-inch plastic tray, a sturdy roller frame, and two trade quality extra-long woven pile roller sleeves that are great for rough and uneven surfaces such as render, pebble-dashing, and general brickwork. 
The extra-long woven fabric of the roller means that it has great paint holding capacity. A loaded roller will work the paint into all areas of a rough surface and cover well. As an added bonus this set includes a 4-inch masonry brush where more precision is needed.  
---
Harris Powercoat Paint Roller
A dual-purpose pro paint roller for quicker coverage
Size: 9 inch | Tray: No | Material : Micropoly | Pile length: Heavy | Best for: Emulsion
Dual handle roller
Longer standard handle
Micropoly sleeve for a great finish
No tray
If you are looking to get a professional finish on your walls and ceilings as quickly as possible then this micropoly roller is very much worth a look. The roller frame comes with a longer than usual 0.63cm handle which gives plenty of grip and extra reach for hard-to-reach or awkward areas. For out-of-reach areas, the bottom of the handle can be unscrewed and replaced with a Harris screw-fit extension pole. 
The sleeve is a microfibre and polyester mix which is great at retaining paint and spreading emulsion evenly and densely on smooth and semi-smooth surfaces with hardly any splatter. It gives a decent flat and even finish and in some cases, you only need to apply a single coat to get the end product you want. 
How to Choose the Best Paint Roller
Choosing the right paint roller for your needs will depend very much on the paint job that the roller is going to be used for. If you are looking to emulsion walls and ceilings then you need to be looking at a standard 9-inch roller with a medium pile. If your painting stairwells, landings or an area where you need a ladder but don't have one — or don't want to use one — then you need an extension pole roller.
However, a 9-inch roller won't reach into smaller narrower areas so a 4-inch roller is an ideal choice. These come in two variations woven and foam. Woven is great for emulsion and subtle textures, but if you want a smooth finish when glossing doors or painting furniture then you need a foam roller. 
Once you have finished with your roller, you need to make sure that you clean it straight away so you can use it again. Emulsion and water-based paints are easy to remove. Run your roller under warm water until the water runs clear. Squeeze out with your hands, wash again, squeeze again and leave to dry. 
If you are using oil-based paint like an undercoat or gloss, you will need to use a brush cleaner. Place the roller in a suitable-sized container with the brush cleaner and squeeze to remove any paint. Repeat until clean. Note this will be messy and you might want to wear rubber gloves. 
Finish in hot soapy water to remove any brush cleaner residue. As an extra precaution, wrap in clingfilm to stop any paint residue from going hard. 
Homebuilding & Renovating Newsletter
Get the latest news, reviews and product advice straight to your inbox.
Thank you for signing up to Homebuilding. You will receive a verification email shortly.
There was a problem. Please refresh the page and try again.