How to Gloss Wood: Top Tips for a Flawless Finish
Gloss paint can be tricky to work with — follow our step-by-step guide on how to gloss wood for a professional finish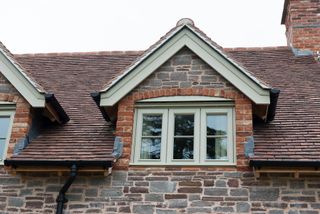 (Image credit: Border Oak)
Wondering how to gloss a door, window or interior woodwork? Applying gloss paint to interior and exterior woodwork remains a popular way to ensure a smart, durable finish. Gloss paint need not be brilliant white, either — you can get pre-mixed gloss in dozens of shades, or mixed to order.
There are several different types of gloss paint, including liquid, non-drip and one coat.
Many professional decorators use liquid gloss over an undercoat
Non-drip gloss paint is good if you are doing lots of vertical surfaces, such as doors and architrave
One coat creates a good-looking finish very quickly and is ideal if you want to put a fresh coat on paintwork of a similar colour.
How to Gloss a Door or Window
For this job we're painting over a dark-stained window frame in order to lighten up a gloomy room, but those wondering how to gloss a door can use the same steps. We're going to use the undercoat and liquid gloss method, but many of the steps below can be used to help you get a great finish with any gloss system you choose.
Preparation is key to a good finish — you'll get noticeably better results if you spend a little extra time preparing the surface. The simple step of rubbing down the undercoat with wet and dry paper, for example, helps the gloss to flow on better, giving a shiner finish to the job.
(MORE: The DIY jobs best left to the professionals)
Keep things clean. Specks of dust, pet hair and flying insects can all conspire to ruin the best-applied paint. A vacuum cleaner and a tack cloth will be your best defence against them. Arm yourself before you start. After all that, the actual gloss painting is straightforward. Follow the tips in step 10 and you'll get a great finish.
Tool List
Good quality paint brushes
Sharp 'Stanley'-type knife
Vacuum cleaner
Wooden or rubber sanding block
Materials Needed
Plastic disposable dust sheets
Masking tape (25mm)
240-grade sandpaper
Dust mask
400-grade wet and dry paper
Primer (if painting on bare wood)
Undercoat (if using a traditional liquid or non-drip gloss system
Gloss
Tack cloths
Step-by-Step: How to Gloss Wood
Step 1
Lay new plastic disposable dust sheets in the area you plan to work in. If you use material dust sheets make sure they are completely dust free.
Step 2
It's much easier to paint a surface that's clear of any fixings, so remove any latches and handles.
Step 3
Use 240-grade sandpaper (wrapped around a sanding block, where possible) to put a key onto the surface so the undercoat will adhere to it. Always sand in the direction of the grain. This surface had a couple of coats of wood stain on it and it was straightforward to key up.
If the surface you plan to paint has several layers of old paint on it, you may have to start with a coarser grade of paper to get rid of any imperfections. Always finish off with a finer grade paper like 240 or you'll end up with scratches that will show through the undercoat and top coat. Wear a dust mask for this part of the job.
Step 4
Once you've finished rubbing down, use a vacuum cleaner to get rid of the rubbing-down dust.
Step 5
If you're painting a window, or a door with glass panels, mask up the edges of the glass with 25mm masking tape. Use a sharp Stanley-type knife to cut the tape neatly into the corners. This will stop any paint getting on the glass and allows you to flow the paint on, rather than the tentative daubing thats associated with cutting in.
Step 6
Use a tack cloth to remove any dust before you begin painting. This window frame looked clean; the tack cloth proved otherwise.
Step 7
Brush sizes 12mm, 25mm and 50mm will cover most undercoating and glossing jobs. The better the brush the better the finish, so buy the best you can afford.
Step 8
Open and stir the undercoat. We find its better to start painting in the middle and work outwards to avoid putting brush marks in paint that is starting to dry. On a window frame, that means starting on the wood thats closest to the glass.
Once the undercoat is dry (normally two to three hours, but check on the tin), apply another coat on top. Two layers of undercoat should cover any darker paint finishes underneath and also helps to build a better base for the gloss coat.
Step 9
Leave the second undercoat to dry for 24 hours and then rub it down all over with 400-grade wet and dry paper (used dry) wrapped around a sanding block. This process gets rid of any surface imperfections ready for the gloss coat. Use a tack cloth to get rid of the rubbing-down dust.
Step 10
Stir the gloss paint. Load the brush with gloss as shown in the picture and start painting in the middle and work outwards (as in step 8). Allow the gloss to flow out over the surface as you paint – don't be tempted to over brush the paint or you'll leave marks. Keep an eye out for runs in the paint (corners are particularly prone to them) and brush them out immediately.
Step 11
Let the gloss harden for at least 24 hours. Avoid closing painted windows and doors completely for this time if possible, otherwise the paint may stick. If you've put masking tape on any glass, run a Stanley-type blade along the join between the tape and the wood. This prevents the tape from pulling up the paint as you peel it off. Replace the latches and handles and the job is finished.
Get the Homebuilding & Renovating Newsletter
Bring your dream home to life with expert advice, how-to guides and design inspiration, direct to your inbox.
Natasha is Homebuilding & Renovating's Associate Content Editor and has been a member of the team for over two decades. An experienced journalist and renovation expert, she has written for a number of homes titles. Over the years Natasha has renovated and carried out a side extension to a Victorian terrace. She is currently living in the rural Edwardian cottage she renovated and extended on a largely DIY basis, living on site for the duration of the project. She is now looking for her next project — something which is proving far harder than she thought it would be.