Swimming Pool Types: How to Choose The Right Model For You
By Natasha Brinsmead published
There are lots of swimming pool types to choose from, making it hard to pick the right one for your garden and requirements — we explain the differences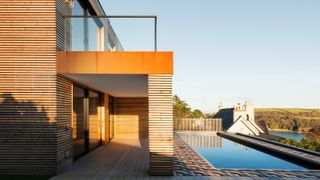 (Image credit: Richard Downer)
There is a plethora of swimming pool types out there, all with their own set of pros and cons — so if you have decided to take the plunge and install a home pool you should acquaint yourself with the various options to ensure the style you choose will tick all your boxes.
With such a huge range of swimming pools for a garden out there to choose from, it can be hard to know where to begin when selecting the right type — this is a big investment and so really requires proper weighing up.
In order to end up with a home swimming pool that is just what you always dreamed of, take into account the following when making your decision:
Cost
Garden size
Who will be using the pool
How often the pool will be used
Where in the garden it will be located
How you plan on using the pool (exercise, playing, relaxing etc.)
How hands on you are prepared to be in its installation
The amount of maintenance you are willing to commit to
What kind of running costs you are happy with
Do you want to reduce running costs by introducing a heat pump for a swimming pool
Read on to discover the most common swimming pool designs out there in order to assess their pros and cons.
Swimming Pool Types: Your Main Options
Once you have given proper consideration to all of the above you should be able to form a better picture of the swimming pool ideas that will suit you best.
The main swimming pool types in the UK are:
Indoor swimming pools
Liner swimming pools
Fibreglass one-piece pools
Sprayed concrete swimming pools
Ceramic composite pools
Natural swimming pools
Above-ground pools
Exercise pools
Plunge pools
Infinity pools
1. Indoor Swimming Pool
Indoor home swimming pools, well designed, can add value to your home and have the added benefit of being useable all year round, no matter what the weather.
Although they can be more expensive to install initially than outdoor pools, indoor swimming pools may be cheaper to run and maintain due there being less heat loss to contend with.
The majority of people installing an indoor pool will choose to site it in a new outbuilding, or extension built specifically for this purpose — and this is certainly a cheaper and less disruptive option than installing a pool into an existing building or section of the house.
As with outdoor pools, there are different methods of constructing indoor pools, including prefabricated shells, liner pools and sprayed concrete.
Bear in mind swimming pool planning permission and Building Regs when installing an indoor pool — they are different to those surrounding outdoor pools.
2. Liner Swimming Pools
Liner swimming pools come in a range of different forms and are a really popular option.
The simplest type of liner pools are made up of a concrete block shell. The hollow blocks are filled with concrete before a liner, usually with a felt backing, is fixed into place.
Other liner pools consist of shells made up of interlocking plastic or steel panels — it is even possible to buy wooden liner pools, although their lifespan tends to be less.
Vinyl is the most common liner material — once the blocks or panels are constructed and fitted into the hole, the liner is mounded around it to create a watertight finish. The pool is then boarded with slabs or decking and filled.
Pros:
Great budget option with prices starting from £20,000
Can be designed in any shape or size you require
Simple and relatively speedy to install
Cons of a liner pool:
Tend not to have the longevity of one-piece pools
Liners can tear and are expensive to repair
Have greater heating requirements than one-piece pools
3. Fibreglass One-Piece Pools
Fibreglass swimming pools are a hugely popular option, simple to install and fairly inexpensive compared to some other types.
They come as pre-formed shells which can be lowered into the excavated hole in your garden. Designs include all kinds of shapes and sizes and can incorporate steps too.
Being lightweight and pre-formed, installation is usually a pretty straightforward process that can take as little as a week. However, bear in mind that once in place, the shell will need time to settle into the ground to be filled — several weeks is usual.
Cost-wise fibreglass pools tend to lie somewhere between liner pools and sprayed concrete pools, starting from around £30,000, including installation.
Pros:
Fast installation times
Low maintenance in the case of gel-coated fibreglass which tends to resist algae build-up
Smooth surface — no scraped knees or elbows
Limited choice of shapes and sizes as they are pre-made
Durable — should last up to 25 years
Cons:
High shipping costs
Access needed to bring the shell into your garden
Watermarks can show on some models
May be more prone to cracks and other damage than concrete (ground movement can cause this)
Repair can be tricky
4. Sprayed Concrete Swimming Pools
Sprayed concrete swimming pools are a very popular option in the UK.
They are made using a frame of steel rods or mesh which is then sprayed with shotcrete or gunite.
The best bit about these pools is the flexibility they offer in terms of design — they can be built in pretty much any shape, size or configuration you heart desires. They are built on-side, which is handy if you have restricted access and are very durable.
However, they most certainly don't come cheap — prices start from £45,000 right at the lower end but can very easily rise to £150,000.
Pros:
Completely customisable
Incredibly strong and long-lasting (up to 70 years)
Can be lined with a range of materials, such as tiles, plaster, stone or pebble
Perfect for those with access issues as they are constructed on site
No joints for leaks etc.
Cons:
Expensive
Can be quite high maintenance when it comes to cleaning
Time consuming to install — factor in the framework construction, spraying of concrete in several layers, setting time and a final finishing of plaster, tiles or swimming pool paint
Do not retain heat as well as fibreglass or ceramic pools
5. Ceramic Composite Swimming Pools
Ceramic pools are one of the newest types of swimming pool. They come with a whole host of benefits over more traditional swimming pool construction methods
Companies such as Compass Ceramic Pools (opens in new tab) are now offering ceramic composites that combine ceramic with carbon fibre, which is strong and lightweight. This results in a shell that is incredibly durable and resists cracks due to ground movement well.
Composite ceramic pools are delivered to site pre-formed and can feature UV coatings that prevent fading.
Cost-wise, they start from £50,000 but can easily go up to £120,000 or more.
Pros:
Incredibly strong with layers that cope well with ground movement
Very effective heat insulation properties
Impermeable to bacteria so less chemicals required in pool maintenance
Smooth, comfortable finish
Cons:
Expensive compared to liner pools and fibreglass
Not fully customisable (although available in a very wide range of shapes and sizes)
Good access required
6. Natural Swimming Pools
Natural swimming pools rely on natural filtration, as opposed to chemicals, using a range of aquatic plants.
They are constructed using a liner-style pool fitted with filtration beds and a series of planted shingle pools, which help to remove debris.
Natural living pools are another option. They look more like conventional swimming pools than swimming ponds although they are still chemical-free. They tend to be made up of a series of hidden underground sand filters for cleaning, before the water is pumped back into the pool.
Pros:
Low running costs
Low maintenance
Slot in beautifully to most garden designs
Environmentally friendly
Flexible design options
Cons:
Can be expensive to install (expect prices of between £300-£600/m2)
Some people don't like the idea of swimming with pond wildlife or plants
Needs specialist installation
Water may not be crystal clear
7. DIY Swimming Pool Kits
Many people consider whether or not installing a swimming pool on a DIY basis might be a possibility.
Certainly it can be a cheaper way to get a pool, with prices starting from approx. £5,000 for self built in-ground kits. However, do bear in mind that these costs won't include the equipment required for excavation and might not include extras such as heating and lighting.
8. Above Ground Swimming Pools
Above ground pools offer an easy, quick-to-install and cost-effective solution to those wanting a home swimming pool.
Prices start from around £2,500 for a 24ft x 12ft model. They can be set up on a DIY basis (and deconstructed and taken with you should you move.)
Although they may not carry the same luxury feel as in ground pools, above ground pools can be fitted with a range of extras, along with the usual filtration systems. These include lighting and water jets.
They also offer a little peace of mind for those worried about small children or pets falling into an in ground pool.
Pros:
Cheaper than other types of pool
Quick to install (one or two days)
No excavation required
Low running costs
Cons:
Won't increase the value of your home
More limited design options
Less aesthetically pleasing
Tend to be less durable and long-lasting
Smaller
9. Plunge Pools
Plunge pools are ideal for those with compact gardens, being little bigger than a hot tub. They tend to be fairly deep to allow for total submersion (around a metre is common).
They are ideal if you want to cool off on a hot day, but won't let you do laps if that is what you are after.
Pros:
A great small garden design idea
Great for relaxing in or cooling off
Available in a range of styles, shapes and sizes
Quick to install
Lower running costs than a full-sized pool
Cons:
No so great for exercising in!
10. Exercise Pools
The most frequently specified style of exercise pools feature high-powered jets at one end for swimmers to swim up against. They are fitted with a pump that can be housed in a plant room or on the outside of the pool.
They are great for those who want a pool to exercise in but who don't have space for a standard swimming pool.
11. Infinity Pools
The ultimate in luxury, infinity pools appear to flow over an invisible boundary and are something of a staple in many spas and top hotels.
Unlike standard swimming pools, infinity pools feature one or two lower walls that slope away to allow water to overflow out into a channel that catches the water and recirculates it back into the main pool.
While they look stunning, they are not the best option for anyone watching the pennies — according to Compass Ceramic Pools, infinity pools cost around £30,000 more than similar-sized conventional pools.
Natasha is Homebuilding & Renovating's Associate Editor and has been a member of the team for over two decades. An experienced journalist and renovation expert, she has written for a number of homes titles. She has renovated a terrace and is at the end of the DIY renovation and extension of her Edwardian cottage. She is now looking for her next project.
Homebuilding & Renovating Newsletter
Get the latest news, reviews and product advice straight to your inbox.
Thank you for signing up to Homebuilding. You will receive a verification email shortly.
There was a problem. Please refresh the page and try again.