Guide to Swimming Pool Planning Permission and Building Regs
By Natasha Brinsmead published
Our guide has all you need to know about swimming pool planning permission and Building Regs for total peace of mind when enjoying your new garden feature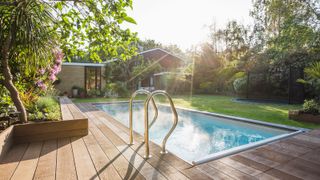 (Image credit: Getty)
When it comes to swimming pool planning permission and Building Regs it is really important to understand the various rules that surround their installation and construction. Otherwise your dream pool could become a damp squib.
Just as with any addition that involves altering your home or garden in some way, building control and your local planning department will have their own set of criteria that it will be necessary to comply with in order to ensure your new swimming pool is safe and won't cause you any trouble later down the line.
Obviously there are various different swimming pool types and the rules and regs will alter depending on which you have opted for.
Swimming pools for the garden and home are a fairly hefty investment and they take time to construct, which makes it all the more important to ensure that you don't overlook the requirements put in place — you really don't want to have to fill in your beautiful new pool by failing to fall in line with the planning rules and regs.
Our guide explains everything you need to know about planning permission for swimming pools and also lays out the relevant Building Regulations you will need to be aware of.
Swimming Pool Planning Permission and Building Regs Explained
Swimming pools can be beautiful additions and really boost the enjoyment you get from your home — both indoors and out. However, swimming pool ideas don't come cheap, with prices starting from £2,500 for an above-ground pool, rising to between £25,000 and £80,000+ for professionally-installed designs.
These costs, combined with the considerable amount of work that goes into excavating for and installing a new swimming pool, make it imperative to ensure that you are not breaking any planning laws or Building Regulations criteria — doing so will most certainly add to your costs and could mean your swimming pool is unsafe too.
We'll explain the rules and regs that relate to the different types of swimming pool available, from above ground pools to indoor pools housed in their own outbuildings. Read on to ensure your watery new addition brings you nothing but pleasure.
Outdoor Swimming Pool Planning Permission Requirements
The great news for anyone installing an outdoor swimming pool is that planning permission is rarely required — planning authorities generally see this as just another garden project.
However, there are exceptions and a few points to note. If you live in or on any of the following it is always prudent to check with you local planning department that you won't be breaking any rules by installing a pool:
Listed building
Conservation area
National park
Greenbelt land
Designated land
If you plan on constructing an outbuilding in which to house your new pool then planning permission may well apply as this turns it into an indoor pool.
Planning Permission For An Indoor Swimming Pool
Whether or not planning permission will be required for your new indoor pool depends on a couple of factors so bear these in mind when mulling over your indoor home swimming pool plans.
If you are lucky enough to already have a room or space in your house for your new pool, then planning is unlikely to be required.
However, if you are thinking about housing your pool in a new building, constructed in your garden or built as an extension to your existing house, then you will need to check with your local planning department.
Outbuildings designed to take a swimming pool are known as 'pool halls'. In the majority of cases they will fall under your permitted development rights — check that your pool hall meets the limits and conditions before breaking ground to be on the safe side.
Likewise, if your pool is to be located in a new extension to your house, providing the extension does not exceed your permitted development rights, planning permission is unlikely to be required. "Obtaining a Lawful Development Certificate is, however, advisable, particularly if you intend to sell the house in the future," says Claire Lloyd, editor of Homebuilding & Renovating.
Do bear in mind that the construction of a swimming pool will mean you need space for a plant room too so be sure to take this into account when designing an outbuilding or extension for the pool.
Outdoor Swimming Pool Building Regulations
Building regulations for outdoor swimming pools and natural swimming pools are less involved than those surrounding indoor swimming pools — in fact, Building Regulations approval is not usually required at all for outdoor pools. The only stipulation is that they should be uncovered and have no heated air surrounding them.
Constructing a permanent heated and ventilated structure over the pool will mean it is classed as an indoor pool and will need to comply with the regulations relating to them.
It is useful to bear in mind that despite there being no Building Regulations to comply with, it makes sense to ensure your pool is properly insulated and invest in a good cover as this will conserve heat meaning lower running costs.
Indoor Swimming Pool Building Regulations
If it is an indoor home swimming pool you are constructing you will need to read up on Building Regulations Part L. This section relates to the conservation of fuel and power and states that all new indoor pools constructed after 1st October 2010 (when the new document came into force) must be insulated to a U value no higher than 0.25W/m2.K.
This is actually a good thing — by insulating to achieve these U values you will experience lower running costs and a reduced carbon footprint. Opting for a pool with a shell coated in a high density polyurethane spray insulation is a great way of achieving this.
Natasha is Homebuilding & Renovating's Associate Editor and has been a member of the team for over two decades. An experienced journalist and renovation expert, she has written for a number of homes titles. She has renovated a terrace and is at the end of the DIY renovation and extension of her Edwardian cottage. She is now looking for her next project.
Homebuilding & Renovating Newsletter
Get the latest news, reviews and product advice straight to your inbox.
Thank you for signing up to Homebuilding. You will receive a verification email shortly.
There was a problem. Please refresh the page and try again.