How Much Does Loft Boarding Cost? The Price of Extra Storage
By Natasha Brinsmead published
Our loft boarding cost guide covers the practical aspects of this job and is a must-read for anyone considering adding more storage in their roof space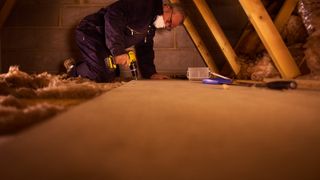 (Image credit: Getty)
Exactly how much does loft boarding cost? It is a question you may well be asking, whether you are in desperate need of extra storage space, are looking for ways to add value to your home or want to prevent heat loss.
If there is one thing that we never seem to have enough of in our houses, it has to be storage space. Whether it is for items with sentimental value that we just can't bear to let go of, or things that we only use on an occasional basis, finding somewhere out of the way yet still easily accessible to tuck all this stuff away is not always easy.
This is where our attics can come in handy. While full blown loft conversion might not be on your agenda right now, boarding a loft is still a very worthwhile project that will really help you get the most out of the floorspace available to you — plus it need not cost the earth.
Our loft boarding price guide is here to explain how much this project is likely to cost you and explains how to go about getting the job done.
Loft Boarding Costs: What Do I Need to Consider?
Before you get stuck in to boarding a loft, there are a couple of factors to bear in mind.
Firstly, do consider whether this will be the best use of the attic space you have available. "It can be easy to opt for the much cheaper option of boarding your loft compared to investing in a loft conversion, but it has a list of limitations," says Robert Wood, Managing Director at Simply Loft (opens in new tab).
"Despite being able to now weight-bear and allow better access to the corners of your loft, it does not affect the available head height in your loft. You cannot create a useable room in your loft space without having the adequate headspace for you to move around in safely. Boarding your loft does not increase the amount of useable floor space either, as you will still be limited by the sloped eaves of your roof structure."
However, if it is simply extra storage space you crave, and you are worried about what full loft conversion costs could end up being, then boarding your loft could be just the ticket.
There are several factors that will affect what it will cost to board a loft, including:
The method you choose
Whether you pay for a professional to carry out the work or do it on a DIY basis
The size of your loft
Your loft access
Whether there is any existing insulation in your loft
How Do You Board a Loft?
As the name suggests, boarding a loft involves placing boards over the joists in your loft to provide somewhere to walk around and place items for storage.
"Boarding your loft is the process of putting load-bearing planks over the joists of your loft, to create a weight-bearing floor," explains Robert Wood. "This enables you to walk around in your loft and store more items without having to worry about them falling through the ceiling."
If you are wondering how to board a loft, the standard way is to lay loft boards (often made from chipboard) straight over the existing ceiling joists. You will first have to check that your joists are strong enough and in sound condition in order to bear the new load.
The other, more expensive, way of loft boarding is to build a raised system. This overcomes the common issue of condensation and damp that boarding a loft can cause if not carried out correctly. These systems raise the boards just above the joists, allowing for a better circulation of air and space for adequate insulation.
Care does need to be taken that loft boarding will not create more issues than it solves and for this reason, it can often be best to call in the professionals.
"Some people attempt to do it themselves, however this is not recommended as it is dangerous and needs an expert to install them safely," says Robert Wood.
"Boarding your loft incorrectly can lead to damage to your loft space. By using wood to cover any insulation in your loft, it can act as a thermal bridge, which compresses your insulation and causes moisture to collect in it. This can create damp which can cause many issues with your home."
What Does Loft Boarding Cost?
You can expect costs to vary. If, for example, you are looking at how to insulate a loft at the same time as boarding it, you are going to have to factor in these additional costs.
On average, however, it costs from around £55/m2 for standard loft boarding, rising to £100/m2+ for a raised system that includes an enlarged hatch with hatch door and ladder, for professional install.
"On average you are looking at anywhere between £1,500 to £3,000, depending on the size of the loft and whether it needs insulation," say the experts at Simply Loft (opens in new tab).
Does Boarding a Loft add Value to a Home?
Boarding a loft is not typically a project which adds tangible value to your home. It would perhaps make a home more saleable, should a buyer inspect the loft space, but the real value is in the accessible storage space it offers you.
Weigh up whether a loft conversion could be a better option for you than simply boarding it. "A loft conversion can add up to 20% of the value of your property, or twice the amount you spend on a loft conversion," explains Robert Wood of Simply Loft. "However, boarding your loft is not seen as a home renovation that adds more space to your property, limiting the return you will see on the cost of having it done."
Natasha is Homebuilding & Renovating's Associate Editor and has been a member of the team for over two decades. An experienced journalist and renovation expert, she has written for a number of homes titles. She has renovated a terrace and is at the end of the DIY renovation and extension of her Edwardian cottage. She is now looking for her next project.
Homebuilding & Renovating Newsletter
Get the latest news, reviews and product advice straight to your inbox.
Thank you for signing up to Homebuilding. You will receive a verification email shortly.
There was a problem. Please refresh the page and try again.