Natural Insulation: What Types are Available?
By Tim Pullen , Hugh Metcalf published
Natural insulation ensures your home's green credentials remain in tact while improving its thermal efficiency. These are the key types you need to know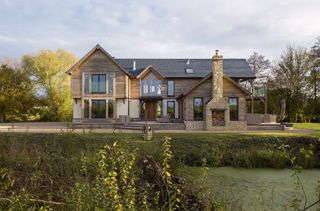 (Image credit: Jeremy Phillips)
On the face of it, natural insulation doesn't seem like the natural first choice for self builders keen to create highly energy efficient eco houses and extensions. Plastic insulation materials, including polyurethane, polyisocyanurate, phenolic foam and polystyrene insulation boards, outperform natural insulation in virtually every respect.
Natural materials are at least as effective as mineral or glass wool, but they're more expensive. So, why bother with natural insulation?
The answer may be that not everything related to insulation is about thermal resistance. In some cases, an insulation material will need to do more than just slowing down the passage of heat moving through it.
(MORE: Inspiring Eco Homes)
What is Natural Insulation?
Natural insulation is made from natural-occurring sources with thermal properties. Generally, these come from two main sources: animal-based insulators (mostly sheep's wool) and plant-based insulators.
While stone-based insulators such as mineral wool are made from natural raw materials, it's largely not considered a form of natural insulation, as the manufacturing process creates a material that requires recycling, rather than a naturally bio-degradable product.
What are the Benefits of Natural Insulation?
Of course, keeping heat in the house (and out of it, on occasion) is the key function of insulation, but when it comes to choosing which product to use there are other things to consider.
Chemical use
For some this is a key issue. Non-natural insulation needs raw materials, mostly previously unused, including oil, chemicals and a lot of energy. Natural insulation also needs oil, chemicals and energy to manufacture, but in smaller quantities.
Recyclability
The very essence of natural insulation is that nature provides most of the raw material, and it is 100% recyclable. Plastic insulation is also recyclable, of course, and the amount being recycled into new insulation is increasing, but it is still a disappointingly small proportion. Most used plastic insulation ends up in landfill, where it slowly breaks down and adds to the plastic pollution problem we are all now so aware of.
(MORE: 8 Ways to Use Less Plastic in Your Build Project)
When natural insulation goes to landfill it breaks down in a comparatively short period of time and does no harm.
CO2 emissions
An often overlooked feature of natural insulation is that it sequesters CO2. All insulation reduces CO2 emissions once installed, but materials like wood fibre, cellulose, flax, cotton and hemp absorb CO2 as they grow, which is locked in while the insulation is being used. It is said that every cubic metre of hemp insulation sequesters 13kg of CO2.
Acoustics
The high density and soft, fibrous quality of natural insulation means that it will out perform plastic insulation materials and most mineral or glass wools in preventing noise transmission.
Installation
The thing about natural insulation is that installing it typically does not require a long-sleeved shirt, gloves, goggles and a breathing mask (that said, a mask is advisable when installing blown-in cellulose, for instance.)
Heat capacity
This is the ability of a material to retain heat, similar to thermal mass. There has been a good deal in the press in recent years about heatwaves and the potential for houses to overheat. Natural insulation has at least twice the specific heat capacity of plastic and mineral wool — 2100J/kgK for sheep's wool, for example, compared to only 800J/kgK for mineral wool. This means it can absorb nearly three times as much of the heat trying to get into your house — a useful advantage in the summer months.
Wet performance
Natural insulation materials can absorb and release moisture. This is called the hygroscopic effect; the moisture is absorbed into the material, rather than clinging to it as it does with non-porous synthetic materials. Hemp and sheep's wool can absorb 20% of their weight in water before it begins to affect their thermal performance.
Types of Natural Insulation
Solid Natural Insulation
Solid natural insulation incorporates materials such as wood fibre and cork boards.
Cork is relatively soft, although solid, but wood fibre can be much harder and is available in weatherproof grades for insulating a roof from companies like Pavatex, Gutex and Steico.
Semi-Rigid Natural Insulation
Semi-rigid insulations includes materials such as hemp, wood fibre and flax.
Being semi-rigid means that it can be used in vertical applications (filling the void between stud work for instance), as well as horizontal. Thermafleece offer hemp-based, and sheep's wool, products.
(MORE: How to Insulate a Wall)
Flexible Natural Insulation
Flexible insulation includes the likes of sheep's wool, flax and cotton.
These come in rolls and are very soft and pliable. As such they tend to sag in vertical applications and, while they can be used there, they need special attention to prevent this happening.
According to The GreenAge, sheep's wool consumes around 15% of the energy needed to produce mineral wool, which makes sense when you think about it. To manufacture mineral wool you need to melt stone and spin it into fibres. With sheep's wool the sheep does most of the hard work for you!
Loose Natural Insulation
Cellulose is the most common loose natural insulation, and it's mostly a smart term for recycled newspaper, although in some cases wood pulp is used. It is available loose in bags for DIY applications and can also be blown into a cavity (typically a timber frame), or wet sprayed onto a timber frame.
How Much Does Natural Insulation Cost?
All natural insulation products are more expensive than their non-natural equivalents. To achieve the desired U value, natural insulation products are generally £18 to £22/m2 at 100mm thick, while for the same performance mineral wool is £5 to £8/m2 and rigid foam is £10 to £17/m2 at 50mm thickness.
As yet the natural insulation industry is tiny in comparison to the non-natural manufacturers, which means less competition in prices.
Installing Natural Insulation
There is no mystery around using natural insulation. It fulfils the same function as synthetic insulation, in the same way. We would not use a mineral wool insulation under a concrete floor — the concrete would squash it flat. By the same token, we would use a rigid wood fibre board rather than sheep wool in that situation.
We would need about twice the thickness to get the same level of insulation as with plastic insulation, but you could say the same about mineral wool.
Tim is an expert in sustainable building methods and energy efficiency in residential homes.
Homebuilding & Renovating Newsletter
Get the latest news, reviews and product advice straight to your inbox.
Thank you for signing up to Homebuilding. You will receive a verification email shortly.
There was a problem. Please refresh the page and try again.