Spray Foam Insulation Guide
By Tim Pullen published
In the right setting, and installed by the right professional, spray foam insulation can be a good choice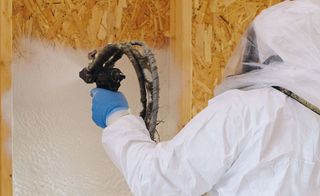 (Image credit: getty images)
Comparing insulation materials can get very technical and offers all the entertainment value of comparing insurance policies. But there are times when it is necessary to read the small print, and comparing spray foam insulation to conventional insulation materials is one of those times.
Spray foam insulation is a bit of a Marmite product. However, in the right situation and installed by people who know what they are doing, it can compare favourably.
(MORE: What is the Green Homes Grant?)
What is Spray Foam Insulation?
Spray foam insulation (SFI) is a mix of liquid chemicals that expand into a foam when sprayed into position, where it sets into an insulating layer.
There are more than 40 manufacturers of SFI, some using gas propellants (the gas given off after the insulation has set is usually harmful to the environment, and possibly people). Others use soy or vegetable oil as the propellant. The manufacturer Icynene is unique in using water.
There are two types of spray foam insulation:
Closed cell is more like conventional rigid foam insulation boards, in that it is rigid once it sets and can offer some structural stability, but it does not allow air or moisture to pass through it
Open cell is more flexible and, because it adheres to the material it is sprayed onto, will tend to move with that material as it expands and contracts. It also allows air and moisture to move through it, giving it an almost 'breathable' quality. Whether it is actually a breathable insulation, like hemp, sheep wool or wood-fibre, is still open to discussion.
Advantages of Spray Foam Insulation
Flexibility: Because it is a foam that is sprayed, it will reach the parts that other materials may not
Airtightness: Installed correctly, SFI will provide a continuous envelope. It is said that a 5% gap in the insulation will account for 50% of the heat loss
Speed: Installed by the experts, it is a very quick process
Breathability: The open cell structure of Icynene spray foam helps to mitigate potential condensation problems associated with other insulation materials
Disadvantages of Spray Foam Insulation
Is Spray Foam a Good Insulator?
This is where it gets technical.
There is an absolute measure of efficacy for insulation materials known as thermal conductivity, K value or lambda value (technical people like to change the nomenclature to keep us confused).
The K value measures how easily heat passes across the material and is not dependent on thickness. It measures how good the material is at conducting heat, so the lower the figure the better. It is a good way, perhaps the only way, of comparing how good a material is at being an insulator.
Open cell SFI has a K value of 0.039W/mK; mineral wool, sheep wool and similar materials have a K value of 0.035 to 0.040W/mK, while rigid foam insulation boards is 0.024W/mK.
The argument is that as SFI adheres to what it is sprayed onto it provides a better airtight seal and that good thermal efficiency is not all about K value (or the subsequent U value) but also about airtightness — an argument supported by institutions like Passivhaus.
How Much Does Spray Foam Insulation Cost?
SFI is not cheap. According to Which? it will cost £20 to £50/m², depending on thickness.
The Energy Saving Trust estimates it costs around £300 to insulate the loft of a semi-detached three bedroom house, but it could cost over £1,000 to insulate the same home with SFI.
£20/m² will buy a 100mm-thick SFI, which includes installation. A 100mm-thick rigid foam insulation board will cost around £15/m² plus the cost of installation.
But the K value of SFI is closer to that of mineral wool insulation than it is to rigid foam, and mineral wool will cost around £5/m² plus installation.
Can I Install Spray Foam Insulation Myself?
It is quite possible to buy the products and do the job yourself. Part-way through the job you will realise that it is cheaper, cleaner, and far, far quicker to get the specialist in to do it.
If you want to give it a go you will also need to buy all the necessary safety kit:
a boiler suit
gloves
goggles
respirator
But the biggest trick will be learning how to get the foam to an even thickness, with no gaps. This is obviously important and personal experience shows that it is impossible without appropriate and extensive training.
Why Do I Need a Professional Installer?
A good installer will carry out a survey before beginning the job, which will look at the quality of the substrate and will include U values and condensation risk calculations.
This will determine the thickness of the foam needed and if ventilation will be needed to avoid condensation. The survey should also identify any other potential problems and what needs to be done to prevent or overcome them.
Does Spray Foam Insulation Meet Building Regulations?
Unlike other non-conventional insulation materials, Icynene spray foam insulation does have BBA approval and therefore can be use in compliance with Building Regulations.
It should also be noted that loft and wall insulation is grant supported by energy companies — in some cases it is free. But spray foam insulation is typically not available from these sources due to its specialist nature. It is worth checking if you qualify for grant support before committing.
Useful Contacts
Tim is an expert in sustainable building methods and energy efficiency in residential homes.
Homebuilding & Renovating Newsletter
Get the latest news, reviews and product advice straight to your inbox.
Thank you for signing up to Homebuilding. You will receive a verification email shortly.
There was a problem. Please refresh the page and try again.