Dropped Kerbs: What are the Rules? Plus, How to Apply
By Simon Rix published
To create new off-street parking for your home, dropped kerbs are required by law. Here's what you need to know, from what the regulations are to how to apply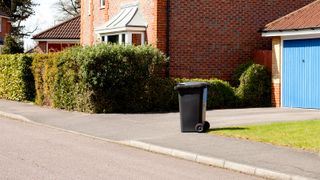 (Image credit: getty images)
Dropped kerbs aren't just for the convenience of getting your car onto your driveway, they're a legal requirement if you're creating new off-street parking for your property to ensure that both pedestrians and under pavement infrastructure are properly protected.
So, before you embark on a new driveway idea for your renovation or self build, you'll need to understand what permission you'll require for a dropped kerb, how to apply for one and the potential cost implications.
Here, planning consultant Simon Rix lays out everything you need to know about the process and examines your chances of permission for dropped kerbs being granted.
What are Dropped Kerbs?
These are the edge stones between pavements and the roads (ie. the kerbs) that have been lowered to allow vehicles to more easily cross over the pavement to go into a driveway. They also make it easier for pedestrians with pushchairs or wheelchairs to get to the pavement from the road.
What are the Rules on Dropped Kerbs?
Many people want or need to drive over a pavement from the road onto their property, but by law, you can only do this if you have dropped kerbs. If you break this law you could face enforcement action and you could be personally financially liable to pay compensation to any pedestrians who are hit or for any damage to the pavement caused, or for any damage to electricity, gas or water utilities that might be under the pavement, which could be very expensive.
Does a Dropped Kerb Need Planning Permission?
Whatever the situation, if the kerb is on any public highway, you will need to apply for a special dropped kerb or domestic vehicle crossing licence from your local highway authority, usually your county council or the unitary authority if you have one.
Before that though, and in addition, you may need planning permission from your local planning authority which, depending on where you live, may be a different level of local government to the highway authority. Specifically, you will need planning permission if your property is on a classified road (an A, B or C road), or if it is a listed building or in a conservation area, or if it's something other than a house for a single family — if it's a flat or a maisonette, or a commercial or industrial building for example.
You will also need planning permission if you need to raise any of the levels by half a metre or more, or lower them by 1 metre or more.
How do I Apply for a Dropped Kerb?
To apply for a dropped kerb, you can do some of the paperwork yourself, but at least part of the form will need to be completed by your planning consultant or the contractor who will undertake the work, so you will want to select either of these first. The contractor will need at least £5m of public liability insurance and have staff who are fully accredited to do the work.
The firm may need to be on your highway authority's approved list of contractors, so checkout your council's website for this or get your planning consultant to do this for you. Then find a builder by getting at least three quotes for how much they will charge to do the construction work for you.
Even simple dropped kerb proposals can be tricky to get approval for if you are not used to producing accurate plans and drawings. I recused one man's application from rejection after he had applied using photographs and rough hand drawn sketches. I got permission for him in the end, but it did require me to produce the correct drawings, not photographs, based on accurate measurements that I took on site, which were nowhere near his previous guessed measurements.
Also, not all dropped kerb proposals are simple. As already mentioned you may need to get planning permission before you apply for the licence, but separately to that you will need to make sure that there is enough room to fit a standard vehicle without it overhanging the footway, which usually means a minimum depth of somewhere between 4 to 5 metres and it will need to be more than 2.5 metres wide.
Even if your actual car is small, the highway authority will insist on their minimum measurements because someone later might have a bigger car. Proximity to junctions, obstructions, trees, road signs, parking bays, bus stops or utility covers can complicate matters too, so a good planning consultant can help you navigate these issues.
What Does the Application Process Involve?
Once your licence application forms have been completed by you or your planning consultant and your chosen contractor, and submitted, the highway authority will then take the non-refundable part of your application fee so they can carry out a site safety assessment.
If you pass this part of the process, you will need to pay the rest of their fee after which they will send you the construction specification that your contractor needs to work to. They will normally have to complete the work within 6 months of the site safety assessment.
If I'm Building a new Home, Will I Need to Make a Separate Application for a Dropped Kerb?
Even if you've got full planning consent for a self build from your planning authority, you will still need a domestic vehicle crossing licence from your highway authority if you want to drive over a pavement.
Can the Local Authority Refuse my Application?
The short answer is yes, for any one of a number of reasons. For example, if the space available for the parked vehicle is not large enough, or if it is too close to a junction or if the visibility is so restricted by walls, hedges or other obstructions that it wouldn't be safe for your vehicle to cross the pavement there.
Other issues, like the need to move trees, road signs, bus stops or amend parking restrictions can be overcome, but each of these will cost, around £600 for a tree removal and replacement, or up to £3,000 each for the others. If you need to alter any underground utility pipes or wires, then the costs will jump considerably.
How Much Will a Dropped Kerb Cost?
The cost of doing the work will vary depending on both the job and where in the country you are, but it is likely to be somewhere between £1,500 and £3,000 for a standard project. You will need to add to that the cost of applying for the licence, which is about £300, plus any help you might need from a planning consultant, which would be from £500.
Simon Rix is a professional planning consultant. He was a council officer and later an elected councillor before setting up Planix.UK Planning Consultants Ltd.
Homebuilding & Renovating Newsletter
Get the latest news, reviews and product advice straight to your inbox.
Thank you for signing up to Homebuilding. You will receive a verification email shortly.
There was a problem. Please refresh the page and try again.