What is the best floor for dogs? We reveal our best picks for homes with furry friends
The best floor for dogs needs to be hardwearing and easy-to-clean but there is no reason why it can't look good too — we reveal the smartest choices around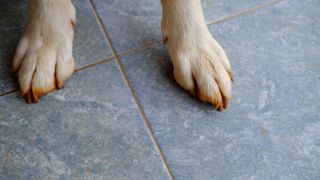 (Image credit: Getty)
The best floor for dogs should mean less stressing over grime and pet odours and more fun for you and your furry friend.
In our guide to the best types of flooring for owners of canine companions, we take a look at those options which will result in less cleaning and daily maintenance at the same time as ensuring your home looks great too.
From cost-effective solutions that can be laid on a DIY basis, to stylish choices that would appeal to even those not sharing their home with a dog, we explain the advantages and disadvantages of the flooring materials you should be considering if you want to live in harmony with your pet — as opposed to resenting those unintentional paw prints and clumps of fur.
What qualities does the best floor for dogs need?
Although dog owners can, in theory, use any flooring types they fancy, certain materials are obviously going to make life a little easier on a day-to-day basis. The main qualities dog-friendly flooring should have are:
Easy to clean
Excellent at hiding dirt
Robust
Good longevity
Waterproof
Soundproofing qualities
The good news is that there are many different flooring materials that tick all these boxes, meaning you need not feel limited when it comes to your choices just because of your canine buddy.
You should also carefully consider where in the house the flooring is being used — your kitchen flooring ideas, for example, will come with a very different set of criteria than those for your bedroom.
1. Wooden flooring
Wooden flooring can be a good choice for pet owners, although it is important to remember that there are many different types of wooden flooring and some will be better than others at withstanding the extra demands placed on them by dogs.
While gathering together your wood flooring ideas, bear in mind that it is wise to avoid light coloured wooden floors that may well show up dirt easily, and opt instead for a mid-tone shade that will not only add a lovely warmth to your home but should also be a little more forgiving in terms of paw prints.
Both engineered and solid timber are suitable for use in homes with pets, although solid wooden flooring can be sanded and refinished more times than engineered which could be helpful. Engineered timber floors tend to be a little more structurally stable when exposed to moisture than solid on the other hand.
2. Laminate flooring
Laminate flooring is a really practical choice for anyone with a dog. It is easy to clean, cost-effective to buy and quick to lay.
Although many people consider laminate one of the types of wood flooring, it is actually not made of timber at all. This flooring material is comprised of compressed fibreboard planks with a top layer featuring a photographic wood-effect image. On top of this is a clear and hardwearing protective coating.
Opting for a water resistant laminate is a sensible thing to do — particularly if your dog is partial to a dip on his daily walkies.
On the downside, some of the cheaper laminate flooring products can be prone scratches and are not always suitable for repair — unlike solid wooden flooring.
3. LVT flooring
Vinyl is a really popular choice with those after utility room flooring ideas — and it isn't hard to see why. It is an easy-to-clean and water-resistant material and there are no pesky grout lines for dirt to become lodged in — all of these qualities also make it perfect for dog owners.
However, regular vinyl does have a fairly short-lifespan compared with other materials so if this is a worry, you might want to consider luxury vinyl tiles (LVT flooring) instead.
"Durable, hardwearing and easy to clean, luxury vinyl flooring is the perfect choice for a dog -friendly home," says Colin Lincoln-Evans, Buyer at Tile Mountain. "It's a versatile flooring option with loads of styles to choose from including some stunning stone and wood effect designs.
"LVT is scratch, stain, and water-resistant, so it can be easily wiped down if your furry friends have any accidents in the house. In addition, it is soft and quiet underfoot so it will reduce the noise made by those prone to being over excited."
4. Tiled floors
Not just for bathroom flooring, tiled floors are a fantastic choice for those sharing their home with a dog — cost-effective, waterproof and highly resistant to damage. They also pair well with underfloor heating.
Bear in mind that some tiles are better than others for this purpose. Natural stone tiles are a great choice as they are so durable, but they can be an expensive option and will require regular sealing to ensure they remain stain resistant. Riven finishes can also be difficult to clean.
Ceramic tiles lie at the cheaper end of the market may not be through-coloured meaning any damage will be very noticeable. Porcelain tiles tend to be more expensive than ceramic but less than natural stone — plus they are super hardwearing.
Bear in mind that glossy tiles can be rather slippery when wet so opt for a product with a textured or non-slip surface.
5. Polished concrete
Polished concrete not only looks ultra stylish but is actually also a really practical choice for dog owners.
Polished concrete is as just about as hardwearing as flooring comes, plus it is easy to clean and won't become slippery when wet.
On the downside, it is a fairly expensive option and is very tricky to install on a DIY basis.
6. Pet-friendly carpet choices
While carpet might not be an obviously pet-friendly choice of flooring, certain types of carpet are well worth consideration, particularly if you are keen to fit something soft underfoot.
It is often suggested that polypropylene carpets are best for homes with pets as they offer good resistance to dirt and are hardwearing. You should also avoid any carpets with a deep or looped pile as claws can get caught and snag them — cut pile is perfect.
You should also take time to consider the best colour carpet — white and cream is obviously going to show up dirt fast. You might also like to consider the colour of your dog's fur — a dark carpet and a white pooch are never going to be friends.
Get the Homebuilding & Renovating Newsletter
Bring your dream home to life with expert advice, how-to guides and design inspiration, direct to your inbox.
Natasha is Homebuilding & Renovating's Associate Content Editor and has been a member of the team for over two decades. An experienced journalist and renovation expert, she has written for a number of homes titles. Over the years Natasha has renovated and carried out a side extension to a Victorian terrace. She is currently living in the rural Edwardian cottage she renovated and extended on a largely DIY basis, living on site for the duration of the project. She is now looking for her next project — something which is proving far harder than she thought it would be.