Save 45% on the Meross Smart Plug in the Amazon Sale and Reduce Your Energy Costs
The Meross Smart Plug helps you track power consumption and save on energy bills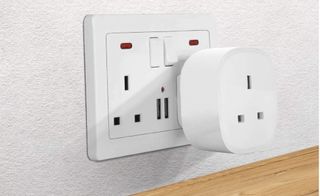 (Image credit: Amazon)
The energy-monitoring Meross Smart Plug is now reduced in the Amazon sale - buy today and save 45%!
This twin-pack Meross Smart Plug lets you track the power consumption of your appliances/devices, so you can make informed decisions to reduce energy consumption and save on your energy bills. 
Like all good smart plugs, the Meross plug lets you control your electric devices from your smart phone. This means you won't have to worry if you have left a device on charge before you left the house, and you can also create schedules so that the lights come on at a particular time - whether that's to ensure you are coming home to a well lit house, or giving the illusion that someone is at home when you're not. 
(MORE: Best Smart Plugs)
Buy the Meross Smart Plug for Just £15.29
Meross Smart Plug | WAS £27.99, NOW £15.29
The indoor-only Meross Smart Plug is compatible with Alexa and Google Assistant, so you can use voice commands to control your smart plug, or download the Meross app to control it with your smartphone. 
The plug has a really strong WiFI connection and low disconnection rate which offers great reliability and means it's suitable for most homes.
Another big plus is that it's designed to never block the other socket when used in a twin outlet, and features a sliding safety cover. Additionally, no hub is required.View Deal
What to Look for in a Smart Plug
Smart plugs are a great way to introduce some smart capability into your home. These are some of the features to look out for, and some considerations to make before you buy:
Scheduling and Timer Options - most smart plugs include this feature, but make sure that your preferred plug does too
Smart Assistant Pairing - some smart plugs only work with certain smart assistants, so make sure your plug is compatible
Hub Requirements - some smart plugs require a hub to connect the plug to other devices
Outdoor Use - most plugs are only suitable for indoor use, but there are some great smart plugs designed to function outside.
Homebuilding & Renovating Newsletter
Get the latest news, expert advice and product inspiration straight to your inbox.
Thank you for signing up to Homebuilding. You will receive a verification email shortly.
There was a problem. Please refresh the page and try again.