Best Strimmers: The Top 6 Buys to Easily Trim and Edge Your Lawn
These are the best strimmers to give you beautifully neat lawn areas and keep your garden looking its best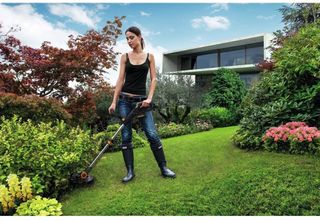 (Image credit: Amazon)
Owning the best strimmer can make a huge difference in achieving a perfectly finished edge to a lawn, and with summer finally here it's time to get your garden in order so it's ready for hosting. 
Grass strimmers, also known as trimmers, are practical and handy for when you can't get your lawn mower to cut certain areas of your garden, such as overhanging grass. Strimmers are versatile machines which can be used to create beautifully neat lawn areas, trim around shrubs and garden ornaments, and tackle overgrown areas. 
(MORE: Best petrol lawn mowers)
Finding the best strimmer depends on a few things, namely the size of the area you need to cover, whether you want a corded or cordless strimmer, and whether you need to trim hard to reach areas, such as under bushes. But once you've found the best strimmer for you and your lawn, you'll find that it provides a clean, smart finish that enhances the overall look of your garden. 
With all budgets considered, these are six of the best strimmers available to buy now. 
The Best Strimmers
1. Black+Decker GLC3630L20
The best all-round strimmer
Power: 36V | Type: Cordless | Weight: 3.5kg | Cutting width: 30cm | Edging: Yes
Powerful
Cuts through overgrown areas
Slightly heavy
The Black+Decker GLC3630L20 is a superb all-round strimmer, packed with power and useful features to take the strain out of strimming. 
A powerful model for larger gardens, it comes with a 36V battery and is backed by an impressively fasting cutting speed of 8,500 RPM. It also utilises Black+Decker's E-drive technology, which offers a turbo mode to cut through tough weeds, light shrubs and long grass. There's an eco setting too for lighter gardening work. 
It features an automatic cord feed so you won't need to bend down and stop when the cord slips, and while it is slightly heavy, it's still comfortable to use. Plus it's surprisingly quiet considering its size. 
The battery can last for up to an hour, but if you're using turbo mode then it will run out quicker (at around 30-40 minutes).
Buy the Black+Decker GLC3630L20 now
---
2. EGO ST1510E
The best strimmer for tough garden work
Power: 56V | Type: Cordless | Weight: 3.2kg | Cutting width: 38cm | Edging: Yes
Very powerful
Wide cutting area
Loop-handled line trimmer
Expensive
Raw power is the name of the game with the EGO SST1510E. The 56V battery is the most powerful on this list (incredibly, it's a cordless strimmer), making this model an essential purchase for a quick fix if your garden has become overgrown. 
The 38cm cutting area (also the largest on this list) means that the EGO SST1510E is effective at tackling tough garden work on large gardens. 
Plus, in what EGO markets as a world-first, there is a Powerload button which activates a loop-handled line trimmer: simply press and the entire line is rolled up in around 10 seconds, so you don't have to wind it back on to the spool. It's groundbreaking stuff. 
It's a little heavy, but there's a single-shoulder harness included to improve comfort, and while it's on the expensive side, this is a heavy duty trimmer that's well worth the investment. 
The battery lasts around an hour and takes roughly 30 minutes to charge.
---
3. Bosch UniversalGrassCut 18-26
The best strimmer for comfort and ease of use
Power: 18V | Type: Cordless | Weight: 2.7kg | Cutting width: 26cm | Edging: Yes
Very comfortable
Easy to use
Clever features
Not the easiest to store
Bosch's UniversalGrassCut strimmer gets our #2 spot thanks to its comfort and ease of use. The ergonomic V-shaped handle design helps you keep your back straight while using it, encouraging a natural posture. Seeing as gardening can be tiring work for even the fittest of us, this is a really useful feature.  
What's more, the design lets you adjust the height of the handles, which is handy if multiple people in your family will be using it. And the ease of use is increased further through its InteliFEED feature - this automatically feeds the spool line for interrupted work without manual adjustments.
There's also a clever foot pedal button and handle twist which makes it easier to switch between edging and trimming. 
You can buy this strimmer with or without the battery and charger, and Bosch's Power for All battery system means you can use your Bosch batteries across a wide range of their tools. The strimmer takes around an hour to fully charge, and has a battery life of around 40 minutes. 
Buy the Bosch UniversalGrassCut 18-26 now
---
4. Worx WG163
The best strimmer for edging
Power: 20V | Type: Cordless | Weight : 3.5kg | Cutting width: 30cm | Edging: Yes
Straight line edging
Tackles hard to reach areas
Two batteries
A little heavy to use
The cordless Worx WG163 acts as a strimmer and wheeled edger in one, an impressive 2-in-1 that is good value for money. 
The wheeled edger is incredibly handy for helping to trim uneven areas of your lawn and edge trim in a straight line, so you should avoid catching the cord on the edges of your patio.
The 90° pivoting head is another standout feature. This makes it easy to trim tricky spots such as low shrubbery areas, while an adjustable spacer guard protects the tops of flowers and plants.
The strimmer utilises Worx's Command Feed spool system which, at the tap of a button, feeds more of the cord through, so you get a bit more manual control without having to mess with the spool. 
Two li-on batteries come as part of the package, which will give you around an hour's use before requiring another charge. 
---
5. Flymo Contour 500E
The best strimmer if you're on a budget
Power: 500W | Type: Electric corded | Weight: 3.1kg | Cutting width: 25cm | Edging: Yes
Affordable + great value for money
Easy to use
Quiet
Smaller cutting width
Needs to be close to power source
If you're looking for a cheap and cheerful strimmer that's reliable, lightweight and easy to use, you can't go wrong with the Flymo Contour 500E.
Its 25cm cutting width makes it a great choice for regularly sprucing up smaller gardens, and the 500W motor - while not overly powerful - is very reliable. 
It comes with strimming, edging and shrubbing modes, and the latter allows you to adjust the angle of the head to access hard-to-reach places, such as under garden furniture or bushes. 
It's also delightfully quiet, which your neighbours will thank you for, and the handle and telescope shaft are easily adjusted, which is handy for compact storage.
Buy the Flymo Contour 500E now
---
6. Ryobi OLT1832
A great all-rounder for a variety of tasks
Power: 18V | Type: Cordless | Weight: 2.3kg | Cutting width: 25 or 30cm | Edging: Yes
Lightweight
Easy to use
Great value for money
Line is prone to splitting
The Ryobi OLT1832 is a fantastic option for all-round use. It is easy to operate, features clever adjustable settings and can effective tackle a variety of cutting jobs. It also comes with an auto feed mechanism if the line breaks.
With the flick of a switch you can transition between edging and trimming, and because the cord can be adjusted between 25 and 30cm of reach, it will also deal with weeds and thicker grass. 
It's lightweight too, at 2.3kg without the battery (2.7kg with), the lightest on the list. And the telescopic head can be angled in three ways. It's really comfortable to use, which is worth considering if you've never owned a strimmer and want your first voyage into strimming to be as easy as possible, without paying too much. 
Note that you will need to buy the battery separately for this strimmer. 
How to Buy the Best Strimmer?
Strimmers can be pretty complicated tools, especially if you're unfamiliar with how they work. Finding the best strimmer for you to get that perfect finish for your lawn will therefore depend on a number of factors, including:
Corded or cordless?
The benefits of cordless models is that you're not restricted by a power cable, so you have more freedom of movement. They're also more effective for medium-to-larger size gardens. However, be sure to look out for how long the battery will last. 
Corded models meanwhile are generally more powerful and tend to be cheaper. They're also well-suited for those with smaller lawns who only need the cord to travel the length of your garden, you'll just need to make sure you have a power source nearby.
The line-and-spool plastic
Many trimmers cut using a string-like line that rotates at speed, but this line can often break, especially if you buy a strimmer with a thinner line which is more likely to break when it catches harder materials. 
For this reason it's better to opt for a strimmer with a thicker line, ideally 1.2mm. However it's possible to avoid your line breaking through keeping the head of your trimmer clean (dirt build-up can clog up the line-feed mechanism).
And of course you can look for strimmers with bump and auto-feeds, which pushes out more line automatically, saving you the time and effort of fiddling with the spool to get more out each time.
Cutting width
This will be a factor for those cutting large areas of grass. The more premium models have cutting widths up to 42cm, but 25cm should be sufficient for regular use of smaller gardens.
Jack is News Editor for Homebuilding & Renovating, and strives to break the most relevant and beneficial stories for self builders, extenders and renovators, including the latest news on the construction materials shortage and planning reforms. Having bought his first home in 2013, he and his wife have renovated almost every room and recently finished a garden renovation.
Homebuilding & Renovating Newsletter
Get the latest news, reviews and product advice straight to your inbox.
Thank you for signing up to Homebuilding. You will receive a verification email shortly.
There was a problem. Please refresh the page and try again.