The 6 Best Hedge Trimmers to Transform Your Topiary
By Jack Woodfield published
These are best hedge trimmers that take the strain out of keeping your shrubs and branches in check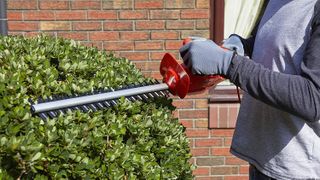 (Image credit: Flymo)
Investing in one of the best hedge trimmers is extremely worthwhile, especially if you're planning some spring gardening and the idea of shaping overgrown shrubs seems a little daunting.
The best hedge trimmers can keep your garden design looking neat and tidy, and enable you to trim your hedges and plants with pinpoint precision.
If you're unsure of what to look for in a hedge trimmer, the first thing to consider is that needs to be easy to operate and comfortable to use. Factors such as blade size and power type (cordless or corded) are important too, depending on the size of your hedges.
We've picked out six of the best hedge trimmers available now, to suit a variety of households, that will help you get your garden summer ready.
The Best Hedge Trimmers
1. Bosch Cordless Hedgecutter AHS 55-20 LI
The best hedge trimmer overall
Reasons to buy
+
Lightweight and easy to use
+
Comfortable grip
+
Clean cutting
+
Good battery life
The Bosch AHS 55-20 LI is a superb machine which is easy to use and comfortable to grip, making it well-suited to anyone who hasn't used a hedge trimmer before.
It has a multi-position front handle so it's convenient to work in a variety of positions, and it's even won an AGR certificate for its superior back friendliness.
It's best used for trimming medium-sized hedges, or even some larger gardens, and its 55cm blade (the longest on this list) has 20mm tooth space which is great for clean, precise cutting of branches.
It also has a fast cutting stroke of 1,500 strokes per minute, which will noticeably speed up cutting jobs. Plus it comes with a tip protector to help you avoid damaging the blade when cutting along walls and paths.
You can buy the trimmer with the 2.5Ah battery and charger included, (the battery lasts roughly two hours without needing a charge), or you can buy just the bare model below. The rechargeable battery is also compatible with other 18V Power4All lithium-ion cordless products.
---
2. Cobra LRH5024V Cordless Long Reach Hedge Trimmer
The best machine for taller trimming tasks
Reasons to buy
+
Effective on tall hedges and small trees
+
Powerful
+
Battery + charger included
Reasons to avoid
-
Power switches itself off if not used for 30 seconds
If you're looking to tackle taller tasks without the need for a stepladder, then the LRH5024v from Cobra is a must-have.
This long reach trimmer has a telescopic shaft which extends to 2.5 metres, providing ample reach for trimming small trees, and it features an articulating head which flips between 0-90°. It's a brilliant trimmer for chopping the tops off tall hedges.
Its powerful 24V battery is notable too in how quickly you'll complete tasks, and because it's cordless it's naturally easy to manoeuvre. The 2Ah battery pack and charger are included too - the battery lasts around an hour when used continuously.
---
3. Flymo 9671028-01 Easicut 460 Hedge Trimmer
The best hedge trimmer if you're on a budget
Specifications
Weight:
3.1kg (with battery)
Reasons to buy
+
Great for smaller hedges
+
Budget-friendly
+
Dual action blade
Reasons to avoid
-
Not suitable for use on larger hedges
If you don't want to pay much more than £50 for a trimmer, then Flymo's corded Easicut 460 could be for you. It offers good value for money and is designed for easy, effective spruce-ups of smaller hedges.
Its standout feature is the dual action blade, which not only speeds up your task of choice but helps to ensure a neater finish. The central handle is a good design choice too, which ensures it's comfortable to use.
While you lose some of the ease of movement with corded models, this trimmer comes with a generous 10m power cord which offers plenty of length, and weighing just 3.1kg it's very easy to handle.
Plus, it has a long blade length and powerful motor, meaning you can handily tackle ornamental trees and shrubs.
---
4. Ryobi OHT1845 ONE+ Cordless Hedge Trimmer
Great for shaping and sculpting
Specifications
Weight:
3.4kg (with battery)
Reasons to buy
+
Compact
+
Easy to use over long periods
Reasons to avoid
-
Power indicator hard to view
Ryobi's OHT1845 18V ONE+ is one of the best hedge trimmers if you're looking to shape or sculpt your hedges and shrubs. This is because it features a wraparound front handle which provides increased user comfort and manoeuvrability, making it easy to use over long periods of time.
It's compact and lightweight too, which is useful for less-able gardeners or those buying a hedge trimmer for the first time. And it delivers a surprisingly powerful performance - the 45cm diamond-ground blade will cleanly cut stems up to 18mm.
This is a high quality tool, overall, which also includes a blade sheath for protection when not in use, and the blade guard is reassuringly sturdy. It comes with a three-year warranty.
You'll need to buy the battery and charger separately, or you can use the battery and charger from any Ryobi ONE+ system tools you may already own.
---
5. Bosch 0600849H70 EasyHedgeCut 18-45 Cordless Hedge Cutter
The best hedge trimmer for small gardens
Reasons to buy
+
Comfortable to use
+
Lightweight
+
Battery + charger included
Reasons to avoid
-
Not suitable for larger gardens
Most Bosch models are very user-friendly, and the EasyHedgeCut 18-45 is no different.
It has a shorter blade length than the AHS 55-20, although it weighs less and is slightly cheaper. It's only suitable for use in smaller gardens, however.
This trimmer is for you if you're a garden tools novice more familiar with using handheld shears, or if you're looking for a trimmer that nails the basics.
Bosch's EasyHedgeCut 18-45 is designed for optimal balance, so it's easy on your arms and back, and Bosch's anti-blocking system for continuous use means you'll be able to cut through thicker branches without stalling.
An 18V battery and 2.0 Ah charger are included. The battery takes around 60 minutes to reach full charge.
---
6. STIHL HSA 56 Cordless Hedge Trimmer Set
The best premium hedge trimmer
Reasons to buy
+
Lightweight
+
Blade tip protector
+
Comes with battery + charger
The Stihl HSA56 is a premium cordless trimmer that is well-suited for tackling hedges and shrubs in larger gardens. This is primarily due to the wide 30mm tooth spacing on the blade, which can cope with mature, woody growth.
It may be expensive, but the quality is undeniable. It's lightweight, efficient, quiet, and comes with a two-year warranty for peace of mind. Plus the blade has a tip protector to prevent it getting damaged on nearby fences or walls.
It comes with Stihl's AK10 battery, which runs around 40 minutes. But you can alternatively use Stihl's AK20 (80 mins' run time) or AK30 (120 mins) batteries.
---
How to Buy the Best Hedge Trimmer
If you're not sure which is the best hedge trimmer for your garden, use this handy guide below to help you get started.
Cordless vs corded
Cordless hedge trimmers are generally more manoeuvrable as they're not restricted by how near your nearest power socket is, plus you don't have to worry about slicing through the cable. They're better suited for those with a larger garden because you don't need to worry about extension leads when you're trimming hedges at the back of your garden.
Corded hedge trimmers, meanwhile, aren't affected by battery run times, and are good options for those with smaller gardens and hedges. They also tend to be very reliable in terms of power.
Battery life
The running time of cordless trimmers can vary, and knowing your hedge trimmer's battery life can help ensure you get your job done in one go. Plus, look out for whether the battery and charger are included with your hedge trimmer or whether you'll need to buy them separately.
Blade size
Blade size is an important consideration so you know whether your hedge trimmer can tackle your plants. The longer the blade, the more hedge you can cut at once, making it quicker and neater. Blades under 50cm should be suitable for small hedges, but it's best to go longer than this for larger hedges.
Long reach
Long reach hedge trimmers like the Cobra LRH50-24V let you trim high hedges with ease. Some models also a pivoting head so you can trim across the top of hedges.
Jack has worked in journalism for 11 years and is the News Editor for Homebuilding & Renovating, a role he has had since 2019. He strives to break the most relevant and beneficial stories for self builders, extenders and renovators, including the latest news on the construction materials shortage and hydrogen heating. In 2021 he appeared on BBC's The World at One to discuss the government's planning reforms.
He enjoys testing new tools and gadgets, and having bought his first home in 2013, he has renovated every room and recently finished a garden renovation.
Homebuilding & Renovating Newsletter
Get the latest news, reviews and product advice straight to your inbox.
Thank you for signing up to Homebuilding. You will receive a verification email shortly.
There was a problem. Please refresh the page and try again.