Best Angle Grinder: 5 Top Buys for Your Tool Shed
By Hugh Metcalf published
Wondering what the best angle grinder is for your DIY project? Here's our pick of 5 of the best you can buy right now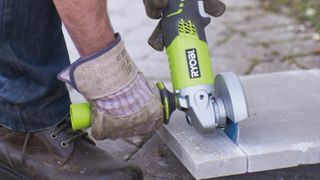 (Image credit: Ryobi)
If you're looking for the best angle grinder, you might already be a convert to these incredibly versatile tools, but for the uninitiated, let us explain just why you should consider adding one to your tool shed.
An angle grinder is basically a disc that spins very quickly — and it can be used for a variety of purpose, all depending on what blade you equip it with. It can cut metal, even steel, with ease, as well as cutting brick and blockwork — all very useful for the more involved end of DIY.
It's one of the tools that can adapt itself to almost any job, and with modern models lightweight and easy to transport, they are a useful tool to have to hand for whatever site challenges you're presented with.
But what do you need to know before you buy an angle grinder? And what are the best angle grinders on the market? We explain all, and pick 5 of our favourites.
(MORE: Want More Tool Recommendations? Try the Best Cordless Drills)
What is the Best Angle Grinder?
Makita GA4530R 720W 115mm Corded Angle Grinder
A great value corded angle grinder from a much-loved brand
Reasons to buy
+
Long cord
+
Value for money
+
Smaller size for awkward spaces
Reasons to avoid
-
No quick release for blades
-
Switch can be a bit fiddly
With a 115mm (4.5 inch) blade, this tool from Makita is the smaller size of the two options angle grinders tend to come in. This makes it great for nimble use in areas where space is tight and a bulkier tool wouldn't fit. However, despite it's size, it packs some serious punch, which is great news for such a lightweight tool.
When working across a larger site, or overhead a lot, you might prefer a cordless angle grinder over a corded style, however, with a generous 2.5m cable, you shouldn't find too many issues with this grinder.
While some reviewers find the sliding on/off switch tricky to use, it features a soft start and anti-restart function, ensuring there's no surprises and, fingers crossed, no accidents when using this tool.
To change the blades, the Makita GA4530R uses a key, and doesn't have a quick release function, but that shouldn't be too much of an issue, unless you're cutting lots of different materials in quick succession.
Buy the Makita GA4530R Angle Grinder
---
DeWalt DWE4206 1010W 115mm Angle Grinder
A powerful, lightweight angle grinder with an adjustable guard
Reasons to buy
+
Powerful motor
+
Easy-to-use adjustable guard
Reasons to avoid
-
No quick release disc changes
-
A little heavier than comparable grinders
Safety is an important part of owning and operating an angle grinder, so it's clear why the adjustable safety guard on the DeWalt DWE4206 angle grinder is such a popular feature. Easy to adjust, it encourages safe practices when using the tool, and teamed with a soft start feature (which also helps with accuracy by reducing movement when starting up the grinder) and a no-volt release switch, potentially dangerous unintentional starts aren't a concern.
A powerful 1010W motor means a higher number of rotations per minute, helping to make short work of even tough materials (ensuring you're using the right cutting disc).
Again, this tool could benefit from a quick release system for the blade. Instead, it uses a small spanner or pinch wrench, which can be difficult to find a proxy for if you happen to mislay it on site.
Buy the DeWalt DWE4206 Angle Grinder
---
Milwaukee M18 CAG115XPDB-0 Angle Grinder
A cordless, brushless model for those who use an angle grinder regularly
Specifications
Weight:
2.7kg with battery
Reasons to buy
+
Brushless motor
+
Tool-free disc change
Milwaukee's CAG115XPDB-0 angle grinder is a brilliantly lightweight cordless tool, perfect for using over a larger site or when working at awkward angles such as overhead. No cables also removes the very real concern that you could cut your cord while using your device — meaning you can focus on the job at hand.
A brushless motor also sets this angle grinder apart from other, cheaper models, meaning a more efficient motor that needs less maintenance and with reduced noise and heat.
More good news for this model is that its disc change doesn't require a tool, making it a little bit easier to change blades when cutting different materials.
This angle grinder is more of a mid-range model, and is some three times the cost of the basic models at its best price. Keep in mind that this doesn't include a battery or charger, so if you don't already own Milwaukee cordless tools, you'll need to factor in this expense too.
Buy the Milwaukee M18 CAG115XPDB-0 Angle Grinder
---
Ryobi ONE+ R18AG-140S Cordless Angle Grinder
A reliable cordless angle grinder with great specs
Specifications
Weight:
3.2kg with battery
Reasons to buy
+
Battery gauge
+
Three-position handle
+
Low vibration
Reasons to avoid
-
Heavy
-
Non-lockable switch
Cordless tools tend to be heavier than their corded contemporaries when fitted with a battery, but even still Ryobi's R18AG-140S cordless angle grinder will require a bit more strength to use for extended periods, weighing in at 3.2kg.
However, despite the weight, this tool represents a great choice for a cordless grinder. Ryobi is well-known as a user-friendly brand, especially for beginners and DIYers. The adjustable handle and guard make it easy to wield this grinder, and it has minimal vibrations, making it more comfortable to use.
In theory, the non-lockable switch should be a positive, offering a safety precaution that is likely to prevent any accidents. However, in practice, having to keep the switch depressed to use isn't ideal, causing stress on the hands when using it. For some it may be a deal-breaker, while others will like it as a safety precaution.
Buy the Ryobi ONE+ R18AG-140S Angle Grinder
---
Makita GA9020 230mm Angle Grinder
A larger 230mm blade angle grinder for robust needs
Reasons to buy
+
Powerful
+
Larger blade to cut more materials
Reasons to avoid
-
Extremely heavy
-
Not delicate enough for some applications
While the smaller 115mm angle grinders are more common to find for DIYers, a larger 230mm disc diameter is useful in some instances, offering a far greater cutting depth that's suited for thicker materials such as cutting brick. With a 2000W motor, the Makita GA9020 230mm angle grinder is a bit of a beast, and will cut through most things when fitted with a strong disc, such as a diamond blade. However, this does mean that for some tasks, it's over-specified, and you may find yourself with too powerful a tool to control easily for finer tasks, especially given the weight of this grinder.
Opting for this powerhouse of a tool, you also lose some of the features that come with the smaller 115mm models. There is no soft start, for example, which would be useful even for this 230mm model, making this tool suited better to those with some tough materials to cut, rather than everyday usage around a building site.
Buy the Makita GA9020 230mm Angle Grinder
---
What to Look for in an Angle Grinder
Angle grinders largely come in two sizes — with 115mm (and sometimes 125mm) and 230mm blade diameters, or 4.5 inch and 9 inch in imperial measurements. Smaller angle grinders are lightweight and easy to carry around site and use overhead. Large 230mm angle grinders have a much deeper cutting depth, but are heavy therefore more difficult to wield. Your choice will depend on the types of materials you have to cut.
Weight is one of the most important factors you should consider when purchasing an angle grinder. Settling on a grinder that has a good trade off of power versus weight is the way to go.
You'll also need to decide between a cordless and corded grinder. Corded grinders are lighter, as they don't require the additional weight of a battery, but are more limited in movement by their cable. If opting for a corded grinder, look for one with a suitably long cable.
With a cordless grinder, bear in mind that the lighter, lower amp batteries won't last as long in an angle grinder in constant use, meaning you'll have to charge them very regularly. Choose batteries with a decent ampage for these tools.
If you're cutting a variety of materials in short succession, it's also worth considering how you change the blade, as this is one of the most important elements for using an angle grinder successfully. Most angle grinders come with tools to change the blades, but some have quick release systems and others can be down by hand. Always make sure the angle grinder is turned off, unplugged or battery removed, and the disc is cool to the touch before changing.
What Shouldn't an Angle Grinder be Used for?
As an angle grinder makes short work of cutting metal, you might consider it for cutting copper for plumbing, but don't. You need a proper pipe slice for that as you'll need to ensure a perfectly straight cut in order to soldier the joins later.
While it's possible to fit an angle grinder with a wood blade, it's not the ideal tool for cutting wood and may caused burns to the surface due to friction.
Hugh is Digital Editor of homebuilding.co.uk and has worked on a range of home, design and property magazines, including Grand Designs, Essential Kitchens, Bathrooms, Bedrooms and Good Homes. Hugh has developed a passion for modern architecture and green homes, and moonlights as an interior designer, having designed and managed projects ranging from single rooms to whole house renovations and large extensions. He's currently renovating a Victorian terrace in Essex, DIYing as much of the work as possible. His current project is a kitchen renovation which involves knocking through walls and landscaping a courtyard garden.
Homebuilding & Renovating Newsletter
Get the latest news, reviews and product advice straight to your inbox.
Thank you for signing up to Homebuilding. You will receive a verification email shortly.
There was a problem. Please refresh the page and try again.