Building Regulations Part O: Overheating Rules for New Homes
Building Regulations Part O sets out new rules in 2022 to protect occupants from overheating within new homes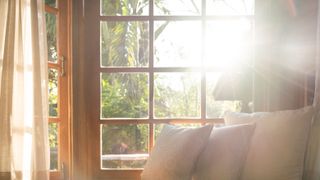 (Image credit: Getty Images)
Up until now many of us will have likely not paid vast attention to overheating when designing and building our homes. But this is all set to change with the publication of Building Regulations Part O: Overheating.
The updated Building Regulations took effect from June 2022 and while the measures in Part O are not designed to guarantee comfort, they are there to protect the occupants' health and welfare.
Here's what you need to know about Building Regulations Part O as a self builder following its implementation this year.
What is Building Regulations Part O?
This main intention behind Part O: Overheating (fairly easy to remember) is to limit excess solar gain in the room, and to provide means by which measures can be introduced to quickly remove the excess heat from the indoor environment.
Solar gain is the temperature increase in a space or structure due to heat from the sun, which can cause overheating during the summer months.
The regulations will also address causes of overheating due to uninsulated heating pipes, cylinders or a lack of heating controls.
"Part O is very valuable. It means that we can make more informed decisions about how we design homes and buildings and to address design issues that can affect overheating risks right now, which will become more pronounced with climate change," says Mark Siddall, principal architect and director of research at the Lovely Engineered Architectural Practice (LEAP).
It is worth noting that Part O does not cover glazed extensions but if you are building an extension and want it to be habitable and healthy, it will be worth paying attention to Part O guidance.
Why is Overheating Important?
Previously, most of the attention within homebuilding has been spent on insulating and draught proofing our homes to keep heat in in winter. But when building with lighter weight materials such as timber frame and Structural Insulated Panels (SIPs), the lack of thermal mass which can lead to overheating has been a potential issue.
There has been a small element of the Standard Assessment Procedure (SAP) - used to assess the energy performance of homes - that has previously looked at overheating, but only as an average of the whole home.
Here's an example of why Part O will be beneficial: If a 20m² glass box was built on the side of a 400m² solid wall property then it is highly likely that the overheating potential would not be flagged up during the build because there would not be enough heat generated in the 'glass box' to lift the average temperature in the whole house beyond the risk level. The box could therefore be uninhabitable.
Now, Part O mandates that the rooms need to be evaluated in isolation and adequate means of cooling must be included to ensure the healthy habitation of the occupants.
Ian Rock MRICS, author of the Haynes Home Extension Manual and director of rightsurvey.co.uk, says: "It's great news that they've addressed the issue of overheating because that is a problem, notably within some new homes. Mitigating solar gain is a good thing too, and addressing uninsulated heating pipes and a lack of heating control systems in homes is to be applauded."
How Do You Calculate Overheating Risk?
There are two main ways to calculate overheating risk within a home:
The Simplified Method
Dynamic Thermal Modelling
"Dynamic modelling is likely to be quite an expensive process, whereas the simple method is what would be a lot more intuitive and easy to integrate into a standard home design," explains Siddall.
When Would You Use the Simplified Method?
The Simplified Method can be used for moderate and high-risk areas for overheating, offering homebuilders ways to limit the solar incidence and how to remove excess heat.
You can download the Part O Approved Document which contains a step-by-step guide to using the Simplified Method, as well as postcode lists for high-risk areas and steps to take if you have means of cross ventilation. Part O Appendix B has a checklist that can be filled in and passed to Building Control to demonstrate compliance.
When Would You Use Dynamic Thermal Modelling?
The Dynamic Thermal Modelling approach can be used for more complex buildings and where greater accuracy and interpretation is required.
CIBSE Thermal Modelling software (TM59) is used to accurately replicate the form of the building and map it against the potential overheating on a seasonal or hourly basis.
This tool can then be used to work out the potential overheating risk in specific rooms and also at specific times of the day. It is also possible to model different mitigation methods such as glass coatings, shading and shutters or blinds to work out their efficacy.
What Temperature Should My Rooms be?
Bedrooms may only be warmer than 26°C for a maximum of 1% of the annual sleeping hours, which is effectively an absolute maximum of 32 hours a year above that limit. Daytime hours are not included in this calculation so having a lie-in on a hot summer day does not count.
The rest of the home and daytime hours are subject to different calculations that are more of a moving target with the temperature limits being somewhere between 20-25°C. This is the so-called 'comfort temperature' and the rest of the home (which includes bedrooms during day time) cannot be more than 1°C above the calculated comfort temperature for more than 3% of the year.
Targets differentiate between naturally-ventilated homes and mechanically-ventilated homes. To be naturally ventilated there must be a window (or windows) that can be opened at least 1/20 of the floor area.
One caveat to this is if there are indeed enough openable windows to cover that area but there is a good reason to not open them, such as a noisy road, train track or airport, or even if they cannot be opened due to security or safety reasons.
Is Overheating Compliance Mandatory?
Yes. The Building Regulations state that reasonable provision must be made in respect of a dwelling containing one or more rooms for residential purposes to limit unwanted solar gains in summer, and provide an adequate means to remove heat from the indoor environment.
The simplified method or TM59 models themselves are not mandatory, as they are only the methodology to prove compliance with Part O, but TM59 could certainly be a very useful design tool, not only for new build properties but also extensions that have any risk of high solar gain and could be a very uncomfortable living area.
Following these calculation assessments means that these risks can be identified and mitigated before construction even starts.
When Does Part O Come Into Effect?
Part O came into effect on 15 June 2022, with a grace period taking effect until 2023 for buildings that are currently still in the building process.
If you applied for a building notice or initial notice before 15 June 2022, your project will still be considered under the previous Building Regulations, provided building work begins before 15 June 2023.
But if you obtained Building Regulations approval under the old regulations, you must begin work on the unit by 15 June 2023 or the new regulations will apply.
Get the Homebuilding & Renovating Newsletter
Bring your dream home to life with expert advice, how-to guides and design inspiration, direct to your inbox.
David is a renewables and ventilation installer, with over 35 years experience, and is a long-standing contributor to Homebuilding and Renovating magazine. He is a member of the Gas Safe Register, has a Masters degree in Sustainable Architecture, and is an authority in sustainable building and energy efficiency, with extensive knowledge in building fabrics, heat recovery ventilation, renewables, and also conventional heating systems. He is also a speaker at the Homebuilding & Renovating Show.
Passionate about healthy, efficient homes, he is director of Heat and Energy Ltd. He works with architects, builders, self builders and renovators, and designs and project manages the installation of ventilation and heating systems to achieve the most energy efficient and cost effective outcome for every home.