Building Regulations Part S: New Electric Vehicle Charging Rules Now Apply
By David Hilton Contributions from Jack Woodfield published
The introduction of Building Regulations Part S means there are new rules regarding electric vehicle charging for self builders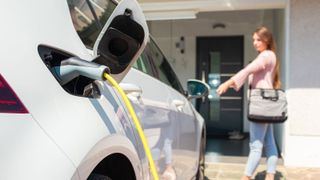 (Image credit: Getty Images)
The new Building Regulations Part S aims to futureproof homes and buildings via the installation of charging points for electric vehicles, and it could have an instant impact on self builders and anyone undertaking large-scale renovations.
Electric vehicles have been on the radar for a number of years but they are here now and very much part of the future. And with electric cars set to replace petrol and diesel cars, the Building Regulations need to accommodate the infrastructure required for charging vehicles at home as well as at work.
Here's what self builders need to know about Part S, including the requirements you have to meet and how best to adhere to the new regulations.
What are Building Regulations Part S?
Building Regulations Part S (opens in new tab) provides a requirement for new homes and existing homes undergoing large renovations (of 10 more or dwellings) to have facilities for charging electric vehicles at home that may be parked on associated parking spaces at that home.
The document applies to the following projects:
New residential and non-residential buildings
Buildings undergoing a material change of use to dwellings, such as converting a barn into a home
Residential and non-residential buildings undergoing a major renovation where 10 or more dwelling are being created
Mixed-use buildings that are either new or undergoing a major renovation.
What Are The Requirements When Building a New Home?
Essentially, all new build homes must have electric vehicle charging facilities for each associated parking space that is equal to the total number of dwellings.
If there is more parking provision than dwellings then cable routes can be installed, but this is not a requirement unless there are more than 10 dwellings. What this means is that anyone planning a self build will need to install one charging point, but you can install more than one if you own multiple electric vehicles.
In terms of cost, the regs are designed to stop the installation of EV chargers being prohibitively expensive. This is why the £3,600 price cap has been introduced, meaning each charger should not cost more than an average of £3,600 per charge point.
If the cost is set to exceed this on a dwelling, then cable routes for charge points must be installed in the associated parking spaces, but for the operation of the £3,600 cap.
This cap applies in relation to new residential buildings, but not to changes in use, major renovations of 10 or more dwellings, or new non-residential buildings.
Can Self Builders Install Tethered Charge Points?
A tethered charge point is essentially an EV cable that is used to charge an electric vehicle and is permanently fixed to the EV charging station. An untethered charge point, or universal socket, is not permanently fixed to the charging station.
While the technical requirements of Part S state that each EV charger should be fitted with a universal socket, it also says that in exceptional circumstances, such as for self build homes, a tethered vehicle charge point may be acceptable providing the vehicle requirements are already known.
The benefit of using a tethered car charger is that it saves you needing to get yours from the boot, but an untethered charger is more versatile if you want to charge different cars at different times that may have different charger connection types.
Does Part S Apply When Converting a Building Into a Home?
All buildings undergoing a change of use, such as a barn conversion, will require an EV charger under Part S.
Where one or more dwellings with associated parking result from material change of use, then at least one associated parking space per dwelling must have access to an electric vehicle charge point.
Any material changes of use to listed buildings, national monuments, heritage buildings and other historic and traditional buildings may not need to provide an electric car charging point. They will receive special consideration from building control bodies and may also be exempt in certain circumstances.
Does Part S Apply to Renovations and Extensions?
Part S will apply to major renovations, such as a large home conversion to flats, where there will be more than 10 associated parking spaces after the renovation is completed. However, it will not apply to an individual renovator or someone extending their home.
At least one associated parking space for each of the 10 or more dwellings must have access to an electric car charging point and cable routes should be installed to additional associated parking spaces.
Prior to renovation, the power supply to a property must be sufficient for electric vehicle charge points to be installed. And if the cost of installing the electrical vehicle charge points and cable routes is more than 7% of the total capital cost of the major renovation, then cable routes need to be installed where the associated car parking spaces are.
What is the Minimum Power Requirement?
All new EV charge points being installed will need to provide a minimum power supply of 7kW, or have the cable routes ready for this supply.
However, it is worth noting that a single phase electric supply has the capacity to charge at a maximum rate of 7.4kW, and given the average number of miles that an electric vehicle can actually drive on 1kWh, this will realistically charge the car at around 15 to 20 miles for every hour of charging.
It may therefore be prudent to install cable routes that are capable of charging at a faster rate. If you have more than one car you will need to share the capacity (even if you have more than one charger) but if you have three phase electricity then you get three times the charge rate.
Another thing to look into is the connectivity of the charger to other technologies, such as photovoltaic inverters. The software in the system will be able to 'talk' between the technologies and know to turn on the car charger when there is excess energy being generated by the solar panels.
When Does Part S Come Into Effect?
Part S came into effect on 15 June 2022, with a grace period taking effect until 2023 for buildings that are currently still in the build process.
If you applied for a building notice or initial notice before 15 June 2022, your project will still be considered under the previous Building Regulations, provided building work begins before 15 June 2023.
But if you obtained Building Regulations approval under the old regulations, you must begin work on the unit by 15 June 2023 or the new regulations will apply.
Why Was Part S Introduced?
The publication of Part S followed other Building Regulations changes announced in late 2021, which aim to increase energy efficiency of buildings across England.
The lack of ability and proximity for charging electric vehicles at home is a limiting factor for why people don't choose electric vehicles, says John Gilham, Group Technical Manager at Green Building Renewables (opens in new tab), who says of Part S: "The new regulations are a positive step in helping homeowners to make decisions that will help decarbonise the UK's transport sector and make more sustainable living choices for their home and family."
But when asked if Part S could be more substantial, Gilham said: "The guidelines could go further by making other low carbon and renewable technology mandatory in new builds and retrofits, such as solar PV and battery storage."
Is Part S the Same as the New Charging Points Law?
No. Part S guidelines ensure that all new build properties have provision for an EV charge point. The new electric vehicle charging points law which comes in on 30 June relates to the charge units themselves.
All EV charge points installed after 30 June 2022 will need to have in-built WiFi communication. This allows all charge points to be online and accessible by the local network operators.
Where Should Charging Points and Cable Routes be Installed?
The position of the chargers needs to be considered because if a parking space is too far from the power grid, the power drops associated with the length of the cable may negatively affect charging capabilities.
The Part S guidelines recommend that often the best position for an electric vehicle charge point or future connection is at one corner of the parking space. Alternatively, when a charging point is serving more than one parking space then it should be positioned so all spaces can be used at the same time for recharging.
For each parking space that requires cable routes, the routes should be provided from a metered electricity supply point to the future connection location, leaving sufficient space for a new electrical connection at a metered supply point.
Changing the cable routes can be a disruptive exercise, so planning it in at the same time as other changes could certainly be a tick in the futureproof box.
Can an Electrician Install an EV Charge Point?
There are many specialist companies that now fit electric vehicle car chargers but your local electrician may also be able to provide the service if they have had the additional electric vehicle training. Without the specialist training the installer may not be competent to carry out the installation.
David is a renewables and ventilation installer, with over 35 years experience, and is a long-standing contributor to Homebuilding and Renovating magazine. He is a member of the Gas Safe Register, has a Masters degree in Sustainable Architecture, and is an authority in sustainable building and energy efficiency, with extensive knowledge in building fabrics, heat recovery ventilation, renewables, and also conventional heating systems. He is also a speaker at the Homebuilding & Renovating Show.
Passionate about healthy, efficient homes, he is director of Heat and Energy Ltd. He works with architects, builders, self builders and renovators, and designs and project manages the installation of ventilation and heating systems to achieve the most energy efficient and cost effective outcome for every home.
Homebuilding & Renovating Newsletter
Get the latest news, reviews and product advice straight to your inbox.
Thank you for signing up to Homebuilding. You will receive a verification email shortly.
There was a problem. Please refresh the page and try again.