"We Built Our First Home!" How This Couple Became First-Time Homeowners by Self Building
By Jane Crittenden published
Lucy Newton and Sam Hopkins defied the planning odds and achieved their home on a tight budget, thanks to an energetic can-do attitude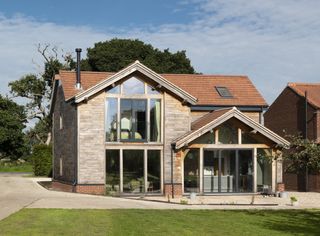 (Image credit: Jeremy Phillips)
Along with many of her family members, Lucy Newton has lived on a picturesque 50-acre smallholding close to York for much of her life. Her great grandfather bought the land nearly 80 years ago; it is now managed by her parents, who live next to her grandma, who is, in turn, neighbour to Lucy's aunt and uncle.
"I loved growing-up here and, apart from a few years living away at university where I met my partner, Sam, I've never wanted to live anywhere else," says Lucy. "Sam and I want to take over the smallholding one day, but we needed somewhere to live. We hoped to self build our own home but we had to find a way to navigate planning permission first."
An Oak Frame Design
Project notes
Homeowners
Lucy Newton and Sam Hopkins
Location York
House size 142m2
Construction method
Oak frame with SIPs encapsulation
Build time Jan 2018 - Aug 2019
Build route Subcontractors and DIY
Plot cost Gifted
Build cost £267,000
Value £375,000
Lucy and Sam had their eye on a street-facing, unsightly asbestos shed next to her parents' 1930s house, the original property on the smallholding. Flat open fields extend for miles around them with a lake and woodland that Lucy's grandfather spent his lifetime nurturing. However, with the location half a mile outside the village, the couple faced a major problem. "We're not in the development zone so we knew there was a high chance planning would reject our application," Lucy explains.
After the couple graduated university in the summer of 2014, they decided to begin turning their dream of building a home on the site into a reality, and moved in with Lucy's parents. Sam, who'd studied design in his Building Services Engineering degree, produced the drawings, supported by retired architect Ron Illingsworth, a friend of Lucy's parents.
(MORE: Check out These Outstanding Oak Frame Homes for More Inspiration)
"We wanted an energy-efficient house and had been inspired by oak-frame designs we'd seen in magazines, but we thought this might blow our budget," says Sam.
Not one to give up, Sam progressed an oak-frame design, with in structural insulated panels (SIPs) and clad in chestnut. The street-front elevation was designed to look modest compared the rear, which features two glazed gables facing the views.
Sam also found a solution to planning permission department's ridge height restrictions by designing a tempered pitched roof: a 11m flat section runs the through the middle of the roof, meaning the ridge height is kept low, but the interiors have high ceilings in most rooms.
(MORE: Check out our guide to Roof Structures)
Securing a Self Build Mortgage
By spring 2016, Lucy's parents had handed over ownership of a 400m2 parcel of land where the asbestos shed was sited; Lucy and Sam had also decided to employ planning consultants, KVA Planning. "We didn't have a lot of money to play with but our consultant was knowledgeable and empathetic," says Lucy. "I don't think we'd have got planning without her advice."
At the end of 2016, planning permission was approved but the couple needed to source suppliers and arrange a self build mortgage, so building work didn't start until early 2018. By then they'd accrued £30,000 in savings to put towards their £250,000 budget.
"Only two lenders agreed to lend on a timber frame build, which meant we had to accept a variable interest rate, which was expensive," says Lucy. "Fortunately, Mansfield Building Society allowed us to offset the first payment against the land, which got us watertight before we needed more funds."
Sam took on the role of project manager. "I costed out the entire design, packaging up key stages to get quotes," he explains.
With their hearts still set on an oak frame, the couple approached local firm Parker Oak, who agreed to tailor their oak frame design to one they could afford.
"Then we got SIP Build UK to supply and install the SIPs," adds Sam, "but we hired a telehandler and crane ourselves. Creating packages of work saved us a fair bit of money."
Getting Involved with DIY
Lucy and Sam were keen to be hands-on during the build along with invaluable help from Lucy's dad, John, a skilled bricklayer, tiler and joiner.
One snowy day in January 2018 they began the footings, but digging proved challenging in the sandy-clay soil. The trenches collapsed and filled with water, but they had to press on to meet Parker Oak's schedule to erect the oak frame.
"We poured the ground floor slab with just five days drying time," says Sam. "We were worried frost would crack the concrete so we laid plastic over the top, held down with ladders and planks." Within a couple of months, the house was watertight and the couple turned their attentions to installing the septic tank. The challenge was filling the tank with water at the same time as filling the surrounding hole with concrete to secure it in place.
"This was the most stressful part of the entire build," Lucy recalls. "We struggled to get the water in fast enough and the tank rose too high. We cut our losses as it would've been impossible to get out, and began again with a second tank — with more success this time!"
"We'd lived and breathed the build for so long that for the first few months living here felt surreal," says Lucy. "We both feel a huge sense of achievement now we're finished and feel very lucky as we couldn't have done this without my parents' help or Sam's skills."
Jane is a freelance homes and interiors journalist who write articles about property and home-related topics such as house renovations, self-builds, interior design, kitchens, bathrooms, architecture.
Homebuilding & Renovating Newsletter
Get the latest news, reviews and product advice straight to your inbox.
Thank you for signing up to Homebuilding. You will receive a verification email shortly.
There was a problem. Please refresh the page and try again.