A Contemporary Home Built for Under £200k! Find Out How...
By Caroline Ednie published
This new family home in the Scottish borders is built over five levels to address its dramatic sloping woodland setting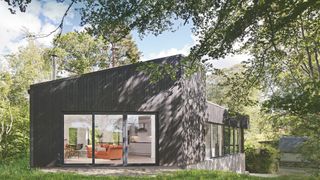 (Image credit: David Barbour)
Tucked away in a quiet woodland setting in the Scottish Borders is a family house that, according to owner Paula, has been built with the generosity of many friends and colleagues who helped her achieve her first self build for just under £200,000.
The project began in 2013 when Paula started to think about the plot, adjacent to her parents' home, as a potential self build plot for a home that she could settle in with her two children. "The site wasn't really used. I thought that if I could build this house it would give me financial security and I could be close to mum and dad.
"Originally, I had thought I could build a kit home, as my budget was incredibly tight, but it was not a plot that lent itself to that."
Here, we explore how this stunning family contemporary home was created, on a tricky site, for under £200,000.
Designing a Multi-Level Home
The first challenge was where to locate the house. "It wasn't an easy site to develop, with flood risk in the flatter areas next to the river and steep slopes and bands of protected trees elsewhere," explains the architect behind the project, Neil Taylor of TAP Architects (opens in new tab).
"Eventually, we identified an area towards the western side of the site that was just large enough to locate a new house. Within this area was a flat, raised plateau, which was the highest part of the site and which we envisaged as the location for the living space, although this also had challenges."
Navigating through the planning process was tricky. The original planning application was rejected but was passed unanimously on appeal.
Following a nine-month build, the house emerged, with accommodation split across five internal floor levels. An entrance level, bedroom and bathroom are at the lowest level with another bedroom on the floor directly above. A further bedroom is set at a mid level, with an attic room above that.
(MORE: Self Build Homes: What is Possible for Your Budget?)
All of these spaces are accessed via a hallway that is fully glazed to the west side and contains steps, doorways and places to sit, all animated by shifting, tree-filtered light.
At the end of this ascending route is the wedge-shaped living space, where you enter into an unexpectedly tall space below a rooflight. Steel beams, columns and timber roof joists are exposed, revealing the construction story and bringing interest to the ceiling plane.
Creating a Contemporary Exterior Design
Externally, a simple gable-end to the pitched roof can be seen from the street, fitting in comfortably with neighbouring houses. A timber joist roof structure, partially exposed internally, is combined with black-stained larch and dark grey aluminium metal cladding and roofing.
The dark stained timber cladding and light coloured blockwork plinth brings a strongly horizontal dynamic, which contrasts with the slope of the hillside.
Working to a Tight Budget
"As I was working to such a tight budget the house is the result of the generosity of friends," says Paula.
"I relied a lot on Neil with his great attention to detail. I had a lot of help from my joiner friend Ian McDade, who laid all the beautiful floors. A friend gifted me the woodburner, and another friend gave me a great deal on the bathroom. It was built with kindness and generosity and you can feel that in the build."
Neil adds: "Some compromises to the budget were made but nothing that undermines the overall integrity of the house. We started off with a zinc roof and eventually went for aluminium. Apart from the hallway screen and entrance windows, the other windows are uPVC to save costs."
Paula also chose to appoint a project manager, Ian Middlemiss, who had a good working relationship with many local trades. Paula appointed the subcontractors and all the materials were also invoiced directly to her. Although this increased the risk to Paula as the client, it also saved costs and the construction went ahead without hitches.
Since moving in, the effect on Paula has been transformative. "The finished build is so much bigger and better than I could have imagined. And the kids absolutely love it as they have their own floor!" says Paula. "Whenever I walk through the front door, I feel so grateful that this is our house."
Caroline Ednie is a homes journalist based in Glasgow.
Homebuilding & Renovating Newsletter
Get the latest news, reviews and product advice straight to your inbox.
Thank you for signing up to Homebuilding. You will receive a verification email shortly.
There was a problem. Please refresh the page and try again.