Incredible Budget Self Build: A Passivhaus for just £115K
By Amy Reeves published
Ian and Justine Jones worked tirelessly to build their green self build on a budget of less than £600/m2, completing much of the work on a DIY basis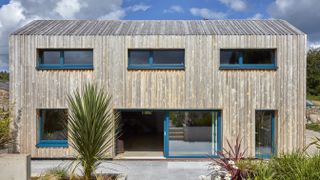 (Image credit: Mark Ashbee)
Building a home can be as hands off as we choose these days. However, this was not the case for Ian and Justine Jones, who poured their heart and soul into building a home, designed to Passivhaus standards, for their family — on a tight budget.
However, when they first took on this project they had planned to renovate. "We found a cottage that was perfect for us to renovate, put in an offer and that was it," says Ian Jones. "However, once we moved in we realised that as the cottage was over 100 years old, had no damp course, was only single glazed, needed underpinning and was poorly built.
"By the time we took those costs into consideration, we started to think about self build."
Their resulting new eco home went on to win Best Value Home in The Daily Telegraph Homebuilding & Renovating Awards 2021. Here, Ian explains the process behind the build…
Building to Passivhaus Standard
"We got in contact with Scott Adams at Passiframe, a Passivhaus consultancy, because we knew we wanted the house to be as green as possible with low running costs," begins Ian.
"Scott designed the house for us as his first self-build as a Passivhaus consultant. We didn't have a long wishlist but knew we wanted an open-plan ground floor, three or four bedrooms and for the structure to be built out of timber. I'm a carpenter and wanted to build it myself."
"Once we finished the frame, Scott was very hands on and came to give us a hand and gave us pointers on what to do with the airtightness and Passivhaus methodology. We were really rigorous with the membranes and taping, and painted over every single nail hole with airtight paint — we spent so many evenings dotting and dabbing every nook and cranny.
"We have an MVHR (mechanical ventilation with heat recovery) system and triple glazed windows from the Green Building Store, an air source heat pump that powers the majority of the heating, and solar panels on the roof, which provide hot water. At some point we're going to get photovoltaic panels on the roof as well to give us some electricity.
"Over the winter we had the heating on a handful of times, which was really great — we are so glad we chose to make the effort to go Passivhaus standards [the house is currently awaiting Passivhaus certification].
"It may have cost us a little more on certain items but this is our forever home and we wanted to invest the time, effort and money into it. We feel we're doing our bit for the environment.
Taking on DIY to Stay on Budget
"It was a real self build — we did everything DIY in our spare time!," says Ian. "My dad has an excavator so he helped knock the house down and my father-in-law was a builder so he helped us pour the groundworks and put in the Isoquick slab.
"Then Scott gave me a hand to build the initial timber frame construction on site, which took about eight weeks to get it watertight."
"It took us about two years to do it but we wouldn't have been able to afford this kind of house without putting our own labour in. The only subcontractors that we had to come in and help us were to do the plumbing and the electrics.
"Justine is extremely good with budgets. Obviously we didn't really have any labour costs and we called in all sorts of favours and got materials at trade prices. On the whole it was a great experience and our daughters have learned so much — they chipped in plasterboarding, painting and decorating."
(MORE: How to Build a House for Less than £150,000)
Finishing the House with Timber
"As part of the planning stipulations, the house had to look like the old cottage from the front so if anyone drove by they wouldn't know any difference. Scott designed it so the more contemporary, timber-clad rear looked like an extension to the existing house.
"We knew that we wanted to give our home a high-quality feel and the internal timber cladding was definitely one of those elements that helped with this," adds Ian. "The Douglas fir was off the shelf and cost us around £600. It took me about six weeks to create the cladding, which is more time than I would normally spend on something like that but I knew I had to get it absolutely perfect.
"I was adamant that we were only going to build a house once, so I wanted to do it the best I possibly could. Otherwise I'd be looking at mistakes for 20 or 30 years! It feels really good being in the house now. There's not a day that goes by that I don't sit down and breathe a sigh of relief and feel proud."
Assistant Editor Amy began working for Homebuilding & Renovating in 2018. She has an interest in sustainable building methods and always has her eye on the latest design ideas. Amy has interviewed countless self builders, renovators and extenders about their experiences for Homebuilding & Renovating magazine. She is currently renovating a mid-century home, together with her partner, on a DIY basis, and has recently fitted her own kitchen.
Homebuilding & Renovating Newsletter
Get the latest news, reviews and product advice straight to your inbox.
Thank you for signing up to Homebuilding. You will receive a verification email shortly.
There was a problem. Please refresh the page and try again.