11 Kitchen Cabinet Lighting Ideas to Give Your Kitchen a Glow up
By Hugh Metcalf published
Try these kitchen cabinet lighting ideas to illuminate your space's storage and create accent lighting for your design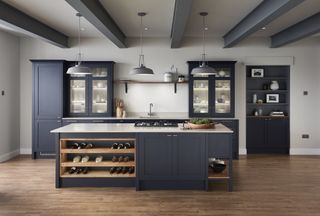 (Image credit: Howdens)
Utilising kitchen cabinet lighting ideas may not be your first thought when figuring out how to illuminate your space, but including these elements in your lighting design is a brilliant way to round out your space.
Not only do kitchen cabinet lights provide useful task lighting and ensure you can find what you need in your cupboards, but it also has a role to play as a source of ambient light, especially in a larger open plan kitchen design.
With that in mind, we've scoured our favourite kitchen brands for the best examples of how to use kitchen cabinet lighting ideas in your space, plus their experts answer our need-to-know questions about how to get the most from this form of lighting in your kitchen design.
1. LED Strips are Perfectly Suited for Kitchen Cabinet Lighting Ideas
Whether you're looking for kitchen cabinet lighting ideas for inside your cupboards or underneath your wall-mounted units, LED strip lighting is a great choice. Not only does it cast an even light across the length of your cabinets or shelves, it can also be more practical than downlights.
"Linear LED lighting is good for reducing shadows under cabinets," says Piero De Marchis, Director of Detail Lighting. "Under cabinet lighting good to boost light levels where its needed, but it should be concealed, with no dots visible."
Ideally, LED lighting should be dimmable for all your kitchen lighting ideas, meaning that you can control the brightness so it can be used for task lighting and for softer, ambient in the evening time.
2. Kitchen Cabinet Lighting is Super Effective in Glass Fronted and Open Units
Lighting up the inside of your kitchen cabinets is great for helping find what you're looking for, but it can also create a brilliant visual display when used with glass fronted cabinets or open storage.
When using glass fronted cabinets in a kitchen design, you're reliant on having neatly styled contents to keep your kitchen looking its best, and lighting only goes to highlight your perfectly curated shelves.
In this instance, your lighting should certainly be hardwired into your kitchen from the outset, controlled by a switch that's easy to access.
In this Wren Kitchens design, simple downlights have been used to illuminate the three sections of open units at the top, mirrored with three downlights onto the worktop.
3. Install Kitchen Cabinet Lighting on Every Shelf
In cabinets with more than one shelf, you should install lighting on every one to ensure an even spread of light through your cupboards. If not, your lighting will only benefit one shelf and leave the others in darkness. It's especially important when using glass fronted cabinets, or else your lighting scheme will look very uneven.
Think about the position of your lighting on a shelf too to make the most of your lighting design ideas. Positioned at the front of the shelf will illuminate the whole shelf, while at the back it will create an atmospheric silhouette. At the top of the shelf will provide more useful task lighting, while the bottom will again create a more ambient feel.
4. Retrofit Kitchen Cabinet Lighting With Battery-Powered or Rechargeable Styles
Whether you're looking to add kitchen cabinet lighting to an existing kitchen or an off-the-shelf kitchen design, there are plenty of options for adding lighting on a DIY basis. The best kitchen lighting for this are lights powered by batteries or are re-chargeable that can simply be stuck into your cabinets.
However, you may want to think of ways to conceal these lights in your final design for a cleaner finish, as they often contain bulky battery packs.
5. Motion Sensor vs Switch Operated Kitchen Cabinet Lighting
Think about the purpose of your kitchen cabinet lighting to decide which mode of operation is best suited. For under cabinets, open shelving or glass fronted cabinets, choose a style which is switch operated, but for inside cabinets, a PIR motion sensor light will be most effective, ensuring the lights turn on when you open the cupboard door.
If opting for mains-wired kitchen cabinet lighting, think about the location of your switch too. "Make sure light switches are easily accessible upon entry to the room as well as easy to reach without interrupting the working area of the kitchen," says Richard Davonport, Managing Director at Davonport.
6. Or opt for Smart Connectivity Kitchen Cabinet Lighting
Choosing kitchen cabinet lighting with Wi-fi connectivity is another route to go for even more seamless control. The likes of Phillips Hue light strips available from John Lewis & Partners can be controlled by app, either by Wi-fi with the Hue Bridge hub installed or by Bluetooth without.
Or you could try this new kitchen from Rotpunkt, which has kitchen cabinet lighting hardwired into the shelves which is smart home ready and has the capability to be controlled by Wi-fi and smart assistants like Alexa.
(MORE: How to Design a Smart Home)
7. Add Lighting in a Pantry Unit
Kitchen cabinet lighting is an essential pantry idea, ensuring your larder is easy to use and stays in good order. Because pantries tend to have shelves shorter than the entire depth of the cabinet, one well placed, suitably bright light at the top-front might do the job, or you may want to add lights to every shelf.
Pantries are a good candidate for motion sensor lighting that turns on and off when you open and close the doors.
8. Incorporate Lighting to Highlight Open Cabinets
Small open recesses in your kitchen cabinetry can make for an effective design feature, and adding lighting into these areas only increases their appeal.
Consider a single downlight for a small recess, as this creates a focal light for an object in this cabinet that can be an impressive way of highlighting it.
9. Choose Dimmable, Colour Changing Lights
LED strips with app control often have the ability to not only dim and brighten the lighting, but also shift its colour. "Using colour-changing smart bulbs or smart LED strip lighting, you can set the brightness and colour of the light depending on what you're doing; whether you want cool blue interior hues to perfectly illuminate worktops while you're cooking or cosy warmer tones when you're sitting down to eat," says Kate Baker, lighting advisor at smart lighting expert 4lite.
"Smart lighting also gives you a quick way to introduce colour into neutral kitchens to create some beautiful looks, adding warmth and texture to even the most blank canvases."
10. Consider Switches for Kitchen Cabinet Lighting
Realistically, any more than three light switches on a wall will lead to confusion for those using it to find the right lighting set-up, so streamlining your kitchen lighting scheme to work best is important.
Consider whether your kitchen cabinet lighting can be on the same switch as another lighting element in your kitchen, rather than each being controlled separately.
While it's likely best that all lighting is controlled by switches near the entry door, you might consider relocating switches for accent lighting elsewhere, or opt for lighting with built-in switches for under cabinet lighting.
11. Use Spotlights to Highlight Kitchen Cabinets
When choosing between spotlights or downlights, it tends to be downlights that are more commonly used for kitchen cabinet lighting ideas; however, you can also make a feature of your kitchen cabinetry using spotlights too.
This creative lighting design ensures that the light of the spotlights is as useful to the space when the doors are closed as they are when they're open, creating a well-lit lighting design for this space overall.
---
How Bright Should Kitchen Cabinet Lighting Be?
"Ensuring the lights that are installed emit enough light is key and having a dimming option is definitely advisable. Per metre, we would recommend that a minimum of approximately 860 Lumen would be appropriate, and would give functionality," says Dusk Lighting's Design Consultant, Jamie Moxey.
Should I Choose Warm or Cool Light for Kitchen Cabinet Lighting?
"White lights can actually be split into two 'colour temperatures' – cool light vs warm light. The warm white has a golden hue and forms a softer light whereas the cool white produces an almost blue, bright white light," says Richard Davonport, Managing Director of Davonport.
"Different furniture styles are better suited to warmer or cooler tones, for example a country kitchen will likely look best with warm lighting as opposed to cool white, as it will complement the tones of the wood and décor typical to this style."
When do I Need to Have Planned Kitchen Cabinet Lighting out?
"Get the positioning of the units more or less firmed up before the first fix," says Alex Main, Director at The Main Company. "Once this has been completed a loose lighting plan can be done taking things into consideration such as; not standing in your own shadow at the sink and allowing provision for lighting the internal cupboard areas (these can come on and go off with the opening and closing of the doors)."
Hugh is Digital Editor of homebuilding.co.uk and has worked on a range of home, design and property magazines, including Grand Designs, Essential Kitchens, Bathrooms, Bedrooms and Good Homes. Hugh has developed a passion for modern architecture and green homes, and moonlights as an interior designer, having designed and managed projects ranging from single rooms to whole house renovations and large extensions. He's currently renovating a Victorian terrace in Essex, DIYing as much of the work as possible. His current project is a kitchen renovation which involves knocking through walls and landscaping a courtyard garden.
Homebuilding & Renovating Newsletter
Get the latest news, reviews and product advice straight to your inbox.
Thank you for signing up to Homebuilding. You will receive a verification email shortly.
There was a problem. Please refresh the page and try again.