Genius Ways to Build on a City Plot
By Claire Lloyd published
Small urban plot? No problem. We explore the design possibilities for projects on tight sites where space is at a premium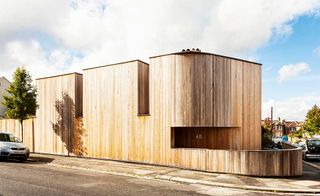 (Image credit: Simon Maxwell)
In a country where urban plots are in relatively short supply, brownfield sites and garden plots are among the only options available for self builders hoping to create new homes in towns and cities.
This inevitably means many projects are built on tight, restricted sites — which can not only throw up design challenges, but create some head-scratching before the build goes on.
Sites where space is at a premium need not, however, mean that homeowners have to succumb to simple designs. Architects are rising to the challenge, creating exciting homes which successfully tackle the issues posed (as the houses below go to show).
Here we offer some design solutions for building a new home or improving an existing house on a small plot, as well as highlighting some great examples of projects in urban areas.
Design Tips
Focus on the Internal Layout
"The first thing to remember with small plots is that chances are it's not as small as you think it is," explains Meredith Bowles, director of Mole Architects.
"Consider too that people with existing homes, not necessarily small homes either, always want to get a greater feeling of space and do so by opening the house up to the outdoors. Adopt the same approach with small plots, whether that be through a roof terrace or a courtyard."
Small plots do not necessarily mean you can't have that large open plan kitchen diner you've always dreamt about. By focusing attention to the floorplan, and through careful planning, there are numerous ways of increasing the feeling of space in your home, even if the space you're working with is modest.
"An open plan living arrangement is a good design idea for making smaller spaces feel larger," says architect Darren Bray, director of PAD Studio. "By cutting down on circulation areas you gain more space in the room. If you have corridors then glaze them to borrow light from other rooms. Another alternative is to use the courtyard scenario as a way of linking rooms, as opposed to a corridor."
Be careful to balance the accommodation you're creating too. "You don't want to make the property too 'top heavy' by cramming in more bedrooms than you have space for, or equally too many rooms on the ground floor and for the upper floors to be out of sync," says Brendan Tracey of Phillips Tracey Architects.
"Make sure too that the spaces you create are flexible enough to meet multiple needs, for instance a study could also be a music room, a guest bedroom or a utility/store," says Darren Bray.
Maximise Daylight in a City Self Build
"Getting natural light in is probably the most important thing when designing a home on a small plot — especially light from above, to make the house feel larger and more open," says Meredith. "A rooflight will let in fives times the amount of daylight as a window, as windows are typically compromised by what's around it, be it trees or neighbouring houses. Rooflights, however, offer clear sky."
Carefully placed glazing can work hard to brighten the interiors too, says Brendan: "With our Lansdowne Gardens project (seen in the ideas section below), from the street the property appears single storey but upon entry you walk into a double-height hallway with full-height glazed wall in the stairwell with a rooflight above. Immediately you feel like you're somewhere very bright and spacious, even though it's not a big space at all.
"Open treads on the stairs also help to create the illusion of space and allow light to flow through. It's these design details that can make all the difference. A word of caution, however — think about where you're putting glazing, as this can be problematic in terms of privacy and overlooking."
Add a Basement Level
On tight sites in urban areas where extending to the side, front or rear isn't an option, or for self builds where the height of the new building is restricted, digging down is often one of the best solutions.
When planning for a basement, it's important to consider whether the new space will serve as primary or secondary accommodation. While a basement might be perfect for cinema rooms, utility/plant/storage areas or indeed bedrooms (rooms which do not typically require as much daylight as your primary living spaces), unless you are planning to introduce a device such as a sunken courtyard or lightwell, then basements are not well suited for use as a kitchen diner or living area.
In this case, it may be best to work with your architect on creating an 'upside-down' living arrangement — prioritising the rooms which need most natural light on the floor(s) above.
Although basements are often a good solution for increasing the footprint of an existing home, the luxury of added space comes at an expense, with digging a new basement and underpinning costing around £2,000-£3,000/m2.
If you choose to introduce lightwells or external access points this will increase the costs further, but it is best to consult with your architect, quantity surveyor and/or contractor in order to gauge a more accurate idea of what the likely costs are, based on your chosen design, location and access.
Be aware, too, that factors such as a high water table, the need to divert drains and difficult ground conditions – clay, sand, marsh, etc – will also impact on costs.
Utilise the Roof Space
Much like digging down, creating space in the roof is another solution for increasing accommodation in your existing home. In some instances, you can carry out a loft conversion without the need for planning permission.
If you are building a new home, designing in rooms in the roof might just provide the space you require when planning puts restrictions on the ridge height. Alternatively, a flat roof may provide valuable space without impacting on neighbouring homes.
City Self Build Ideas
A Low Profile Home
"One trick for creating amenity space with tight sites is to build below ground and then add a courtyard or garden above, which is what we did with our Lansdowne Gardens project in London," says Brendan Tracey of Phillips Tracey Architects.
The low-profile design was very much created with the sensitive site in mind — being in a Conservation Area, surrounded by listed buildings. Sitting behind brick boundary walls, the house appears single storey from the street, with the basement housing a master suite, plant/utility, and guest accommodation/study, and the lower ground courtyard.
Carefully orientated glazing which avoids overlooking has then been positioned in the principal rooms in order to increase the amount of natural daylight in the house and create the feeling of open space.
"To achieve the space the client needed, we pushed right out to the boundaries to the retaining walls. This resulted in a complex (and expensive) battle over Party Wall agreements, but it was necessary in order to maximise on the accommodation space, given the size of the plot," says Brendan.
"We pushed to put the piled foundations on the boundary to gain an extra 10m2 of accommodation, but when you multiply that by the value of space in London it's well worth it — every m2 is money so it was a no brainer.
(MORE: Foundation Systems and Soil Types)
"When dealing with constrained sites the most important thing you can do is speak with your neighbours. If you know very well that what you're planning to create could be contentious and people don't know what you're doing then they will immediately think the worst. Neighbours are so important as they can make things difficult when it comes to obtaining planning permission, so get them on side early on. If you're fortunate enough to get planning then you still need to deal with them regarding other elements such as right to light, party walls, etc, so it pays to be on good terms with them.
"Services are another thing to think about," continues Brendan. "If you're building a basement and the basement sits lower than the main sewage then you have to force things up using a pump.
"It's important to consider the logistics of how to go about the works too," he says. "With this project the whole site was under excavation so there was no room for builders to keep their stuff — at one time we had to close the footpath, so think carefully about the methodology of how to go about building it and the feasibility."
A Multi-Storey Home
"Gaining planning permission on a tight urban site is one of the many constraints facing this sort of project, and this site was in a Conservation Area too — it sat on a corner plot at the end of a Victorian terrace to one side and the back of another Victorian terrace to the other," says Meredith Bowles of Mole Architects.
"On this project, being such a small site we could only go up and down, as we couldn't extend out, so everything is now on a half level, with scissor-style stairs taking you from room to room through the house — maximising the sense of space as well as actual space.
"The cost is another important thing to note with tight sites," continues Meredith. "With this project, the client was working to a tight budget but looking for a way to make what could be a simple building more exciting. Rather than the alternative option of having painted render, because other buildings in the area had painted brick façades we decided we could introduce some colour and opted for a Marley Eternit fibre cement cladding which acts as a rainscreen. The recessed gaps between the boards then add depth and interest to the property."
Creative Solution for Creating Outdoor Space
Tom Hunt, with wife Emily, commissioned Halliday Clarke Architects to help them build a new three-storey home on a tight 140m2 corner plot of land next door to their previous home in the centre of Sheffield.
They made clever use of the tight footprint by excavating back into the hillside to form an external yard/bike store, with an upper terrace at first floor level, as well as a further staircase leading up to a roof terrace. The project goes to prove that you don't have to sacrifice external amenity space when building on a tight, urban plot.
"The plot is exactly the same size as our previous house but by building upwards and backwards the new property is almost twice the size," says Emily.
The new home also proved cost-effective to build, coming in at £139,000, as it was built with structural insulated panels that offered slim walls, great eco credentials and a fast build time — the shell of the house was erected in just two weeks.
Claire is Editor of Homebuilding & Renovating and has been a member of the team for over 13 years. An experienced homes journalist, her work has also appeared in Real Homes and Period Living magazines. She has a particular interest in green homes, and interior design is also a passion; she has undertaken qualifications in this area. Claire has recently finished her renovation project — and is now onto the next.
Homebuilding & Renovating Newsletter
Get the latest news, reviews and product advice straight to your inbox.
Thank you for signing up to Homebuilding. You will receive a verification email shortly.
There was a problem. Please refresh the page and try again.