Before and After: From Bland Dormer Bungalow to Modern Accessible Home
By Alison Wall published
Keen to move back to Derbyshire following retirement, Martin and Gill were in luck: their old family home was for sale and they were ready for a big project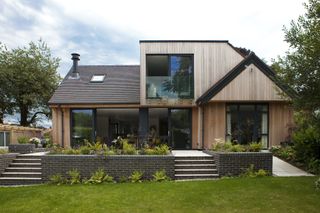 (Image credit: Lu Jeffery)
Up and down the land are thousands of perfectly sound properties waiting for the right person to breathe new life into them. For one nondescript 1920s dormer bungalow in rural Derbyshire, those people were Martin and Gill Sutcliffe, who set out to enlarge the property, create light-filled open-plan spaces, and make a lifetime home that was accessible for their adult son Henry, who uses a wheelchair.
What makes their story so remarkable is that they'd previously lived in the same bungalow for 20 years. They sold it to a good friend when they relocated to Bristol for Martin's work, before retiring back to the area a few years later. In a neat turn of fate, it happened that their friend was ready to sell the bungalow back to them.
Image 1 of 2
Image 2 of 2
Project notes
Homeowners Martin and Gill Sutcliffe, and son Henry
Location Derbyshire
Project Remodel and extension
Size 245m2 (originally 180m2)
Build time July 2017 - June 2018
Build cost £250,000
Estimated value Unknown
Both enjoyed living in the bungalow and knew every skirting board, door handle and light switch. "It was my little stronghold," says Gill. But moving back after so long was strangely unnerving. "When you come back, you see it with a fresh eye. On my first night back, I looked around and thought — what have we done?" says Martin.
"Like many houses of the era, it had been designed to a pattern design and plonked on the site. But these old buildings are built well, and they're adaptable. I do believe that these buildings can change with time." Neither wanted to demolish and rebuild so it was decided a bungalow renovation and extension project was the way forward and they began to sketch out their ideas.
Forming a Plan to Remodel the Bungalow
Fortunately, Martin is a retired commercial architect and Gill has some clear ideas about interiors. They worked through the concept with Leicester-based Feldmann Architects; local architects Mansell Architects, a husband and wife team, took over supervising on site.
In essence, the couple have kept the floorplan at the front of the house, set about knocking down internal walls and created a large open-plan living space at the rear. Full-height sliding doors here finally allow the family to enjoy a full view of the garden. "The house progressively gets more open as you get to the back," says Martin. "Even with such large spans, all of the extension was built with timber — there is no steel in the house at all, which can be expensive and difficult to handle."
Originally the couple envisaged a new, sleek, cedar-clad box at the rear, but the planning permission insisted on a pitched roof to mirror other rooflines on the same street. "That was irritating because you can only see a fleeting view of the rear from a side road," says Martin. "To address it, we put in a gabled roof to mask the boxed element. It was very complicated for the builder to break through the roof, but he was very thorough and did an excellent job."
Image 1 of 3
Image 2 of 3
Image 3 of 3
Building an extension at the rear has it up opened up to the garden, but the street-facing façade is a different story. "We wanted to keep the same façade at the front, just tidying it up a bit, so that the bungalow was not really showy on the street. But when you came inside, you get the wow factor," says Gill.
The only two changes to the front are the timber cladding on the gables – a subtle nod to the new cedar cladding at the rear – and the replacement of the old, somewhat battered, roof tiles.
Martin and Gill found a supplier in Stoke on Trent who could get tiles the same size as the originals, this time in brindle blue rather than red. "We wanted to keep faith with the original, so that it looks like it would have done when it was new in the 1920s," he explains.
An Accessible Interior Design
The couple also wanted to ensure the bungalow was wheelchair-friendly for their son, and futureproofed for their own later years. Many of the accessible elements are subtle, such as extra-wide doors, waist-height light switches and a level threshold at the rear that's completely flush to the floor — the latter was a little more expensive than standard, but offers easy access for Henry. An automatic electric door in his bedsitting room allows him to come and go as he wishes.
"We wanted to avoid anything that looks like a hospital," says Martin. "It's possible to create large circulation spaces and living spaces in a way that people don't notice; they just see that it's generous."
Image 1 of 2
Image 2 of 2
A Smooth Construction Process
Adding a second storey to the bungalow itself was a relatively drama-free process, with few overspends on their original £250,000 build budget — thanks mainly to a good building team. Only a couple of unpleasant surprises occurred.
The first took place, as is often the case, in the first week on site. A trench collapsed after the groundworkers dug a trench down to three metres to meet the requirements of the building inspector, who was concerned about tree roots. It required £4,000 worth of concrete to fill the hole — a sizeable chunk of their contingency.
The second upset concerned insulation. "We did get hit two years ago, when there was a great hike in the price of insulation — it went up 40%," remembers Martin. "The insulation we wanted was rising in price because of oil prices and a poor exchange rate."
Image 1 of 3
Image 2 of 3
Image 3 of 3
The project, including constructing the timber frame extension, took a total of 12 months in the end, rather than the planned nine. "Horrendous snow stopped the site twice, but also we had a lot of external works done including a terrace underneath the large windows at the back and a further terrace," explains Gill. "We knew that if we didn't get the second terrace done at the same time as the rest of the work, it wouldn't happen."
While Martin and Gill have no plans to repeat their experience, they're absolutely thrilled with what they've achieved -— and the rest of the family feel the same way too. "My daughter is pleased that we've got our old house back, and that we've got plenty of space for the grandchildren to run around in. And the friend that we bought the house from absolutely loves what we have done."
Homebuilding & Renovating Newsletter
Get the latest news, reviews and product advice straight to your inbox.
Thank you for signing up to Homebuilding. You will receive a verification email shortly.
There was a problem. Please refresh the page and try again.