A Passivhaus Kit House Built for £220k!
By Caroline Ednie published
First-time self-builder – and self-confessed DIY novice – Paula Harte has saved thousands by project managing the build of this Passivhaus kit home in Scotland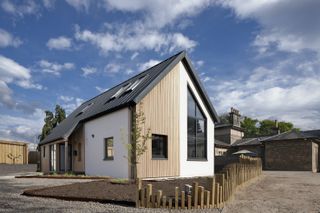 (Image credit: David Barbour)
Brae Spinney is a house of firsts — the Passivhaus-certified house is the first kit home of its kind completed by Caber House. It's also the first time owner Paula Harte has built a house.
Pre-designed to the Passivhaus standard by Colin Potter of Dunoon-based Architeco, the result is a highly energy efficient and elegantly tailored self build that sits seamlessly within its leafy setting close to a town centre.
"I didn't even have any DIY experience before taking on this house," admits Paula, who relocated to north-east Scotland from the south of England for work before taking on the project.
"I was looking for a house that was energy efficient and I couldn't find anything. After chatting to a few people who had built their own homes, and as soon as I started looking into self build, I caught the bug when I realised it could be a possibility."
Image 1 of 4
Image 2 of 4
Image 3 of 4
Image 4 of 4
Assembling the Right Team for a Self Build
Project notes
Homeowner Paula Harte
Location Elgin, Scotland
Size 125m2
Build time 18 months
Build route Project managed subcontractors
Plot cost £59,000
Build cost £220,000
Value Unknown
The breakthrough came when Paula met architect Colin Potter at a Homebuilding & Renovating Show. "I thought I could really work with Colin," begins Paula. "The design-build part of it I really liked and also the fact that I could make changes to kit homes.
"So I chose the 'Caber Type C' kit and added the bathroom upstairs, and a few extras, not much really. Colin also looked at the site before I purchased it and he was able to offer advice, and a design for the site."
"We give free advice on what to look for in a site and in this case we did a site audit and identified that the ground was sand, which would put up the cost as a raft foundation would be needed," Colin explains of Architeco.
"We also took into account that the building plot is very close to a listed building so needed to be mindful of this. But other than that it's a gem of a site, set into parkland with great views."
Following a straightforward planning permission process the project started on site in summer 2017, and once the watertight shell was erected by Caber House, Paula took over, managing the build while also working a full-time job nearby.
What finally emerged following the 18-month construction was a one-and-a-half storey house with a double-height open plan living and dining area, kitchen, bedroom, bathroom and utility area on the ground floor, and bedroom, bathroom and mezzanine level, featuring office/studio space, above.
Image 1 of 4
Image 2 of 4
Image 3 of 4
Image 4 of 4
Starting Building Work on a Challenging Site
Construction went relatively smoothly. Architeco and its build partner were responsible for the Caber House kit delivery and installation, which was wind- and watertight within two weeks.
The main challenge faced by Paula, who self-project managed, was the compact nature of the site. The site entrance was tight, so allowing access for large machinery required careful consideration.
"The sandy, sloping site also meant a drainage connection had to run uphill — we used a raft foundation and a pumped sewerage system to overcome this. Other than that, it was a very smooth build," adds Colin.
To keep costs down, Paula kept a careful eye on the materials and supplies used throughout the build.
"I went as local as possible to save on delivery charges. If I did a self build again I would use all local contractors," says Paula. "I also went to fancy showrooms and then went to suppliers like Howdens and they were amazing. They had a really good kitchen designer and it is so much cheaper.
Image 1 of 3
Image 2 of 3
Image 3 of 3
Living in a Kit House
"The only change I made to the house during construction was to change the stone cladding to wood to save costs. But I like the timber cladding — it looks good. That was an early decision and there weren't any other major changes during the build. I was bearing in mind that every time you change your mind it could have a cost implication."
Since moving into her new home, Paula now has the comfortable, energy efficient house thanks to the fabric first approach taken here.
"The house works well — in the summer it doesn't get too hot with the solar gain as the design of the full height living space means that it can cope with the large window and glazing."
Following the full-on experience of managing the build, Paula has no regrets. She now sees her contribution as the achievement it clearly is, rather than focusing on any of the on-site ups and downs. "This is a one-off, although I would never say never in terms of self building again, if I had to move," she says. "But I wouldn't work full time again and build a house. That was crazy!"
Caroline Ednie is a homes journalist based in Glasgow.
Homebuilding & Renovating Newsletter
Get the latest news, reviews and product advice straight to your inbox.
Thank you for signing up to Homebuilding. You will receive a verification email shortly.
There was a problem. Please refresh the page and try again.