4 Budget Lessons to Learn from this Oak Frame Self-build
By Natasha Brinsmead , Amy Reeves published
Think building an oak frame house means high build costs and a hands-off approach? Think again. This characterful home built for under £1,500/m2, dispels both these myths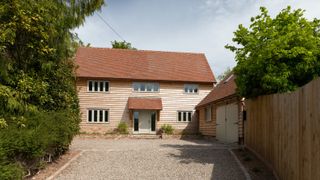 (Image credit: Jeremy Phillips)
Having built one oak framed home using Border Oak for the design and construction of the frame, Wendy and Steve decided it was time to move on to the next. "We had recovered from our last self build and got the 'itch' again," explains Wendy. "I was pregnant with our second child and we had outgrown the house.
"We began to put out the feelers for land and the stars just seemed to align. We came across this site and I remember looking at it and saying 'this is too good to be true' — it was like a ready-made plot."
1. Buy a Plot with Planning and a House Design
Before it was purchased by Border Oak, the plot was part of the land behind the original landowner's cottage, and was overgrown and full of trees.
"Buying it from Border Oak saved on the stress of planning permission as a design for a barn-style house on the plot had already been approved when we bought it," explains self builder Wendy. "The design ticked all the boxes — we did move the position of a few doors and walls internally, but externally everything has stayed the same."
Wendy and Steve knew that they would benefit from an open-plan layout, so several of the amendments that they made to the original plans involved moving walls and repositioning rooms in order to create an easy flow for their family life.
Image 1 of 3
Image 2 of 3
Image 3 of 3
2. Take on DIY Jobs to Cut Costs
"We liked that Border Oak let you take on as much or as little of the work as you want," says Wendy. "They constructed the watertight shell, including oak frame, SIPs, weatherboarding, roofing, most of the carpentry, doors, windows, and driveway.
"We did some of the groundworks, all the baseworks, brickwork, drainage, part of the first fix carpentry, and the landscaping. Thankfully Steve is no stranger to a building site and his Dad worked in the trade for over 40 years."
"We also took on the internal fit out DIY, except the electrics, plumbing and drylining which were carried out by Border Oak approved contractors. Steve would finish work and go to the house to carry on into the night. At weekends we went as a family — taking fish and chips to Steve in the evenings."
"We are a family who is not afraid to get stuck in," says Wendy, who found herself in the dead of winter with no heating, helping paint the interior walls of the house day after day.
3. Mix and Match Off-the-Shelf and Bespoke Elements
Image 1 of 4
Image 2 of 4
Image 3 of 4
Image 4 of 4
"We always have a conservative budget when it comes to interiors," says Wendy. "I never forgo quality pieces that get a lot of use, but I make small compromises elsewhere to even out the finances.
"It's so satisfying knowing that not only does your hard work and considered choices allow you to live in a bespoke home that you love, but also one that has allowed you to build equity in from the start.
"This is our second deVOL kitchen — we love how flexible the Shaker range is with its modular pieces," says Wendy. "You can have quality interiors and stick within your budget." The pendant lights are from Baileys and the bar stools are from B&Q.
4. Gain Long-Term Savings with an Efficient Home
Among the many things the family love about their new home is how energy efficient it is. While they have underfloor heating throughout the ground floor, there are no radiators at all upstairs.
"The house is so thermally efficient," says Wendy. "We never touch the thermostat — the house is always at an even, comfortable temperature."
The entire build, including land and landscaping, came in at £400k — a hugely impressive achievement and one that shows what can be accomplished through a combination of thorough research and canny decision making, as well as a considerable amount of elbow grease.
Assistant Editor Amy began working for Homebuilding & Renovating in 2018. She has an interest in sustainable building methods and always has her eye on the latest design ideas. Amy has interviewed countless self builders, renovators and extenders about their experiences for Homebuilding & Renovating magazine. She is currently renovating a mid-century home, together with her partner, on a DIY basis, and has recently fitted her own kitchen.
Homebuilding & Renovating Newsletter
Get the latest news, reviews and product advice straight to your inbox.
Thank you for signing up to Homebuilding. You will receive a verification email shortly.
There was a problem. Please refresh the page and try again.