Why I Chose SIPs for my Project
By Mark Brinkley published
Self build expert Mark Brinkley explains why he opted to build his latest home in structural insulated panels, and offers his top tips for building with SIPs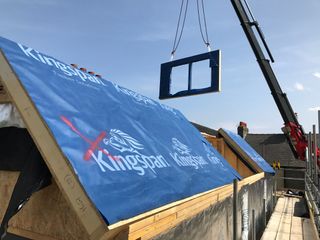 (Image credit: Mark Brinkley)
Structural insulated panels, better known as SIPs, are still seen as a new and innovative way of building homes in the UK, but in fact that have been around for a long time.
I have been aware of them for over 20 years and have always been fascinated by the idea that they combine two of a wall's fundamental requirements – strength and insulation – into one slim panel, in a way no other walling system does.
Add to this the fact that the same panel system can be used to create roofs as well and it seemed to be that you have an elegant method of building a contemporary home.
As such, when it came to building my latest home and choosing a construction system, I decided to opt for SIPs. Here, I explain why and the potential benefits and drawbacks.
(MORE: The Ultimate Guide to Self Build)
A Quick History of SIPs
The Americans first started experimenting with the idea of stressed skin, sandwich panelled homes in the 1930s. Renowned architect Frank Lloyd Wright used the new technique to build affordable homes throughout the New Deal and World War II era.
Insulation by then was beginning to be seen as an important element of home building, and plastics were being developed in sheet form for the first time.
On their own, plastic foam boards are not strong enough to be considered load-bearing, but when sandwiched between manufactured timber or cement particle sheets, the resultant panels can be used structurally to build walls. So two emerging technologies - plywood and plastic insulation - were thus combined to form a third one: structural insulated panels.
(MORE: Get a quote for your SIPs project)
Why Aren't More Homes Built with SIPs?
Choosing a construction system
From timber frame to insulating concrete formwork, there are a number of different systems you can opt for when building your own home or extending. Find out how to choose a construction system with our expert guide.
SIPs have remained something of a niche product because they cost a little more than the two main house building systems, being blockwork (also known as masonry or brick and block) and standard timber frame.
They are also rather less flexible than the alternatives: they are best produced off site, in a factory.
In the UK, off site construction has never gone mainstream, despite a growing reputation for quality.
Off site construction requires a different mindset, where everything is worked out with engineering precision beforehand and then assembled with great care and accuracy, not qualities the British construction labour force is always renowned for.
My Experience of Building with SIPs
For a SIPs self build to work well, the wallplates on which it sits must be dead level and square: as such, you are looking for a foundation that is accurate to ±10mm tolerances. You need the A team on board if you are going to build successfully with SIPs.
I was confident our crew could do that. Besides, I had a surveyor's tape measure and knew Pythagorous's Theory off by heart. It turned out that my SIPs' erection crew, from Potton, were also familiar with the 3-4-5 rule for getting foundations square, plus they had a laser level and could get them flat as well. It's not that difficult: it just takes care.
We knew we weren't going to get gaps appearing between the panels. In fact, our SIPs house went up very smoothly, despite being located on a difficult site where access was restricted.
The panels are heavy and require a crane to assemble.
In all, we had five visits from our crane-enabled lorry driver, who came to site once a week. Had we had an easier site, it could have been done in half the time.
As the house sits on a narrow one-way street and skip exchanges involved temporarily reversing the traffic flow, it's worth noting that a prefabricated construction method was key to reducing construction traffic to our site.
Using SIPs to Build a Low-Energy Home
It was worth it. The resultant structure sailed through its airtightness test, with a score of just 1.0 — something like five to 10 times better than the typical British brick and block home.
Because we wanted a very low-energy home, we added extra insulation outside the SIPs panels to get the U value down to around 0.11, and this added a little to the overall workload.
Another reason why we chose SIPs was that they have a comparatively slim wall thickness, as compared with other building materials. Our urban self build plot, near to a city centre, measure just 6m wide!
Getting such a low U value for walls and roofs in a width of just 200mm would be virtually impossible using any other build method. On a site with fixed width, that added perhaps 200mm internally to our bedroom widths; valuable space on a city centre plot.
Why Build in SIPs
SIPs suit some designs better than others. What they are particularly good at is vaulted ceilings and roof spaces.
In roofs, SIPs panels are not load-bearing, they need supporting beams running the length of the roof to hold them up. But SIPs roofs are very quick to erect and they give you an insulated vaulted roof space without any additional actions required.
So if you value a dramatic open roof space, then a SIPs are an ideal way of doing it.
SIPs are not required on the internal walls or floors, so more conventional materials (timber frame and posi-joists) are used here.
As mentioned previously, a further benefit is the strength-to-thickness ratio, which means that SIPs are comparatively thinner than other building materials. This is ideal on tight self build plots as it enables you to maximise internal space.
Get a Quote for Your Project
Homebuilding.co.uk partners with the UK's best SIPs suppliers to match your requirements with their products. Simply answer a few questions on your project and we'll put you in touch with a suitable partner.
How It Works
1. Enter your details below. Tell us a bit about your project and what you are looking for, and leave some contact details.
2. We search our database. We'll match your requirements with the products and services that our partners offer.
3. Partners will contact you. Don't worry about being bombarded - only the suppliers that match your requirements will contact you.
Mark is the author of the ever-popular Housebuilder's Bible and an experienced builder. He's just finished his latest self build.
Homebuilding & Renovating Newsletter
Get the latest news, reviews and product advice straight to your inbox.
Thank you for signing up to Homebuilding. You will receive a verification email shortly.
There was a problem. Please refresh the page and try again.