Window Handle Types: Which Handles Suit Which Windows?
By Natasha Brinsmead published
Wondering which window handle types will be best for your style of windows? Our guide is here to take you through the most common options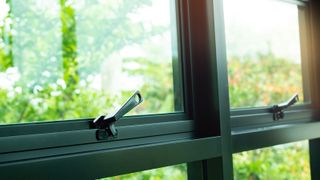 (Image credit: Getty Images)
There are various window handle types available so it can be confusing to know which style will not only work best with your windows, but also which will look best — after all, the devil is in the detail and the wrong window handle can totally ruin the appearance of an otherwise beautiful window.
Here, we take you through your options, explaining the types of window handle most commonly available. It is important to realise that each of these types comes in a whole array of designs, from brass heritage fittings to super sleek brushed chrome and nickel. You should choose your design based on the style and material of your windows and the overall interior look you are aiming for.
Window Handle Types
You may have thought that once you have chosen window styles for your home you are done with the the window aspect of your design — not so. As with so many other aspects of home design, both interior and exterior, it can be the smaller, often seemingly unimportant, details that make or break the final result.
Not only can the right window handles change the appearance of a window, but some styles are just not suitable for some window types — for example handles for sash windows will not work with tilt and turn windows.
The most common window handle types and the terms you will most often see are:
Espagnolette handles
Cockspur handles
Tilt and turn handles
Sash window lifts and handles
Casement fasteners
There are also other pieces of window hardware that you might need to purchase, depending on your window type, such as casement stays and fasteners.
Choosing Window Handles: Top Tips
Measurements are crucial — most important are handle length, spindle length and the width of the unit.
Check which way the handle turns — some handles will only turn clockwise or vice versa.
Choose the sturdiest products you can — some very cheap handles can be flimsy and break easily.
Look out for the Secure By Design specification.
Espagnolette Handles
Espagnolette handles are one of the most popular window handle types and are usually used with casement windows, including aluminium windows.
This window handle type is fixed to the inside of the window frame and is basically the decorative and operational lever that makes up part of a multi-point espagnolette locking system hidden within the window.
They are made up of a metal spindle that projects out of the rear of the handle and goes into the gearbox of the lock within the window frame. By turning the handle, the mechanism inside turns too.
This type of handle is very secure and can be fully locked with keys — always try to buy those with a Secure By Design specification.
When choosing this type of handle, take note of the spindle length (the part that projects from the rear into the window). Spindles measure from 10mm right up to 55mm.
Cockspur Handles
Cockspur window handles are fairly simple latch and catch mechanisms and are suitable for timber, aluminium and uPVC casement windows.
They come in two parts — the latch and the catch, with the former closing into or onto the latter.
Cockspur handles for uPVC and aluminium windows tend to be slightly different to those usually specified for timber windows.
In the case of aluminium and uPVC windows, the latch tends to close onto a wedge type block on the frame. With timber windows, the cockspur handles close into (rather that onto) the catch, with a shorter nose — so the latch and catch end up at 90˚ to one another.
Most modern cockspur handles have locks incorporated into them which can be opened and closed with a small key.
Tilt and Turn Handles
This type of window handle is used on tilt and turn windows — those that open inwards on side hinges like a standard casement but can also tilt down and back, inside the room for ventilation.
The type of tilt and turn handle you use will depend on the window material. In the case of uPVC tilt and turn windows, handles operate in a similar way to espagnolette handles. They have a square spindle of around 7mm at the rear that protrudes into the window frame and sits within the gear box of the lock mechanism.
Unlike standard espagnolette handles, these have to be able to rotate through 360˚. Many manufacturers now recommend the use of a safety handle with tilt and turn windows. These make it possible to lock the main opening of the window, while still operating the tilt position. They can be used with a range of tilt and turn style windows too, including 'tilt before turn'.
In the case of aluminium tilt and turn windows, where the frames are much slimmer, the handles tend to be bigger and have a different type of spindle.
Casement Fasteners
Casement fasteners – also simply known as window fasteners – come in all kinds of guises and designs. They are, in fact, similar to cockspur handles, although they don't tend to have integrated locks.
At a very basic level they are comprised of a lever handle that operates a latch and a catch fixed to the frame. Some use a hook keep which the latch slots over while others employ a mortice keep which sits within the window frame.
Some casement fasteners come with locks too, commonly simple grub or screw locks. However, many people using a fastener choose to fit a separate lock to their window frame for added security.
Sash Window Lifts and Handles
There is a range of hardware available specifically for sash windows, designed not only to make operation as smooth and simple as possible but also to enhance their good looks.
Sash window lifts are fitted to the bottom rail of sliding sashes, allowing the user to hook their fingers under a loop (or within a ring in the case of ring sash lifts), and pull upwards. It is usual to have two lifts on the window at either side of the moveable bottom sash.
Alternatives to these lifts are 'D' cups or handles, which some people find more comfortable to use. They are also commonly fitted to the bottom of the top sash to pull it downwards.
Slimline Window Handles
Some people require their window handles to be slimline, sitting closer to the frame. This is often the case where regular window handles would interfere with blinds or shutters.
A popular style of slimline window handle is the Venetian espagnolette. They have less of a projection — around 20mm to 30mm is possible.
Additional Window Hardware
Handles aside, there are are other items of window hardware to consider too. Those with casement windows might look at casement stays and pegs, for example. These are the long metal bars and handles that secure the window open at the desired angle and stop it flapping about. They are most commonly used with timber casements.
If you have sash windows, you will need to look at fasteners that are fitted between sashes in order to secure them together and improve security.
Natasha is Homebuilding & Renovating's Associate Editor and has been a member of the team for over two decades. An experienced journalist and renovation expert, she has written for a number of homes titles. She has renovated a terrace and is at the end of the DIY renovation and extension of her Edwardian cottage. She is now looking for her next project.
Homebuilding & Renovating Newsletter
Get the latest news, reviews and product advice straight to your inbox.
Thank you for signing up to Homebuilding. You will receive a verification email shortly.
There was a problem. Please refresh the page and try again.