7 Things I've Learnt During My Renovation Project
By Natasha Brinsmead published
Associate Editor Natasha Brinsmead shares her experiences of a 'live-in' renovation and offers her top tips for a stress-free project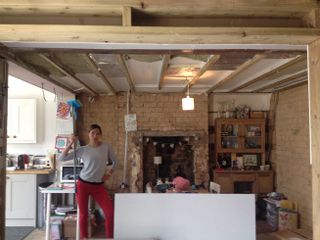 (Image credit: Natasha Brinsmead)
Despite writing on the subject of renovating and building homes for over 20 years both for Homebuilding & Renovating magazine as well as many other titles – and growing up in a string of renovation projects carried out by my parents – I still wasn't prepared for what living in our own project would be like.
We lived in our house for the entirety of the renovation project and carried out much of the work ourselves and, while I certainly don't want to put anyone considering doing the same off the idea, I do want to prepare you.
Having been living in a rented house we hated for a couple of years while unsuccessfully trying to find a house to modernise, it could have been our desperation that blinded us to the work that lay ahead for us in renovating a house and just how hard living in a building site with two children under three was going to be.
I should point out too that we had no savings at the time either meaning we had to take a 'pay as you go' approach to all the work and roll up our sleeves to tackle jobs DIY style — hence the five year project length.
There were moments when living in a wreck was pretty awful and without wishing to sound dramatic, really took their toll on the whole family.
That said, we now have a house we completely love and would never have been able to afford at the time. Plus, the project brought some moments of real fun and adventure that we look back on fondly (maybe while donning rose tinted specs...)
My point is, despite the stress, it was worth it. But I would like to offer you some hints and tips that, should you too be thinking of living on site in a major renovation project and carry out work on a DIY basis, will help.
Here, I list our main mistakes so that you can avoid them, while also detailing some of our finer decisions too.
1. We had Nowhere to Hide
A year or so in, we found ourselves ankle-deep in mud and puddles (in the kitchen and living room you understand, not in the garden...) making packed lunches for one child while trying to get the other to take a nap in a room with boarded up windows and tarpaulin covering the roof.
We should have kept a room or two clean, dry and warm — somewhere to retreat at the end of the day. But we weren't that organised. Which brings me to...
2. We Didn't Make a Schedule of Works
I'm a bit ashamed of this one — only renovators with no brain take on a project without a proper schedule of works. That is exactly what we did.
There was not one area of the house that didn't require stripping out. So, did we tackle the work in a calm and orderly manner? Nope. We ripped it apart as and when the mood took us — bashing down walls and tearing out sanitaryware in a frenzied state.
Once the dust had settled and we looked around, all we had done was create an almighty mess that we now had to live in.
The moral? Well, it is obvious isn't it? Get yourself a concise schedule of works detailing each and every job that needs doing and when.
This will allow you keep certain spaces clean and comfortable to live in while work takes place elsewhere.
3. We Played it too Safe
Although we're happy with the end result of all our hard work there are times when we wonder if we could have got more out of the space — could we have gone out further on the ground floor and created an additional bedroom above? Was there space for a utility room? Annoyingly I think the answer is probably yes. Perhaps a job for the future — or, more likely, for the next owner.
(MORE: How to Add an Extra Bedroom Without Extending)
Ok, so that's the 'don'ts' over with. Up next, things we did right.
4. We Knew Our Limits
We weren't shy about getting stuck into each and every element of our renovation, but there were times when we definitely did the right thing by taking a step back and leaving it to the pros. Examples include some of the finer joinery repairs to the original windows, plastering (we had a go at this on a previous renovation and it wasn't pretty) and roofing. There are just times when taking the DIY route can be a false economy.
(MORE: DIY - What to Leave to the Professionals)
5. We Stuck to our Guns
Various tradespeople and visitors to the house insisted that our new kitchen would be dark and gloomy and that we should include a run of glazed doors at one end at the expense of more units. However, living in the house during work meant we could see how much light seemed to flood into the new kitchen space as it emerged, even before the two big rooflights were fitted — we are so glad we didn't listen to the doubters. Our kitchen is always full of natural light and we didn't have to compromise on unit space.
6. We Were Realistic
Well, my husband was anyway. I clearly remember standing in the back garden the day after we moved in, and Bill saying, "Give it five years and it'll all be done." I thought he was crazy. Five years seemed like an eternity.
He was right, it did take five years, although obviously during that time there were significant developments that made life there easier, such as finishing the kitchen and bathroom. My point is, keep your expectations in check, low even, and then every win will feel even more triumphant — it is the best way to keep up morale.
7. We Spent On The Things That Mattered Most
Even though our budget was limited we made sure to spend on the things that mattered — on high quality, durable kitchen design and bathroom fittings and on sturdy flooring, as well as on skilled tradespeople where necessary. This has made all the difference to the end result.
(MORE: 15 Ways to Keep a Lid on Costs)
So, there you have it — a glimpse of what to expect if you are considering taking on a project, particularly if you plan on living in it and haven't just won the lottery.
I hope these tips will help you avoid some of the mistakes we made and, when the going gets tough just remember, it will all be worth it.
Natasha is Homebuilding & Renovating's Associate Editor and has been a member of the team for over two decades. An experienced journalist and renovation expert, she has written for a number of homes titles. She has renovated a terrace and is at the end of the DIY renovation and extension of her Edwardian cottage. She is now looking for her next project.
Homebuilding & Renovating Newsletter
Get the latest news, reviews and product advice straight to your inbox.
Thank you for signing up to Homebuilding. You will receive a verification email shortly.
There was a problem. Please refresh the page and try again.