How to Build a SIPs Home: A Step-by-Step Guide
By Natasha Brinsmead published
SIPs (or structural insulated panels) have so many benefits to self-builders and extenders — here we show you how a SIPs home is constructed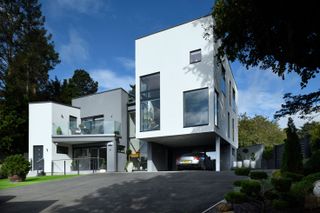 (Image credit: Nigel Rigden)
Structural insulated panels (SIPs) have long been a popular method for constructing houses in many Scandinavian countries — and are being used more and more here in the UK these days.
A SIPs construction system is made up of pre-insulated panels, commonly made up of orientated strand board (OSB) sandwiched together with a rigid insulation core.
Panels are cut to size, timber edge sections added and openings put into place. Roof panels and internal loadbearing walls are made in the same way.
Once you have finalised a design, panels are made in a factory, before being delivered to site where they are 'slotted' together — some SIPs specialists supply them with windows and doors, plasterboard lining and service channels already installed.
(MORE: Structural Insulated Panels: Complete Guide)
It is important, when considering SIPs as a construction method, to look beyond the initial costs and more obvious benefits, instead taking a more long-term view at the benefits offered.
"A shorter build programme, fewer labour requirements and lower equipment costs of SIPs construction influence the bottom line," says Ian Clay, Partner at SIPS@Clays. "However, it is important to also consider the 'whole life' costs of your project and the ongoing thermal efficiency of your new SIPs home."
(MORE: Get a quote for your SIPs)
Building a SIPs House: Step by Step
We take you through the main stages of building a SIPs house.
1. Foundations
Foundations will be set out in accordance with your planning approval and designs. Drainage will also be arranged at this time — liaise with your groundworkers about the timings of this.
(MORE: Foundation Systems and Soil Types)
2. Scaffolding
Scaffolding is erected. It is a good idea to lay a strip of hardcore around the perimeter of the house to act as a firm base for the scaffolding.
3. Erecting the SIPs Structure
Erection of the SIPs structure begins. This will only happen once the groundworks have been checked for accuracy.
Sole plates will be laid, along with structural post and beams in order to create the structural aisle frame internal loadbearing superstructure.
Panels are also put into place in order to form the external walls, along with intermediate floors.
4. Floor Structure
Joists, decks and beams are put into place for intermediate floors.
5. Roof
The roof structure is put into place. This is usually made up of components such as SIP panels and glulam beams.
6. Membrane
The shell of the building will be covered with a breathable membrane.
7. Windows
The glazing for windows and any other openings can now be fixed into place.
8. Internals Works
Once the house is weathertight, electrics, joinery and plumbing can commence, although some of the first fix work will have already been carried out.
Wiring for the electrics is pulled through pre-cut channels (chases) in the core of the panels which are cut in during the manufacturing process according to the electrical design of the home.
Other internal works, such as plasterboarding and internal fit-outs can also be underway.
Plasterboard is usually fixed directly to the battens that are fitted to to the SIP panels and/or directly to the timber internal walls.
9. Cladding
One of the great things about SIPs construction is how compatible it is with a wide variety of cladding types. These include timber, stone, rainscreens, brick slips, tiles and render and metal claddings such as zinc.
Cladding is usually fitted to 50mm timber battens on the outside of the structure.
The chosen façade treatment is fitted via 50mm timber battens (required for ventilation) fixed to the outside of the kit.
Heavier types of cladding such as brick or stone need to be built off their own foundations.
(MORE: Cladding a House)
The roof covering can also be fixed. SIPs houses can take most types of roof covering, from clay tiles to slate.
Remember that facias and rainwater goods should be fixed whilst the scaffolding is still up.
Get a Tailored Quote for Your SIPs Project
Homebuilding.co.uk partners with the UK's best SIPs suppliers to match your requirements with their products. Simply answer a few questions on your project and we'll put you in touch with a suitable partner.
How It Works
1. Enter your details below. Tell us a bit about your project and what you are looking for, and leave some contact details.
2. We search our database. We'll match your requirements with the products and services that our partners offer.
3. Partners will contact you. Don't worry about being bombarded - only the suppliers that match your requirements will contact you.
Natasha is Homebuilding & Renovating's Associate Editor and has been a member of the team for over two decades. An experienced journalist and renovation expert, she has written for a number of homes titles. She has renovated a terrace and is at the end of the DIY renovation and extension of her Edwardian cottage. She is now looking for her next project.
Homebuilding & Renovating Newsletter
Get the latest news, reviews and product advice straight to your inbox.
Thank you for signing up to Homebuilding. You will receive a verification email shortly.
There was a problem. Please refresh the page and try again.