What's it Like Living with Mechanical Ventilation with Heat Recovery
By Mark Brinkley published
Experienced self-builder Mark Brinkley reflects on life with MVHR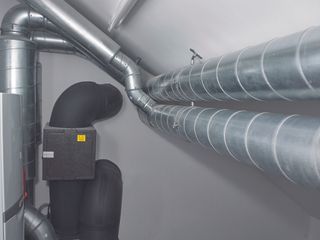 (Image credit: Green Building Store)
New houses are rather airtight. Or at least, they are compared to older, draughty ones. As a result, they are required to have some form of ventilation.
When it comes to effective ventilation options, you can opt for a whole-house ventilation solution, such as Mechanical Ventilation with Heat Recovery (MVHR), that uses a large fan to blow air in and out of the home. Whole-house systems draw in fresh air from outside, while simultaneously expelling the same amount of stale internal air.
They introduce control into the air quality rather than leaving it to chance, which is what happens with trickle vents. What's more, these whole-house systems are usually designed to take the heat from the outgoing air and use it to pre-heat the fresh air being pumped into the house.
One disclaimer: for such a system to work effectively, it needs to be installed in an airtight home — the air leakage per square metre of the building envelope should be at or below 3m3/h.m2 @ 50 Pa.
(MORE: Airtightness Guide)
Living with our MVHR System
My wife and I have had a Paul Novus 300 system in place for over a year now (in our latest self build), designed by the Green Building Store.
Just as you would hope, we are barely even aware that it's there, let alone on. It's so quiet that you have to strain to hear it when standing next to the main unit and it is completely silent in the other rooms.
Five ceiling registers deliver fresh air to bedrooms and living spaces while six suck out the stale air from the bathrooms and kitchen. The internal air is never stale and the house is never stuffy. You can open as many windows as you like, but you don't have to because the air quality is always good…
Actually, that's not entirely true. MVHR is not to be confused with heating systems or cooling systems (although there are systems which can deliver on both fronts).
(MORE: Ventilation Options for the Home)
In heat waves, the heat transfer mechanism in the all-important box gets bypassed, but the incoming air arrives at whatever the outside air temperature is, which may not be at all cool, even at night. So you throw open the windows and try to encourage what is sometimes called purging. That is letting the breeze blow through the house as an extra level of ventilation.
They routinely do this sort of stuff in the Mediterranean, which is why they have all those opening shutters, but here in the UK we tend not to use shutters in this way, so the idea is a bit alien to us.
MVHR manufacturers are aware of these issues and you now find systems that offer a degree of cooling as well, but ours is a vanilla MVHR system, albeit a very efficient one. It hangs on to around 90% of the heat that passes through it in the winter months, so if it's 20°C inside the house and 0°C outside, the outgoing air heats the incoming air to 18°C, and the heating system only needs to top this up by 2°C to keep the house warm.
Simple Controls
When it comes to the controls, the Novus 300 keeps things as straightforward as possible.
There is a small LED switch plate which we have mounted in the kitchen. It only has five settings: OFF, 1, 2, 3 and BOOST. You really don't want to turn it off, even when you are on holiday. The system is designed to run 24/7 and the fans are very low powered, so it's not costly to run.
The default setting is 2, which keeps everything ticking over sweetly; 1 is used when we go away; 3 is handy when we have a party or on hot nights when it aids a good night's sleep.
Can You Use MVHR as a Kitchen Extractor?
What about BOOST? That's an interesting one because you are encouraged to use it when cooking. It only runs at BOOST speed for half an hour, putting the fan into overdrive to clear moisture and cooking smells. Most people choose to fit a kitchen extractor to do this job, and the official advice on almost all MVHR systems is to avoid using them as your only kitchen extractor.
But our MVHR system has a large extraction point in the kitchen with a removable grill over it and a sponge filter behind it, so we have decided to take a punt and have not fit an extractor.
We rarely fry or cook curries, so there isn't a great build up of fats or strong smells. So far so good; the kitchen ceiling over our induction hob is still clean. I've changed the kitchen filter twice and it wasn't very dirty on either occasion, but we are only 15 months into our life here; we may yet live to regret our decision.
What's the Maintenance Like for an MVHR System?
MVHR is an expensive and elaborate system to build into a house. It only has one moving part, the fan, and by all accounts this very rarely requires any maintenance. But you really don't want to have your ducting filling up with dust or grease or, in fact, anything. So the one bit of maintenance you have to watch out for is the filter change in the main unit.
Both inlet and outlet ducts have large tray-like filters, which cost around £30 each. You are encouraged to check them frequently and change them every six months or so. For a small extra charge, the inlet filter can be upgraded to filter out pollen.
Our MVHR has been a pleasing success thus far. I've become a big fan of a big fan.
Mark is the author of the ever-popular Housebuilder's Bible and an experienced builder. He's just finished his latest self build.
Homebuilding & Renovating Newsletter
Get the latest news, reviews and product advice straight to your inbox.
Thank you for signing up to Homebuilding. You will receive a verification email shortly.
There was a problem. Please refresh the page and try again.