Positive Input Ventilation Explained: Pros, Cons, Costs and More
By Hugh Metcalf published
Is Positive Input Ventilation the solution to your home's moisture problems? We look at how these systems work and whether they're right for you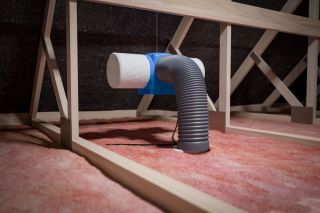 (Image credit: Nuaire)
Positive Input Ventilation (PIV) was developed in 1972 by Nuaire to specifically tackle the ventilation issues in existing properties. It's easy-to-install nature makes it a good choice for these homes, as it doesn't require the more complex ducting installation of a Mechanical Ventilation system, for example.
If your home is suffering with issues such as condensation, damp and mould, installing a PIV unit could be a huge help. Find out if it's right for your property with this guide.
What is Positive Input Ventilation?
Positive Input Ventilation creates a healthy environment by pumping and circulating fresh filtered air into a house, forcing stale air out of the gaps and cracks in the fabric of the building.
How Does Positive Input Ventilation Work?
The PIV unit is installed in the loft area, and a distribution diffuser mounted in the ceiling in the room below. The continual supply and slight positive pressure result in the air in the property being continually diluted, displaced and replaced to create a healthier indoor air quality.
Positive Input Ventilation Vs MVHR
A PIV unit works much in the same way as a Mechanical Ventilation with Heat Recovery (MVHR) system, but the latter requires ducting which isn't always feasible to add to an existing house. PIV consists of a single unit typically fitted in a loft, making it a good retrofit option.
If airtightness cannot be guaranteed or the duct runs cannot be designed and installed with low resistance (which can be a challenge in existing homes) then positive input ventilation is probably a better option for you then MVHR.
How Much Does a Positive Input Ventilation System Cost?
On average, Positive Input Ventilation systems cost between £700-£1,000 including installation, however, there are some higher cost models available with improved performance.
Once installed, the running costs are relatively low as the system has low energy requirements. You can expect running a PIV unit to cost 1p-2p in electricity a day.
What are the Advantages of Positive Input Ventilation?
Positive Input Ventilation is a cost-effective solution to a number of problems caused by excessive moisture in the home, including:
Condensation on windows
Damp and mould
(MORE: How to Treat Damp)
A PIV unit can also help improve indoor air quality, helping to reduce odours, VOCs and pollutants that enter the house. It can also reduce humidity by ensuring a fresh flow of air into the property.
PIV is clinically proven to help reduce dust mite allergens which can cause asthma and affect allergy sufferers.
Are There Any Drawbacks to Positive Input Ventilation?
The airtightness of the property does play a part as air will travel the path of least resistance and you don't want it escaping out the nearest window and having no effect on rooms further away from the diffuser.
PIV does also rely on the availability of some loft space to put the unit in, so is not ideally suited to apartments or homes with vaulted ceilings or flat roofs. However, there are wall-mounted alternatives available too.
You will also need to make sure that Building Regulations Part F is complied with, as the PIV unit does not act as an extract ventilator.
It's also worth noting that due to the positive pressure nature of a PIV unit, the temperature of the air it circulates will be somewhat affected by the temperature of the air in the loft. Hot air does rise, so this could warm your home somewhat, however, if your loft is under-insulated, in the colder winter months, this could cause colder air to be pushed through your home. PIV units can be combined with heaters, but this may undermine its low energy qualities, and cause running costs to rise significantly.
Is Positive Input Ventilation Worth it?
Damp, mould and condensation can be extremely difficult issues to deal with in a home, and Positive Input Ventilation can greatly help to reduce these, outweighing any of the potential drawbacks of this system. While the price of installing a PIV unit is not extortionate, it's not insignificant, but compared to constant maintenance issues raised by issues such as damp, it's a small price to pay on balance.
Hugh is Digital Editor of homebuilding.co.uk and has worked on a range of home, design and property magazines, including Grand Designs, Essential Kitchens, Bathrooms, Bedrooms and Good Homes. Hugh has developed a passion for modern architecture and green homes, and moonlights as an interior designer, having designed and managed projects ranging from single rooms to whole house renovations and large extensions. He's currently renovating a Victorian terrace in Essex, DIYing as much of the work as possible. His current project is a kitchen renovation which involves knocking through walls and landscaping a courtyard garden.
Homebuilding & Renovating Newsletter
Get the latest news, reviews and product advice straight to your inbox.
Thank you for signing up to Homebuilding. You will receive a verification email shortly.
There was a problem. Please refresh the page and try again.