House Viewing Checklist: Top Checks to Make Before Buying
By Natasha Brinsmead published
Our house viewing checklist will ensure that your new dream home doesn't turn out to be a nightmare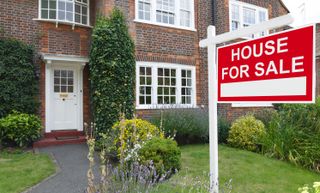 (Image credit: Getty)
Buying a new house is a huge investment, so it is crucial to be able to spot any warning signs before you part with your money — which is where our house viewing checklist comes in.
Designed to help you identify any potential issues a house may be hiding as well as showing you how to pick up on the plus points of a property's that other viewers may have missed, our house viewing checklist will give you all the pointers you need to ensure that when you do make an offer on your dream home you can be confident in your decision.
If you do go onto purchase the property, we would always advise you get a building survey before making such a huge investment. This is particularly important if you're hoping to buy a renovation project and/or period home.
1. What is the Overall Condition of the House?
First things first. Before you even step foot inside the property, stand back and scan it for potential issues.
Although we'll go into more depth about this, there are several quick checks you can make initially when viewing the property in person:
Are there any large, obvious cracks in the brickwork or render?
Does the roof look in good condition?
Are the windows all level and the glass in place?
Are there any signs of damp, such as tide marks or peeling paint on the walls?
Is the chimney straight?
Are the rainwater goods in sound condition or are they missing or blocked?
A building survey will inevitably help you to understand whether elements such as cracks are anything to be concerned about, should you come to purchase the house. Bear in mind that a building survey is different from a mortgage valuation survey and is designed to give an overall picture of the property's condition.
(MORE: Get a quote for your building survey)
2. Is it in a Good Location?
This is actually a check you can make before you view the property. Presumably you will already know you like the general area a house is in before viewing it but do take some time to check out local schools and amenities, transport links and the like.
In addition, take a look at the neighbouring properties — if you are considering an extension or any alterations that might require planning permission, it can be helpful to check out what has been done to nearby houses as it should give you some indication of what the local planners are willing to accept.
"It's also worth checking the sold prices in the vicinity. If you plan to take on major renovation work and/or an extension, will the cost of the work, combined with the price you pay for the property, exceed the ceiling value for the street or area?" begins Claire Lloyd, Editor of Homebuilding & Renovating.
"If this is going to be your 'forever home', then this may not matter to you. However, if you plan to sell up in the near future, then you'll want to ensure that this purchase will help you step up on the property ladder — not place you in negative equity."
3. What is the Planning History Like?
Which brings us nicely on to planning history. A quick check on the planning section of your local council website will bring up all planning applications made on the property and their outcomes.
This is useful because if the house, in its current state, is too small for you and you would have to build an extension in order to fulfil your needs, yet several applications for extensions have so far been turned down, this may not be the right property for you.
4. Is There Scope to Extend?
Planning permission aside, is the house actually viable for an extension? Is there enough space around the property to create an extension or has it already been expanded to its limits?
Even if there is space in the garden to extend into, will this leave you with a home that is all house and no garden?
It can help to show the plans of the house to an architect or designer — they are likely to have the skills to think outside the box and come up with schemes you might not have thought of.
If you are planning on extending, it's worth carrying out drainage survey before you purchase the property — this will help you identify the location of the drains, which may have implications on how and where you can extend.
"A drainage survey will also help you to identify whether there are any existing issues which need addressing (such as cracked drainage pipes or those which are not properly connected)," says Homebuilding & Renovating's Editor, Claire Lloyd.
"Some issues are relatively inexpensive to put right, while others could cost thousands — and should ideally be reflected in the price you pay for the property."
5. Is There Off Road Parking?
Although not everyone feels the need for off-road parking, it really is so useful — particularly if you have young children or pets.
Have a think too about where visitors will park when they come to stay. If you are planning on having work done you should also consider where you would put a skip or any large deliveries.
Even if there is no off-road parking at present, is there scope to create a new driveway and apply to the local council to add a dropped kerb?
6. What Condition is the Roof in?
This is a really important check as repairing a roof can be a costly business.
Externally, signs of roof damage include broken, missing or slipped tiles, or damaged flashings. You should also check for crumbling or missing pointing on the verges and an absence of underfelt.
Internally, when assessing a house for renovation, you should look for signs of leaks as this will also point to a roof structure that has in some way been compromised.
The extent of the damage and how long it has been in this condition will determine how much it will cost to put right. While replacing a couple of roof tiles will not cost the earth (a couple of hundred pounds should cover it), extensive damage could mean the whole roof covering needs to come off and be replaced — a job which will run well into the £1,000s.
If the roof has collapsed into the rooms below then you will also need to factor in costs for new ceilings too.
7. Is the Brickwork in Good Condition?
Continuing the exterior checks, be on the look out for signs of damage to the brickwork.
Missing or crumbling mortar in the joints will need repointing. While you are there, look at the chimney — does it look stable or is it sitting at an angle?
"Is the chimney pot or flaunching (the mortar upon which the chimney pot sits) cracked? If so, this might be causing an issue with damp. Both are usually straightforward to put right, depending on how accessible the chimney is, but should be jobs you factor into your renovation budget," says Homebuilding & Renovating's Editor Claire Lloyd.
If the house is rendered, check for cracks — minor cracks are usually easily repaired, but larger, more sinister, cracks could be a sign of structural movement.
8. How Was the House Constructed?
Investigating the construction method of the house is useful for several reasons.
Firstly, if the house was built with solid walls and traditional materials such as lime render, then you will need to ensure you use breathable suitable materials for any repairs in order to avoid damp or condensation issues.
Solid walls are also harder to insulate than cavity walls (more common in houses built after WWII).
It is important to find out what kind of foundations the house has too — some old houses were built with hardly any foundations and this could present issues when it comes to extending the house or adding any additional storeys.
Finally, it can be difficult to secure a mortgage on a house built of 'non-standard construction'. This will often be flagged on the estate agent's details; inviting cash offers only.
9. Will Windows and Doors Need Replacing?
Check windows, doors and other external joinery details, such as fascia boards, for signs of rot and damage.
Smaller areas of rotten timber can often be replaced and window repair is certainly a preferable option compared to replacement. However, if windows are beyond repair, it really does pay to replace them on a like-for-like basis to ensure the character of the house isn't ruined.
If the original windows and doors have, at some stage, been removed and replaced with unattractive versions, you might also want to consider the cost that will be involved in reinstating modern replicas of the originals.
10. Are There Signs of Damp?
Once inside the house, look for signs of damp. Tell-tale signs of damp include:
A 'fusty' damp smell
Damp patches and mould on the walls
White salt deposits on the brickwork
Crumbling plaster on walls and ceilings
Peeling wallpaper and paint
Wet or dry rot
It is important to understand that most old houses do tend to have damp issues and they can usually be solved.
11. Has There Been Any Structural Movement?
This is a big one. Although structural movement and subsidence don't always spell disaster, you need to know what you are likely to be dealing with before buying a house.
When viewing a house, look for the following:
Cracks around windows and doors
Cracks that run through several bricks (as opposed to stress cracks in plaster or a single bricks)
Collapsing lintels
Windows and doors that are sticking in their frames
Uneven or damaged floors
If you suspect subsidence it is vital that you get an expert out to look at the property — they will be able to advise you on the seriousness of the problem and whether expensive remedies or underpinning is likely to be required.
12. Will a Rewire be Required?
Rewiring a house will cost around £3,000 for a three bedroom terraced house so it is important to check whether or not this is a job that will be on the cards for the house you are viewing.
A dated fuse box, old-fashioned light switches, fabric-coated electrical flex and round pin plugs are all giveaways.
13. Will a New Heating System be Needed?
Providing the house in question has a central heating system (some period properties in need of renovation won't), do check whether or not it will need updating or replacing.
An absence of radiators and the presence of electric heaters or storage heaters is a sure-fire sign there is no central heating. Even if there is a heating system, check how old the boiler is — you may well need a new one.
Old, inefficient radiators may need updating, so it's worth budgeting for replacing a radiators.
14. What is the Loft Like?
Be sure to check out the loft. Even if you aren't planning on a loft conversion, checking what state it is in is important.
Questions to ask, include: Will it provide enough storage space? Is it insulated? Is there safe access?
If the house does not have a loft, how much storage space is available elsewhere in the property? Perhaps there's a purpose-built outbuilding or garage? Never underestimate the amount of storage space you might need.
15. Are There Large Trees Nearby?
Although trees can be beautiful in the garden, take a minute to check whether any large trees could present problems in the future. Might they block light, for example?Large trees in very close proximity could also have a structural impact on the house.
Also, if you are considering an extension to the property that could mean a tree nearby needs to be felled, check there are no tree protection orders (TPOs) in place that could prevent you from carrying out the work.
16. Is it Liveable?
Finally, although it is easy to get all romantic about properties in need of modernisation, ask yourself whether it will be practical to live on site while any work takes place.
When cold weather hits and you are shivering in one room with no heating or hot water, surrounded by building work, you might regret the decision to set up camp.
If the house isn't liveable you will need to think about where you will stay while work is underway and factor in costs for this.
Natasha is Homebuilding & Renovating's Associate Editor and has been a member of the team for over two decades. An experienced journalist and renovation expert, she has written for a number of homes titles. She has renovated a terrace and is at the end of the DIY renovation and extension of her Edwardian cottage. She is now looking for her next project.
Homebuilding & Renovating Newsletter
Get the latest news, reviews and product advice straight to your inbox.
Thank you for signing up to Homebuilding. You will receive a verification email shortly.
There was a problem. Please refresh the page and try again.