Drainage Surveys: What Are They and When Do You Need One?
A drainage survey is an often overlooked precaution when buying a home to renovate. Here's what you need to know about them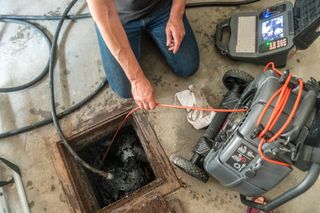 (Image credit: getty images)
Drainage surveys aren't always undertaken as standard when buying a new home. However, if you compare the cost of a drainage survey against the potential savings, whether that's helping you avoid a money pit house purchase or as leverage against the house price, it's arguably something that more people should consider.
From what a drainage survey entails and when it's beneficial to have one done to the cost implications, this quick guide has all the essentials you need to know.
What is a Drainage Survey?
A drainage survey is not completed as a part of your standard building survey when buying a home, and is something that will need to be commissioned as an extra process.
In a drainage survey, a surveyor will use a CCTV camera to explore investigate your drainage pipes and identify any potential issues.
This may include:
Blockages
Structural issues such as fracture and collapse
Cracked pipes
Root intrusion
Pitch fibre pipes
Once identified, a surveyor will be able to offer solutions to any problems encountered, such as cleaning and unclogging, pipe re-lining or even excavation and replacement.
Do I Need a Drainage Survey?
In your existing home, there may be symptoms that you're in need of a drainage survey.
These include:
Water backing up
Bubbles around drains
Blocked drains
WCs not flushing correctly
Corrosion
Animal infestation
However, if you're purchasing a new home for renovation, it can be a good idea to include a drainage survey in your searches for peace of mind.
A normal homebuyer's survey doesn't cover a property's drainage, and with the potential of the above pre-existing conditions, commissioning a drainage survey could save you from an expensive job to rectify issues later down the line. If any problems are identified, you may also be able to use this to negotiate on a property price.
If you're buying with the aim of extending, a drainage survey will help you identify the location of your drains, which may have big implications on how and where you build out.
(MORE: Building Regulations for Extensions)
Set out in Building Regulations Approved Document H, from 2011 private and lateral drains that connect to a public sewer became public — something that's likely to be particularly applicable in terraced houses.
If this drain is in an area where you'd like to extend, you have two options:
Obtain a build over agreement
Divert your extension
A build over agreement is an assurance to your local water authority that they will be able to access the pipe you're building over or near to in order to clean and maintain it, therefore you design will have to take this into account.
Locating the drain will also be important for remodelling the property in regards to re-locating the kitchen, or adding in extra bathrooms. Finding the drainage runs will help you to understand, logistically, how disruptive and therefore costly it will be to make these changes.
How Much Does a Drainage Survey Cost?
The cost implications of a drainage survey will depend on the level of feedback provided.
A verbal report will likely be the cheapest option and will involve a basic survey to identify a blockage and feedback. Expect prices of around £100, however, this may be less suitable for the homebuying process.
A written report may include a full survey with drain mapping and will cost around £150.
Some surveyors will also provide a full video report which will cost around £250.
How to Find a Drain Surveyor
Get at least three quotes from surveyors to be able to compare and contrast costs.
Ensure your surveyor is qualified to perform a drainage survey. They will need to have appropriate training for a CCTV drainage survey such as NADC accreditation.
Get the Homebuilding & Renovating Newsletter
Bring your dream home to life with expert advice, how-to guides and design inspiration, direct to your inbox.
Hugh is Deputy Editor of sister title Livingetc.com and former Digital Editor of homebuilding.co.uk. He has worked on a range of home, design and property magazines, including Grand Designs, Essential Kitchens, Bathrooms, Bedrooms and Good Homes. Hugh has developed a passion for modern architecture and green homes, and moonlights as an interior designer, having designed and managed projects ranging from single rooms to whole house renovations and large extensions. He's currently renovating his own Victorian terrace in Essex, DIYing as much of the work as possible. He's recently finished his kitchen renovation, which involved knocking through walls, and landscaping a courtyard garden, and is currently working on a bathroom renovation.