5 Essentials For Living On Site While Renovating
By Natasha Brinsmead published
Associate Editor Natasha Brinsmead is refusing to live on site in her next project without these essential items to make life more comfortable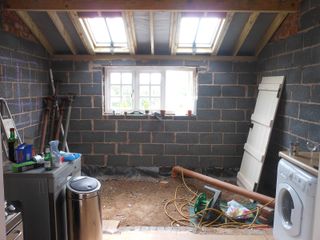 (Image credit: Natasha Brinsmead)
We've got our fingers crossed that a new renovation and extension project might be on the horizon — but there is no way I am living on site again unless I have these five things.
I've done on site living before — and to be honest it wasn't pretty. It was cold, uncomfortable, damp and messy. Most of that was because we stumbled in blindly and completely unprepared for what lay ahead.
This time we are going to do it differently and with this in mind, I have rounded up my best buys for anyone considering living in a project while building work takes place all around them. These essentials should minimise discomfort and allow you to live in relative comfort as your project takes shape — plus I've rooted out the best deals to ensure your build budget doesn't get wasted.
1. A Plastic Garden Shed
I want to keep the existing house as clutter free and tidy as possible while the new extension is built — but it won't be easy given the lack of storage space. A plastic garden shed such as this Keter Factor Outdoor Garden Storage Shed from Amazon costs £535 and will be so useful for storing everything from DIY tools to bikes, paint and all the other things we are wondering what to do with.
2. A Portable Induction Hob
With the best will in the world there always seems to be times in any renovation or extension project when you find yourself without a kitchen — and takeaways become tiresome (and expensive) after a while.
With this in mind I plan on arming myself with a handy portable induction hob. The Quest 35840 Double Digital 2800W Induction Hob from Robert Dyas is only £83.99 and is small enough to pop anywhere. It could always be stored away once work is finished to be brought out in emergencies (such as at Christmas).
3. An Electric Heater
Whether you have no heating system installed, a gaping great hole in the wall or a distinct lack of insulation — a portable electric heater can come in mighty useful when carrying out a renovation project. This ultra useful VonHaus Oil Filled Radiator from Amazonwill be easy to wheel around from room to room as and when we need it — plus it will be a great back up should our boiler ever fail us down the line.
4. A Combination Microwave
Even with a portable hob waiting on the side lines, should we be kitchen-less at some point in our project I plan on equipping us with a combination microwave too — this stylish model, Hoover's HMCI25TB-UK 25L 900W Digital Inverter Combination Microwave from Amazon, allows you to use it as a microwave, convection oven and grill.
It also has a mute option — this would have been a lifesaver when I had toddlers napping during our last renovation as microwave beeps always seemed to wake them!
5. A Dehumidifier
Renovation projects tend to be breeding grounds for damp and condensation — plus with no space for drying wet washing in our new project, we are going to be creating even more moisture by hanging washing around the place. For all these reasons a dehumidifier is a must — this MeacoDry ABC Dehumidifier from John Lewis is energy efficient and whisper quiet. It will also be handy once the plastering in the extension gets underway.
Natasha is Homebuilding & Renovating's Associate Editor and has been a member of the team for over two decades. An experienced journalist and renovation expert, she has written for a number of homes titles. She has renovated a terrace and is at the end of the DIY renovation and extension of her Edwardian cottage. She is now looking for her next project.
Homebuilding & Renovating Newsletter
Get the latest news, reviews and product advice straight to your inbox.
Thank you for signing up to Homebuilding. You will receive a verification email shortly.
There was a problem. Please refresh the page and try again.