Clean Heat Grant: The Definitive Guide
The Clean Heat Grant will provide homeowners with funding to improve the efficiency of their heating system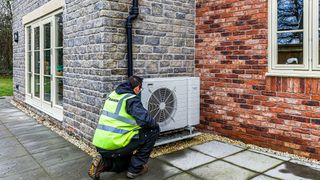 (Image credit: Daikin)
The Clean Heat Grant is a government-proposed scheme to provide homeowners with funding towards installing low-carbon heating systems, such as heat pumps, from March 2022.
The Clean Heat Grant will run from April 2022 until March 2024, and is designed to replace the Domestic Renewable Heat Incentive (RHI), which will close to new applicants on 31 March 2022. 
Homeowners who successfully apply for the Clean Heat Grant will be able to claim a flat-rate payment of £4,000, which is expected to be delivered through a voucher scheme.
The full design of the grant is expected to be unveiled later this year, when the government should also elucidate details on which heating systems will be eligible. 
This is what homeowners need to know about the Clean Heat Grant so far, and what the scheme could eventually look like. 
What is the Clean Heat Grant?
The Clean Heat Grant will function in a similar way to the Green Homes Grant: it is expected that the government will contribute £4,000 towards the cost of a renewable heating system, and the homeowner will have to pay the rest.
The Department of Business, Energy and Industry (BEIS) has suggested the voucher system will operate on a first come, first served basis. 
The scheme will follow on from the Domestic RHI, and is designed to encourage homeowners to apply for grants for heating systems which can improve their energy efficiency, thus helping to lower their heating bills.  
The government is expected to unveil more on the Clean Heat Grant in its Heat and Buildings Strategy, which had been due for publication last autumn, but is now expected in May.
Why is the Clean Heat Grant Being Introduced?
The grant will be designed to help homeowners afford the upfront costs of low-carbon technologies, such as ground source heat pumps and biomass boilers.
Ministers have also said that they hope the scheme will help to grow consumer confidence in the technologies available, in order to boost industry demand.
The scheme is an important facet of helping the government meet its net-zero emissions target by 2050, and to help phase out fossil fuel heating in homes off the gas grid, the government has said.
Who Will be Eligible?
Existing households and small non-domestic buildings across the UK will be eligible to apply, although the eligibility criteria has not yet been confirmed. New-build homes will not be eligible, as it is on the Domestic RHI. 
What we know so far is that eligible households will likely have to have a high performing-level of insulation already in place, and all applicants must have a valid Energy Performance Certificate (EPC) - typically one which has been issued in the last 10 years.
Homeowners living off the gas grid will be particularly encouraged to invest in heating systems, like heat pumps, which could help to improve their energy efficiency. 
What About Self Builders?
Custom and self build homes will be eligible for the Clean Heat Grant, the government has confirmed.
Which Renewable Systems Will be Included?
The following types of heat pumps (high and low-temperature units) have so far been supported in government proposals:
Ground source heat pumps
Water source heat pumps 
Biomass boilers will be supported, but only for properties deemed not suitable for a heat pump. 
The proposals indicate that systems with a capacity of up to 45kW will be eligible for the scheme.
How Will the Clean Heat Grant Work?
It is expected that vouchers will be delivered through an upfront payment of £4,000, and delivery will be issued on a first come, first served basis.
As it is on the Green Homes Grant, applicants are expected to have three months to complete work once they have received their voucher.
A capping system has also been proposed, on a quarterly basis, which BEIS says will mitigate the risk of the budget being depleted more quickly than expected. If actioned, this could mean that funding may not be available for some applicants if take-up for the scheme is high.
The government also says it plans to reserve the right to review the grant levels in response to unforeseen market changes or "if uptake falls substantially outside the expected range".
Which Systems Will Not be Covered?
Support will be available to installations providing space and water heating in buildings, but the grant is expected to exclude:
Biogas combustion
Solar thermal
Hybrid heat pump systems
Heat networks.
There Have Been Two Consultations
The first consultation, titled 'Future support for low carbon heat', ran between April-July 2020 and laid out the initial proposals for the Clean Heat Grant. 
It proposed the scheme to function as one of two support mechanisms following the closure of both the domestic and non-domestic RHI. The non-domestic RHI will be directly replaced by the Green Gas Support Scheme, which will increase the proportion of green gas in the grid through support for biomethane injection.
The government is yet to issue its response to the first consultation, but it issued new proposals in February via the announcement of a second consultation which ran from 12 February 2021 to 5 March 2021. 
It is possible that the government will review the responses to the secondary consultation before making any further announcements on the scheme.  
How Will it Differ to the RHI?
The Domestic RHI launched in April 2014 and has provided payments for the generation of renewable heat from eligible renewable heat technologies. The scheme will end on 31 March 2022, and the Clean Heat Grant will take its place from April 2022. 
The RHI has operated through tariff-based support, where payments differ between properties in accordance with the efficiency of the property. Payments are made on a quarterly basis over a seven-year period after the system has been installed. The Clean Heat Grant will replace this funding with a flat-rate payment of £4,000. 
Another difference is the proposed eligibility criteria for heating systems. For example, solar thermal panels currently benefit from incentive payments under the RHI, but are expected to be excluded on the Clean Heat Grant. 
It is expected that the grant will allow applicants to transition payments initially issued from the RHI. 
What's the Reaction Been?
David Hilton, director of Heat & Energy Ltd and an energy efficiency expert for Homebuilding & Renovating, says that offering an incentive for homeowners to install low-carbon heating systems is important, but doesn't believe the scheme will offer maximum benefit to all homeowners.  
"It doesn't seem fair that with all the different technologies and the associated costs that you can only use one grant. For example, you might have someone that only needs a small heat pump, and they can get £4,000, but if somebody wants a ground source heat pump then £4,000 won't go very far. It needs to benefit the people who invest in the technologies."
Hilton adds that a reduction on the VAT for retrofitting (which stands at 20%) would be a great incentive for applicants.  
"It can be more expensive to fit these technologies into existing buildings and you have to pay 20% VAT whereas you get VAT back on a new build and it's cheaper. VAT relief will be essential in order for the scheme to work."
Jack is News Editor of Homebuilding & Renovating and strives to break the most relevant and beneficial stories for self builders and renovators. Having bought his first home in 2013, he and his wife have renovated almost every room and recently finished a garden renovation. Jack reports on all of the latest news that could affect your project.
Homebuilding & Renovating Newsletter
Get the latest news, reviews and product advice straight to your inbox.
Thank you for signing up to Homebuilding. You will receive a verification email shortly.
There was a problem. Please refresh the page and try again.