Covering Radiator Pipes: 6 Ideas to Hide Unsightly Plumbing
By Hugh Metcalf published
For an elevated finish to your room, covering radiator pipes is a must. Here's 6 options to transform pipework from an eyesore to a charming detail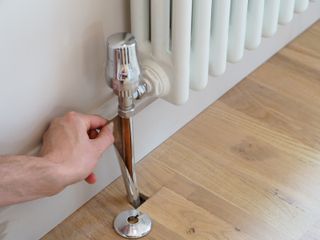 (Image credit: Future)
Covering radiator pipes will make all the difference to the finish of your radiators. Whether you've spent money on a beautiful new radiator or you're simply trying to give your existing radiator an upgrade, many of the ways you can cover pipework are relatively inexpensive and easy to apply.
In this quick guide, we offer options for not only covering the vertical valve pipes, but also ideas for tackling pipework which has been run on the surface of a wall, such as along the skirting boards, rather than being incorporated in the wall or floor void.
When you spend time and money choosing radiators, finishing off with the right details is important, and with these handy products and DIY ideas to hand, you'll be able to create a sleeker finish to any room heated by a radiator.
1. Use Pipe Sleeves When Installing a Radiator
Radiator pipe sleeves are probably the most elegant and sophisticated way of covering radiator pipes. Pipe collars are largely made from metal and are available in a range of styles and finishes.
To install, they are simply slipped over the top of the radiator pipes; however, these can only be installed when the valves are not yet attached. If retrofitting, draining the central heating system and removing the valves may be a tedious task in order to install pipe sleeves, but for some, it's a level of attention to detail that's worth the time and expense.
Your best bet is to install pipe sleeves when installing new valves and/or replacing radiators. It's possible to buy valves that come with matching sleeves, especially when they're a more unusual finish, but you'll also find pipe sleeves available to buy in many popular finishes, including chrome and brass.
Pipe sleeves also largely come with small collars that are used around the base. These are useful to help hide gaps where flooring has had to be cut around radiator pipes, and can also help reduce draughts.
2. Try Snap-on Radiator Pipe Covers
If you love the idea of a radiator pipe sleeve for covering your radiator pipes, but don't want to have to remove the valves to install them, then these clever snap-on solutions are for you.
Snap-on pipe covers are made from a film-like material which simply and easily wraps around a radiator pipe. They're available in a more limited array in general, with colours including chrome, white and dark grey most commonly seen. However, they're surprisingly effective, and the best ones look like metal covers until you're up close.
It's worth noting that there will be a seam on the back on the pipe which is largely unnoticeable, but the collar will have a larger gap which is required to wrap it around the pipe. Over a prolonged period of time, the heat may also cause the finish to fade, meaning they may need replacing every couple of years or so; however, snap-on radiator pipe covers are inexpensive, so certainly worthwhile in this respect.
3. Opt for Rebated Skirting Board for Horizontal Pipes
If you do have radiator pipes running along a wall, instead of through the floor or wall void (of which, there may not be one), then there are options for covering radiator pipes in this instance.
The sleekest choice would be rebated skirting boards, which have a small gap cut into the back of them, wide enough to fit pipes or wire so that they can be run along the wall unseen.
However, for this to work seamlessly, this would require forethought and planning, and largely would only apply to new plumbing where new skirting board was also being fitted. This makes rebated skirting boards a great product for renovations where completely moving pipes may be too expensive or difficult, but where re-arranging the pipework is possible to fit behind the skirting.
4. Box in Pipework With Trunking
Trunking is never an ideal solution, whether it's for electrics or for plumbing; however, it's possible to find some decent-looking trunking that can be used to box in radiator pipes horizontally along a wall.
Trunking is going to look bulkier and wider than traditional skirting, but it might be a more attractive option than exposed radiator pipes. You might even consider facing this trunking with skirting board so that it matches in with the rest of the room.
5. Consider Painting Radiator Pipes
The classic unfinish radiator look will see a chrome or white radiator valve with copper piping — not a look that works no matter how industrial or raw you want to go with your interior design scheme.
Painting radiator pipes is a good quick fix that can help disguise them in your room. You can do this in the same way as painting radiators, and as long as you're using one of the best radiator paints that's heat-resistant, it's a speedy job that will wear well.
It might seem obvious to paint them to match your valve, but consider painting them the same colour as your skirting instead, as this will help them disappear more.
6. Use a Radiator Cover
In the worst case scenario, a radiator cover might be your best option, covering not only your radiator pipes, but your whole radiator too.
You may be reticent to do so for fear of reducing your radiators efficiency, especially during the colder months, however, there's some evidence to suggest that using a radiator cover the right way, and applying a heat-reflective board behind the radiator, might even help your radiator heat your space quicker.
Whether you subscribe to that idea or not, a radiator cover is a brilliant way of turning what can be an unsightly element of your home into a focal point, and there's are many different designs and styles you could try, whether off-the-shelf or DIYed.
Hugh is Digital Editor of homebuilding.co.uk and has worked on a range of home, design and property magazines, including Grand Designs, Essential Kitchens, Bathrooms, Bedrooms and Good Homes. Hugh has developed a passion for modern architecture and green homes, and moonlights as an interior designer, having designed and managed projects ranging from single rooms to whole house renovations and large extensions. He's currently renovating a Victorian terrace in Essex, DIYing as much of the work as possible. His current project is a kitchen renovation which involves knocking through walls and landscaping a courtyard garden.
Homebuilding & Renovating Newsletter
Get the latest news, reviews and product advice straight to your inbox.
Thank you for signing up to Homebuilding. You will receive a verification email shortly.
There was a problem. Please refresh the page and try again.